Green Tea & Aloe Vera Glitter Glow Mask | 100 gm
Regular price
Sale price
₹899.00
Unit price
per
Sale
Sold out
A Timely Dose of Rejuvenation for Your Skin!

Green tea has been trending for its health benefits; be it the beverage or the leftover tea bags, it offers benefits aplenty. But, have you ever wondered about a skincare product with the goodness of Green Tea blended with Aloe Vera? Ah! Spot on. The Beauty Co. yet again, with its expert insight into skincare products, has come up with Green Tea & Aloe Vera Glitter Glow Mask. Needless to say, it is loaded with qualities that can treat your skin concerns and uplift your facial skin within minutes of applying. This peel-off mask gives special treatment to your skin by accelerating the healing process of dull, damaged and tired skin. It reduces sun-tan, age spots, fine lines along with firming saggy skin.

The Beauty Co. Green Tea & Aloe Vera Glitter Glow Mask can be your secret to healthy and happy skin, instantly!
Time to Feel Fresh and Radiant
With a busy lifestyle and hectic days, you are hardly left with any time to pamper your skin. But, we all long for that perfect skin ahead of an important occasion. The Beauty Co. Green Tea & Aloe Vera Glitter Glow Mask is the best go-to option for instantly glowing skin. Made with natural ingredients, this peel-off mask not only pulls the dirt and dullness off your face but also gives a lasting radiance to your face. The antioxidant properties of Aloe Vera help the skin heal properly. The Green Tea Extract reduces the dark spots, acne breakouts and fine lines, and Glycerin render smooth, soft and supple skin. If you are still wondering how to get glowing skin in 1 day, this mask with the benefits of Aloe Vera & Green Tea can come to your rescue.
Ingredients :
- Green Tea Extract
- Aloe Vera Extract
- Glycerin
- Aqua
Share
Ingredients

Aloe Vera Extract

Green Tea Extract

Glycerine
How to use

Cleanse: Cleanse your skin properly and get rid of all external impurities before you apply the Glow Mask.

Apply: Apply a thin, uniform layer of the Glow Mask on your brilliant face! Keep away from eyes, lips and hair. Wait for 15-20 minutes.

Peel: Once the mask is dry, start peeling around the edges and get rid of all the issues that your skin deals with on a daily basis!

Glow: Enjoy the rest of your day, beautiful! This mask helps your skin stay hydrated, soft and radiant!
Additional Information

Best Before: 24 Months

Manufactured/Packed By: HCP Welness LLP

Marketed By: Zen Lifestyle Private Limited

1701, Mondeal Heights, Near Novotel Hotel, S G Highway 380051

Country Of Origin: India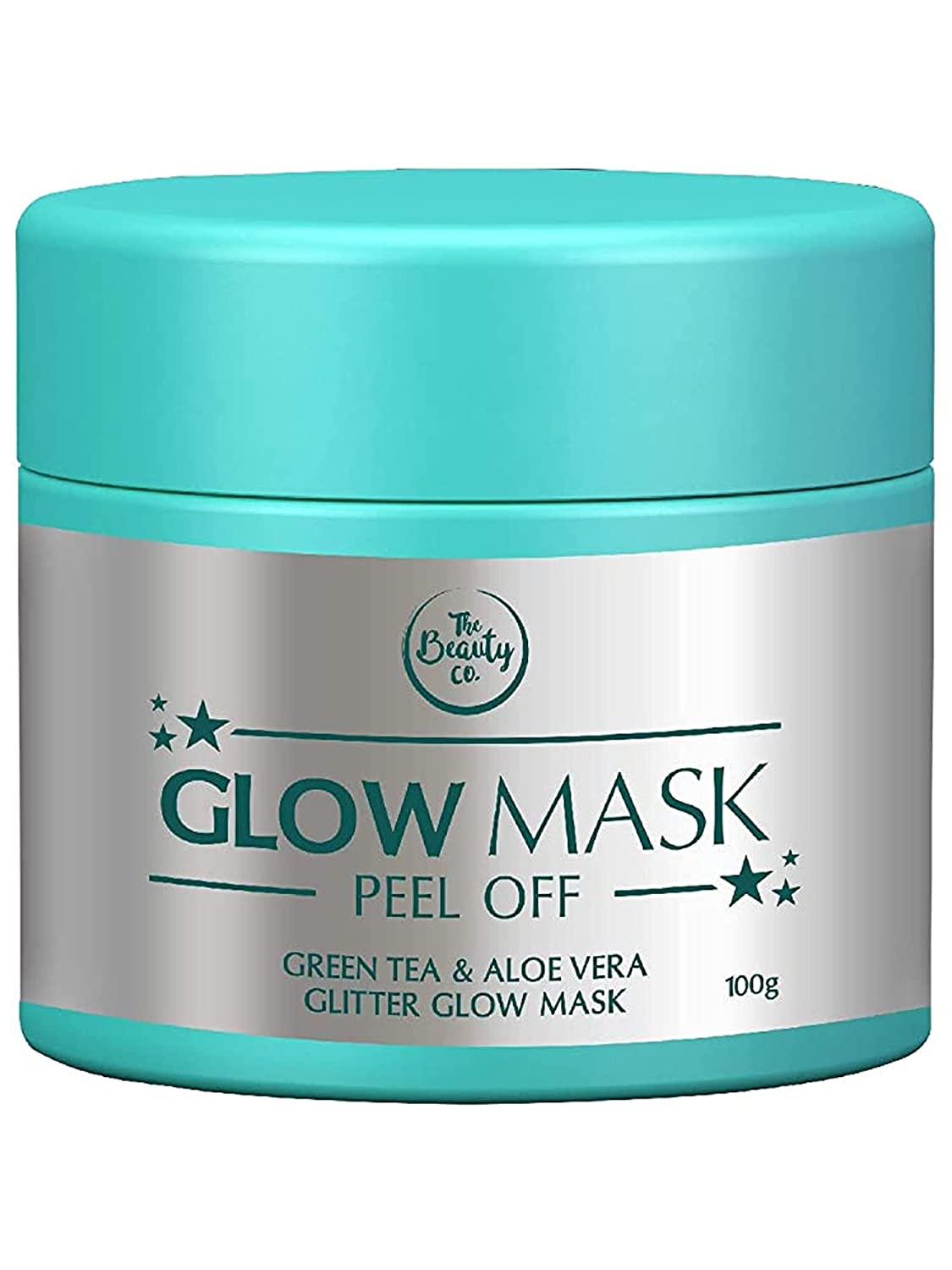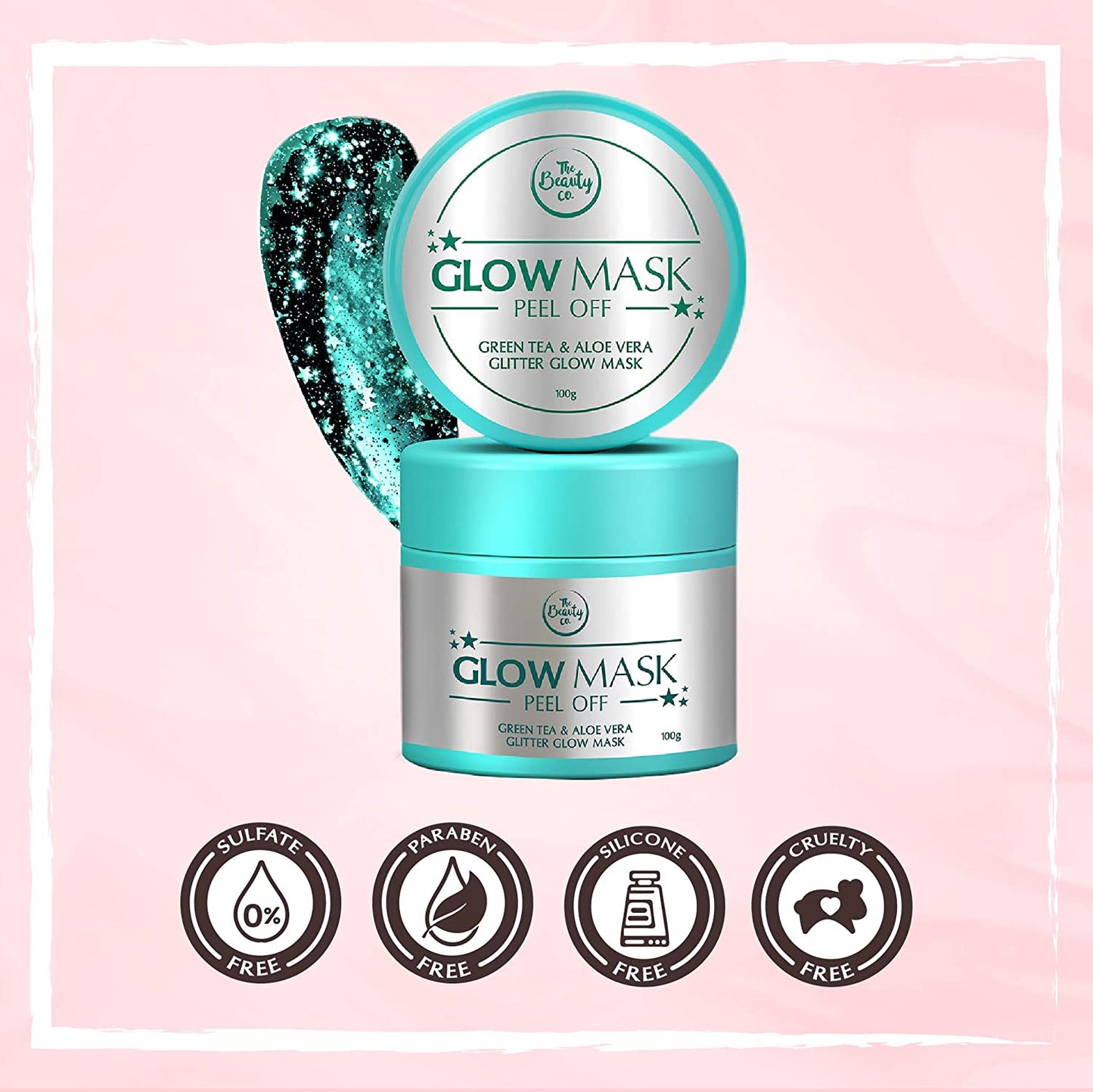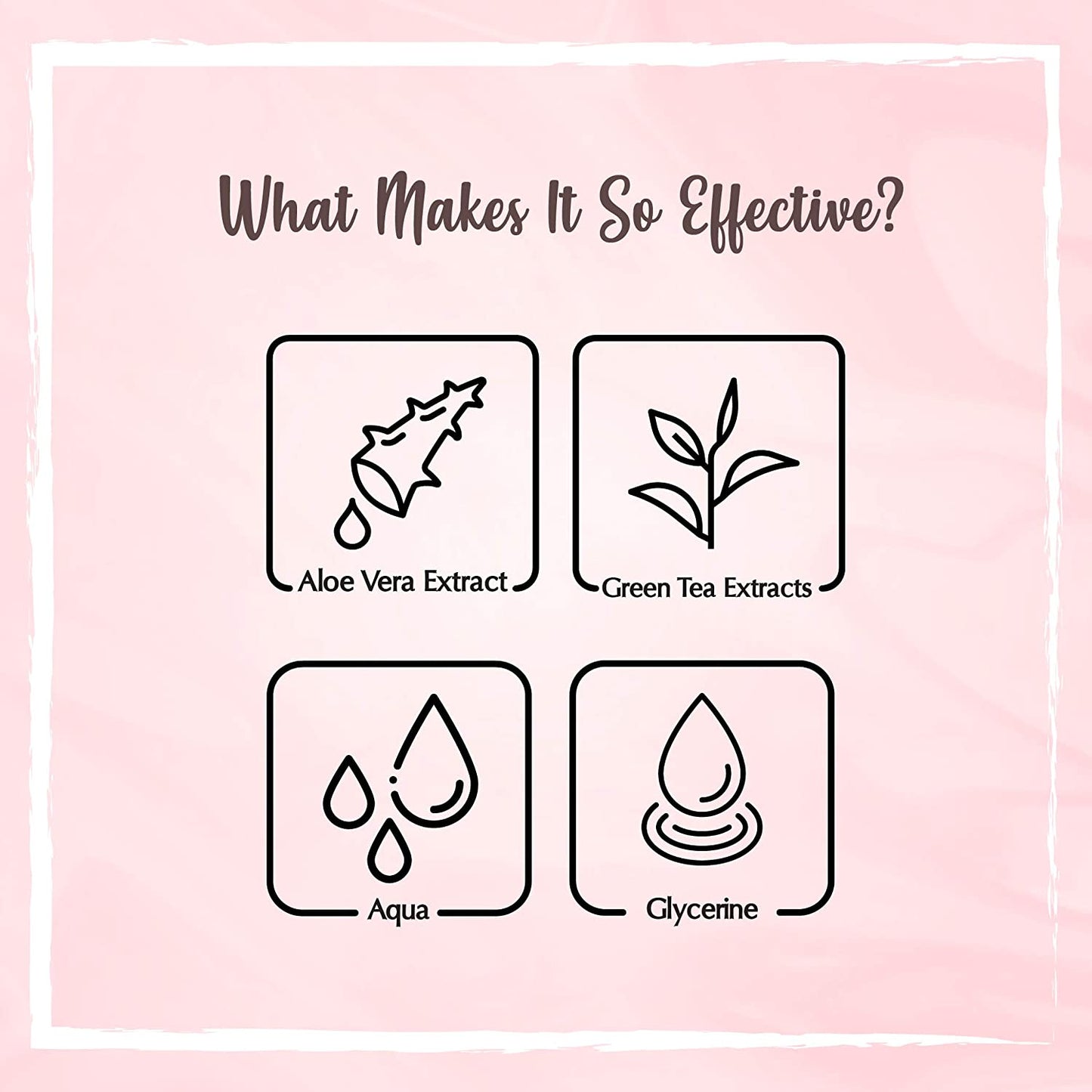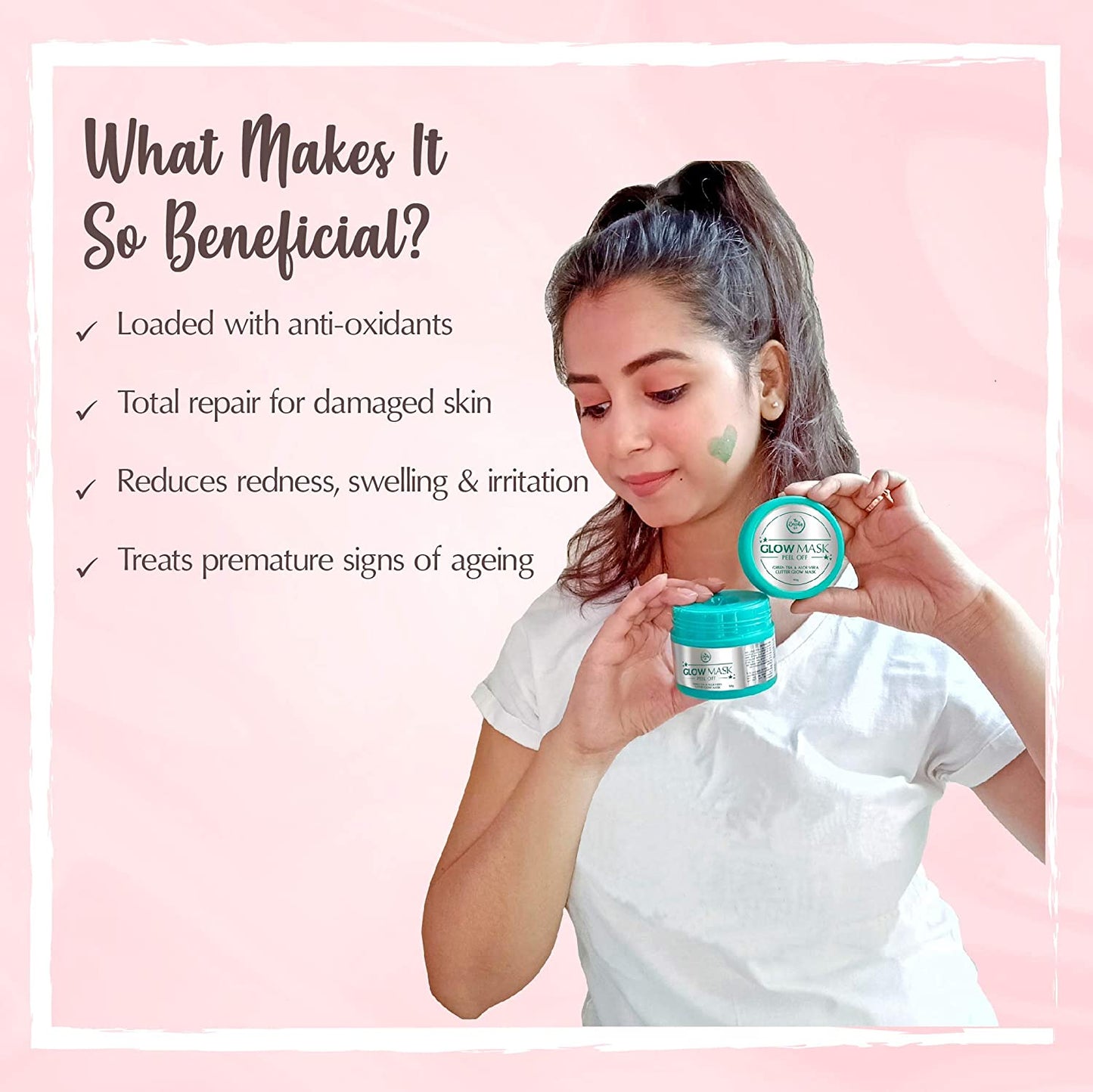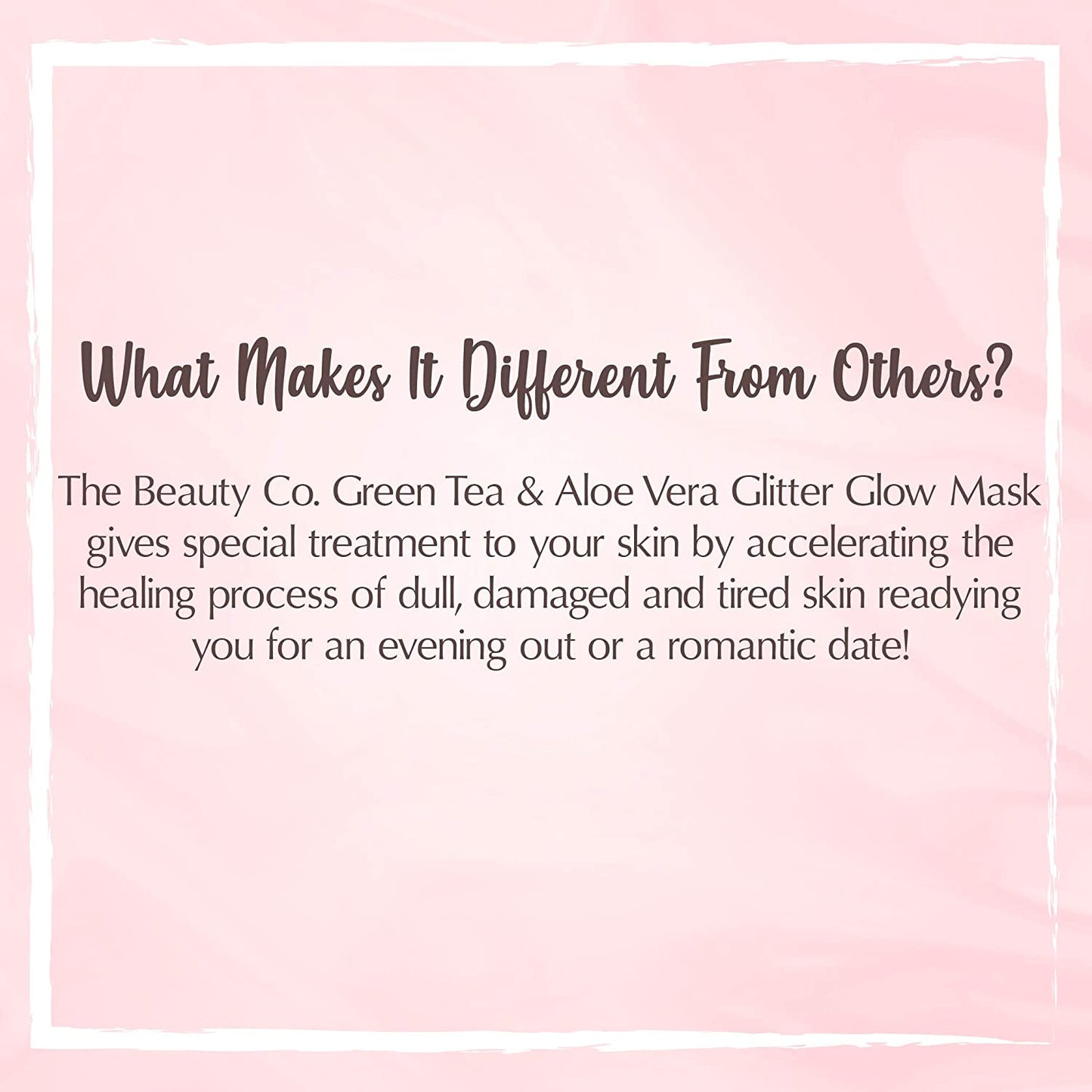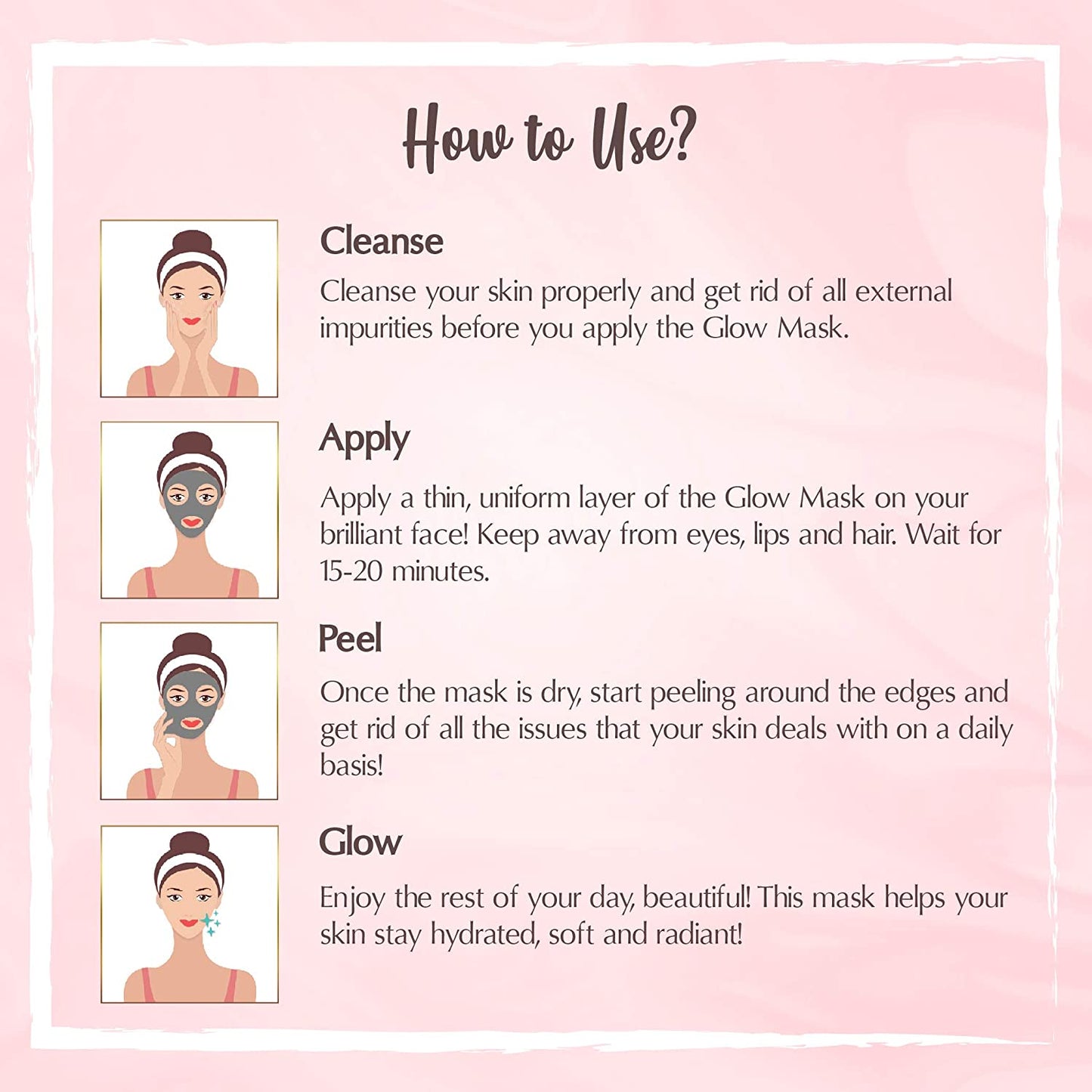 A Timely Dose of Rejuvenation for Your Skin!
Green tea has been trending for its health benefits; be it the beverage or the leftover tea bags, it offers benefits aplenty. But, have you ever wondered about a skincare product with the goodness of Green Tea blended with Aloe Vera? Ah! Spot on. The Beauty Co. yet again, with its expert insight into skincare products, has come up with Green Tea & Aloe Vera Glitter Glow Mask. Needless to say, it is loaded with qualities that can treat your skin concerns and uplift your facial skin within minutes of applying. This peel-off mask gives special treatment to your skin by accelerating the healing process of dull, damaged and tired skin. It reduces sun-tan, age spots, fine lines along with firming saggy skin.
Aloe Vera Extract

-Lightens scars & blemishes

-Heals Damaged Skin

-Treat Dry Skin Reduces Acnef

Glycerine

-Removes frizz & tangles

-Restores moisture

-Works on smoothness

-Renders gloss & finesses.

Green Tea Extract

-Fights Premature Signs of Ageing

-Natural Toner for Skin Anti inflammatory

-Soothes Sunburns Hydrates Skin