D'Wine Bath Salt With Wine Extract & Epsom Salt | 50 g
Regular price
Sale price
₹195.00
Unit price
per
Sale
Sold out
After a long, tiring day, the least you can do to soothe your nerves is to relax with something enriching and comforting… for skin, body & mind! To cater to the need for something so calming and relaxing, we bring to you the Beauty Co. D'wine Bath Salt for skin, body & mind. It replenishes the salt levels you lose during the day in various ways. Formulated with high-quality Epsom Salt, it draws out impurities and toxins for the body, relieves body pain and sore muscles providing a much-needed tranquil experience after a day full of hubbub. Along with Epsom Salt, this bath salt is loaded with red wine benefits for skin to nourish it completely. Wine Extract and a blend of Mix Berries work on several common skin concerns like acne, pimples, and premature signs of aging. With its anti-inflammatory and antiseptic properties, this bath salt leaves your skin pores clean and clear, leaving hardly any room for infections or skin concerns.
Eliminates toxins from the skin

Relieves body pain & sore muscles

Refreshes after a tiring day
Share
Ingredients

Wine Extract

--> I cleanse & clarify poresI am rich in antioxidantsI possess anti-septic properties

Pomegranate

--> I boost collagenI am a potential glow giverI improve skin's health

Epsom Salt

--> I boost blood circulationI relieve body pain & eliminate toxinsI retain salt levels

Essential Oil

--> I soothe and nourish the skinI treat dryness related skin concernsGet smooth, soft, glowing skin when I am around!
How to use

Add

Add a 2 spoonful of The Beauty Co. D'wine Bath Salt to a warm bath.

Mix

Mix thoroughly until completely dissolved.

Relax

Soak in the goodness of natural extracts and oil to relieve the body of pain or simply relax after a tiring day at work.

Rinse

Rinse thoroughly for hydrated, nourished skin!
Additional Information

Best Before: 24 Months

Manufactured/Packed By: HCP Welness LLP

Marketed By: Zen Lifestyle Private Limited

1701, Mondeal Heights, Near Novotel Hotel, S G Highway 380051

Country Of Origin: India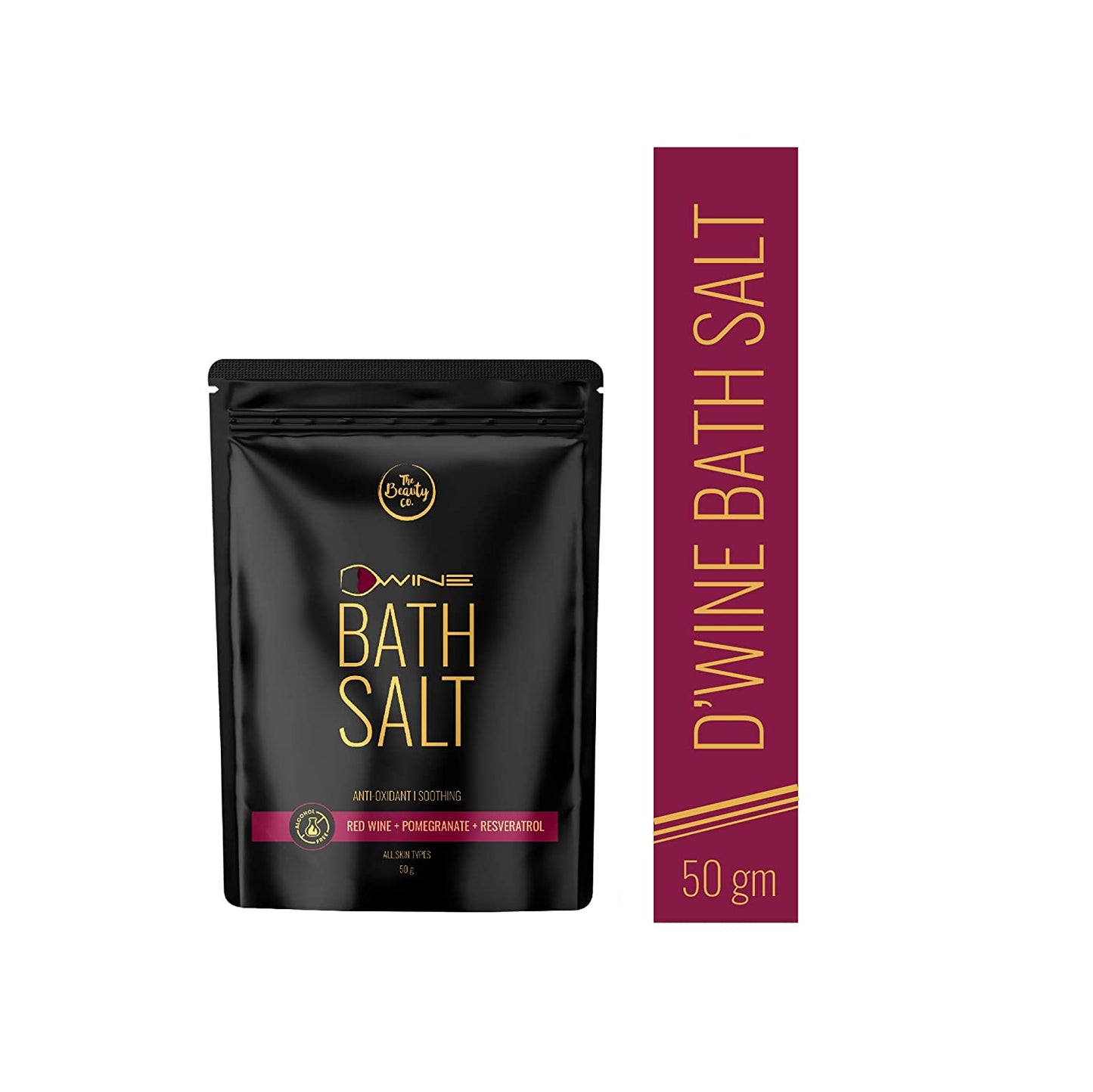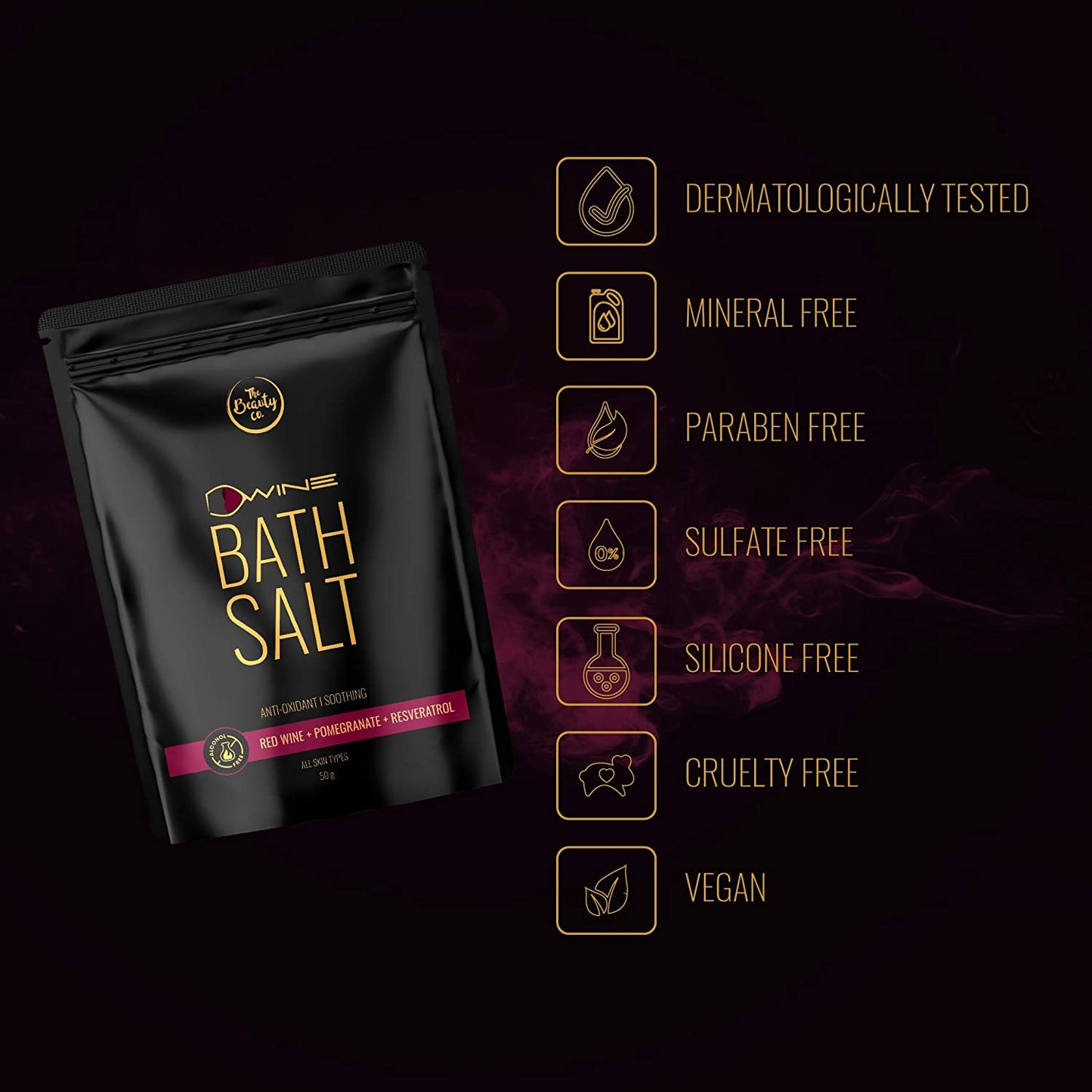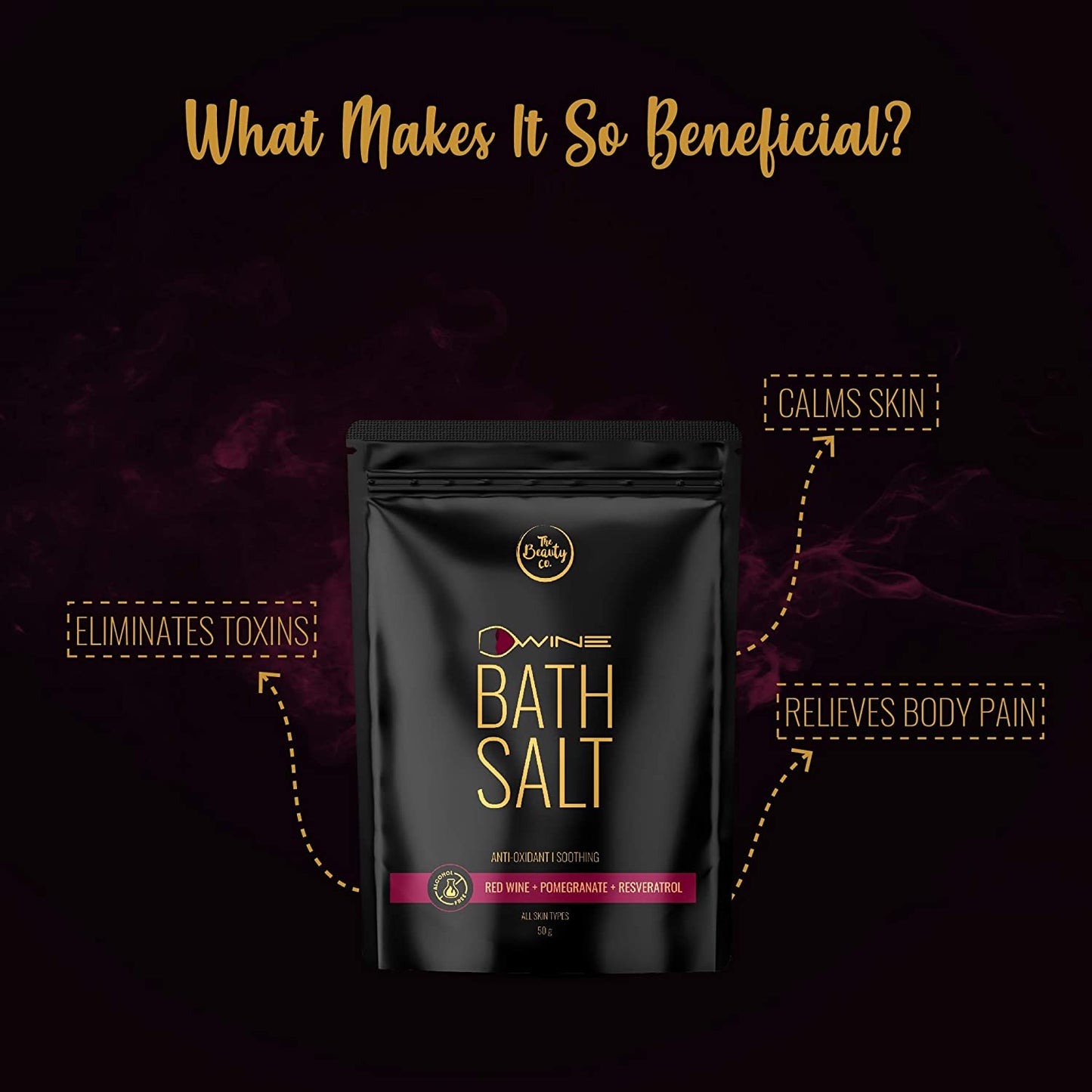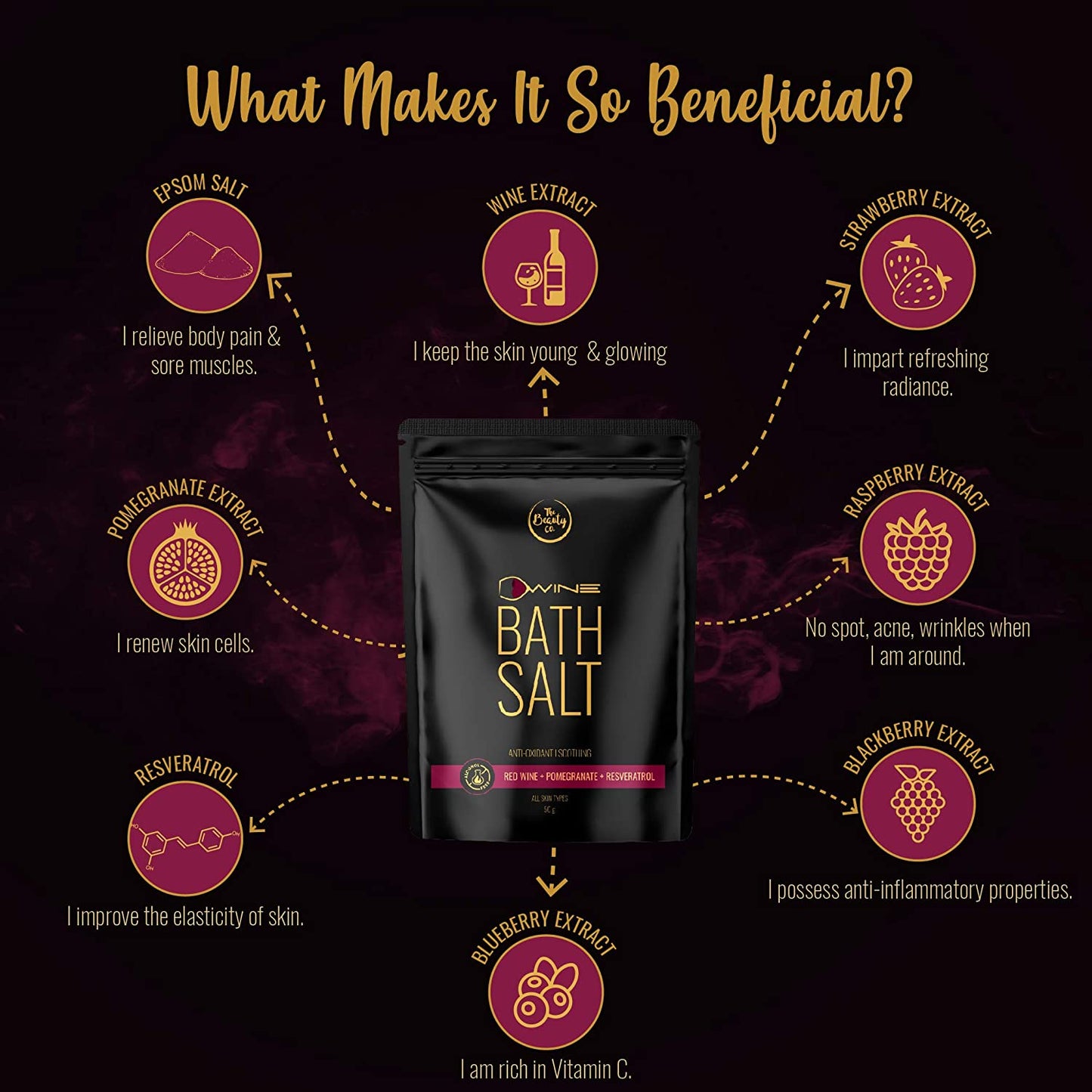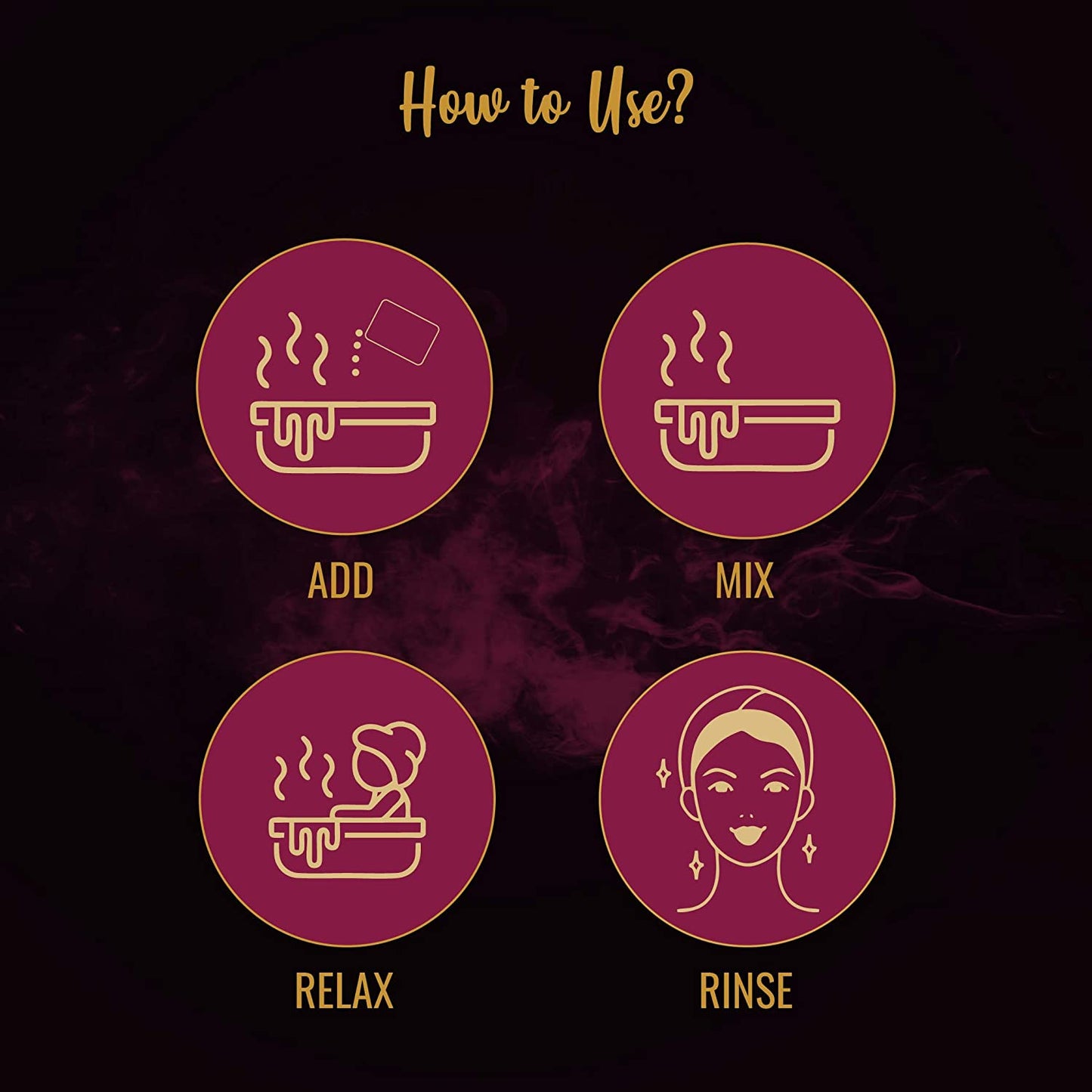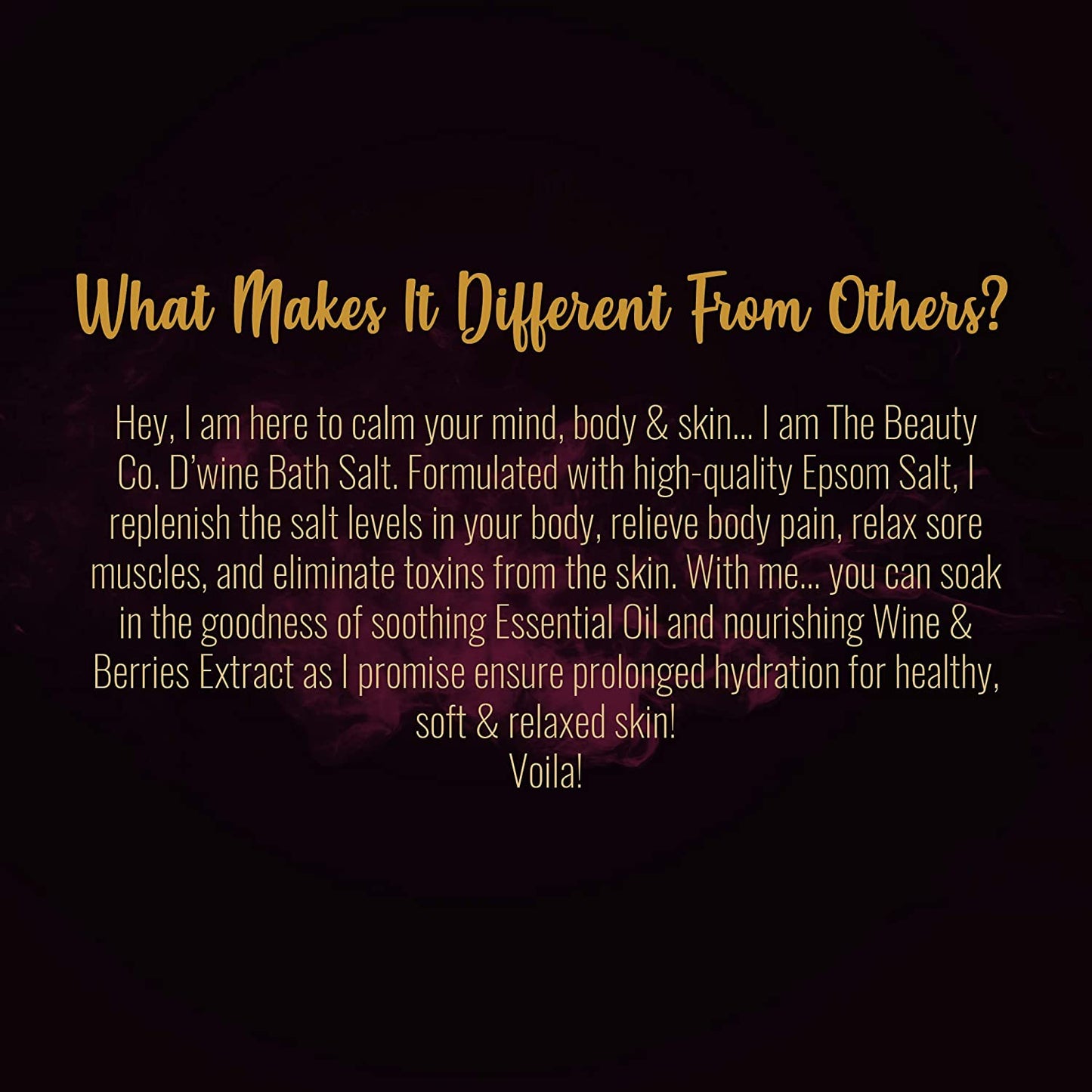 Relax & Unwind With The Best!
We all know that the benefits of red wine are aplenty. But when those beneficial properties are included in our regular skincare arsenal, it yields benefits like none other. The visible clear skin and radiance will be enough to bag you numerous compliments during every occasion!
Well, it's time for you to act, order, soak & relax… after all you deserve the tranquility!
Using natural extract, oils & ingredients, at the skin and hair's best advantage has become The Beauty Co.'s forte! No wonder every product at The Beauty Co. elevates the overall health of skin & hair, beauty quotient, and appeal, naturally! Shop amazing products from our extensive collection of skincare, hair care, body care & oral care online for The Care You Deserve!