Chocolate & Coffee Face Wash With AHA & BHA | 100 ml
All Skin Type
Regular price
Sale price
₹325.00
Unit price
per
Sale
Sold out
A Gentle Yet Effective Wash For Your Skin!
Face Wash is an integral part of our daily skincare regime. It is a sole go-to skincare solution after a prolonged exposure to heat, dirt, dust, toxins, and pollution. So, it better be good. The Beauty Co. Chocolate Coffee Face Wash is not just good but the best skincare product you can gift your skin!

Let your skin binge on Chocolate and Coffee!

Share
Reasons To Love

ROBUSTA COFFEE – GREAT FOR SKINCARE:It is made with Robusta Coffee, which is great for skincare, unlike other Coffee Scrubs that contain Arabica Coffee, better for drinking. Robusta Coffee contains a high amount of antioxidants, possesses anti-aging properties, and cures common skin concerns like acne & pimples.
ELIMINATION OF DIRT, BREAKOUTS& FINE LINES: The potent ingredients – Coffee Robusta Seed Extract and Cocoa Extract are known to combat pimples and acne, reduce cellulite from the skin, reduce dark circles, puffiness, and under-eye bags, diminish fine linesand soothe skin to perfection, making it an integral part of your skincare arsenal.
ENRICHED WITH NATURAL INGREDIENTS: The face wash is made with ingredients that are not only natural but also possessbeneficial properties to uplift your skin's overall health and appearance. Coffee Robusta Seed Extract, Cocoa Extract, Aloe Vera & Coconut Oil become the caregivers here.
Ingredients

Cocoa Powder

Coffee Robusta Powder

Aloe Vera Extract
How to use

Take: Take a pea-size of The Beauty Co. Chocolate Coffee Face Wash.

Apply: Apply it on your wet face and rub it in a circular motion.

Massage: Massage it gently over the face, leaving the eye area, to clear your skin of grime and toxins settled on it.

Rinse: Rinse it with water, pat dry. And enjoy healthy skin for the rest of the day! Use it twice daily for great results.
Additional Information

Best Before: 24 Months

Marketed By: Zen Lifestyle Private Limited

1701, Mondeal Heights, Near Novotel Hotel, S G Highway 380051

Country Of Origin: India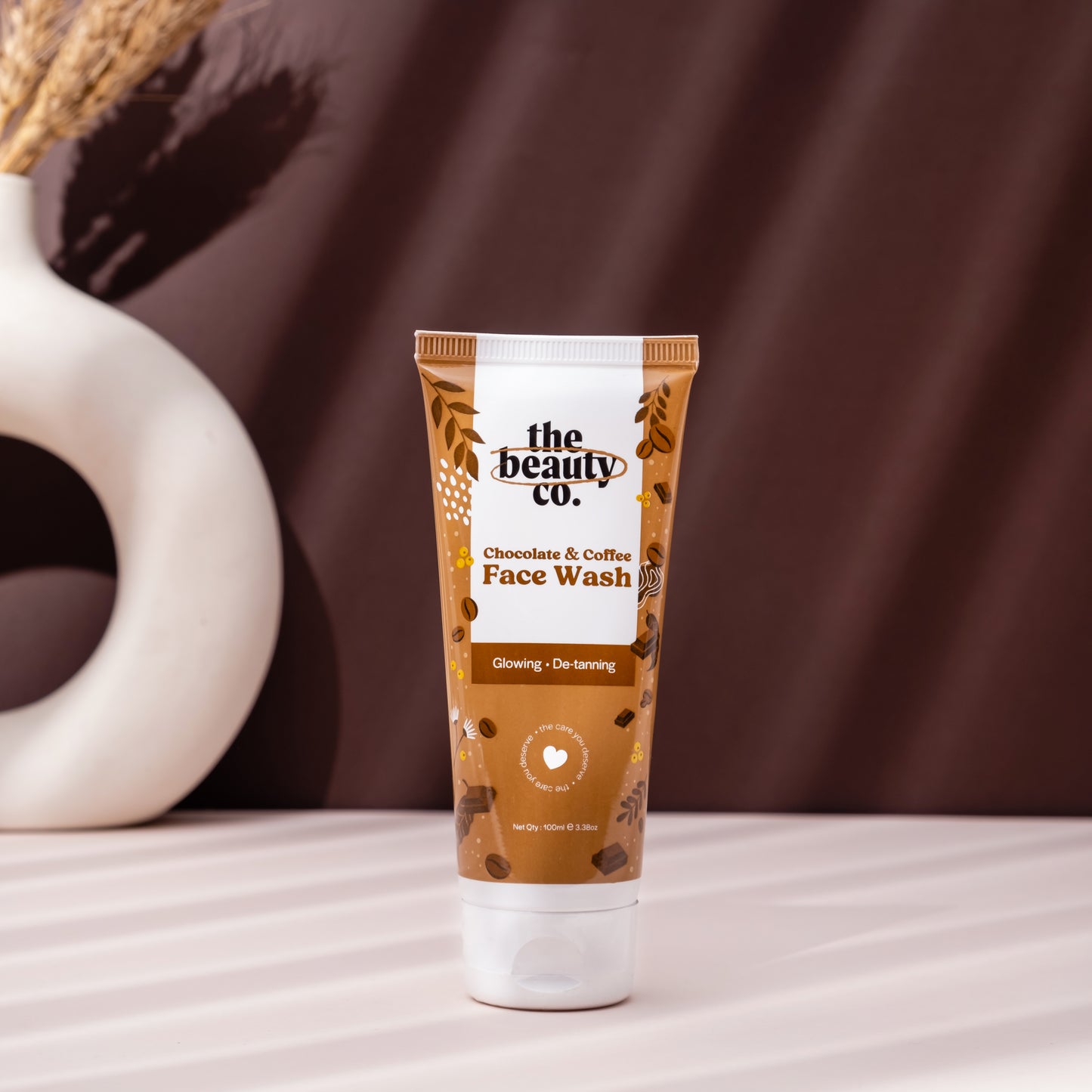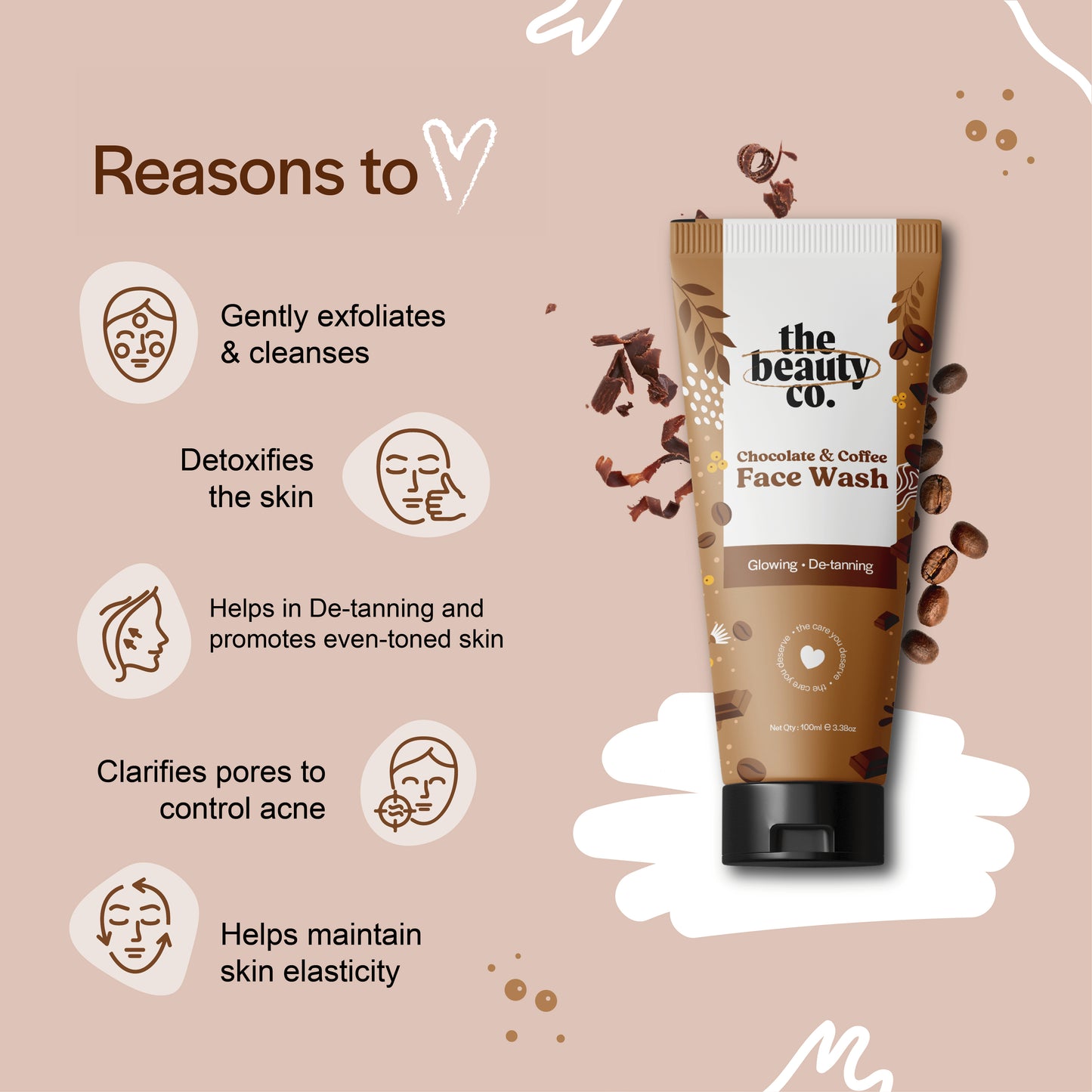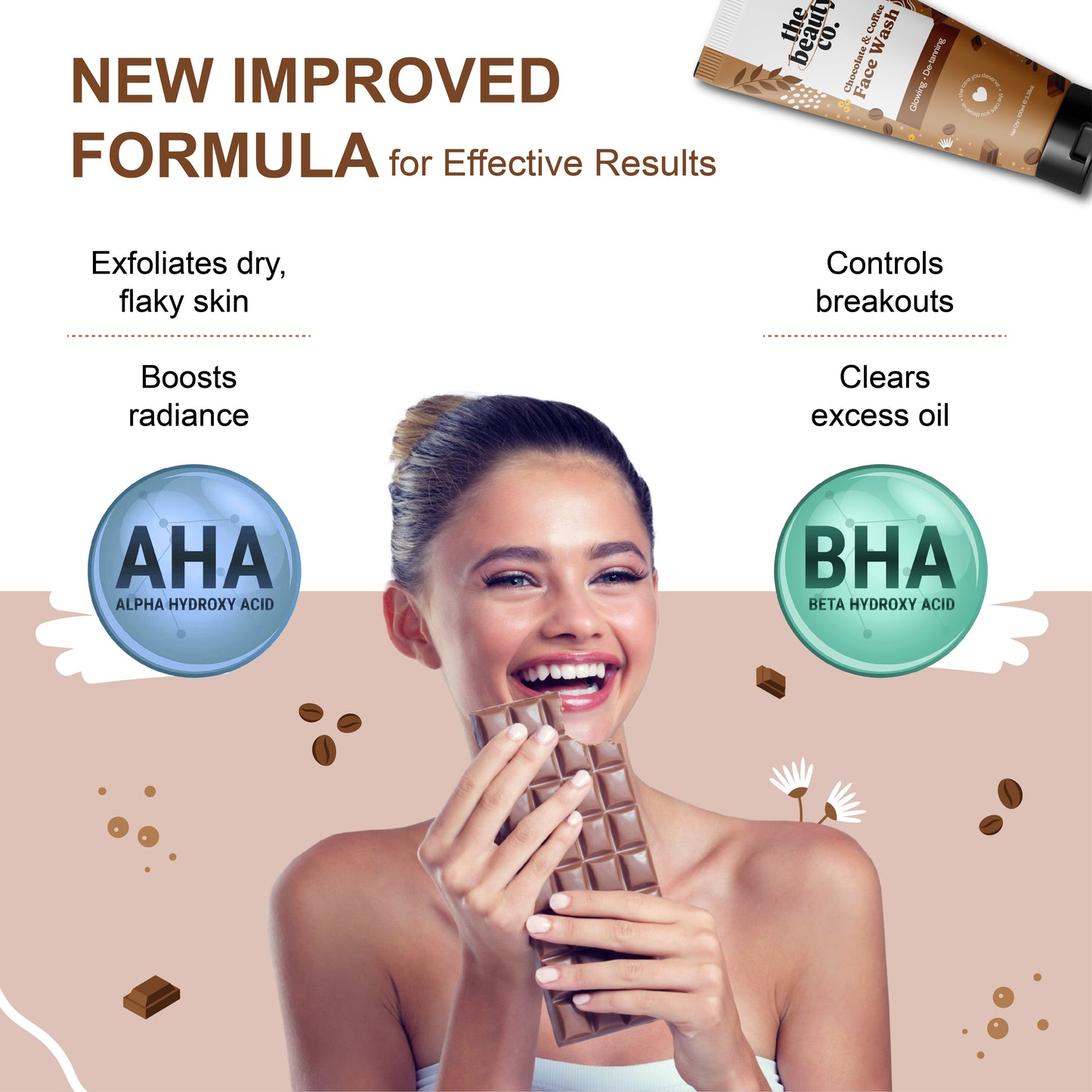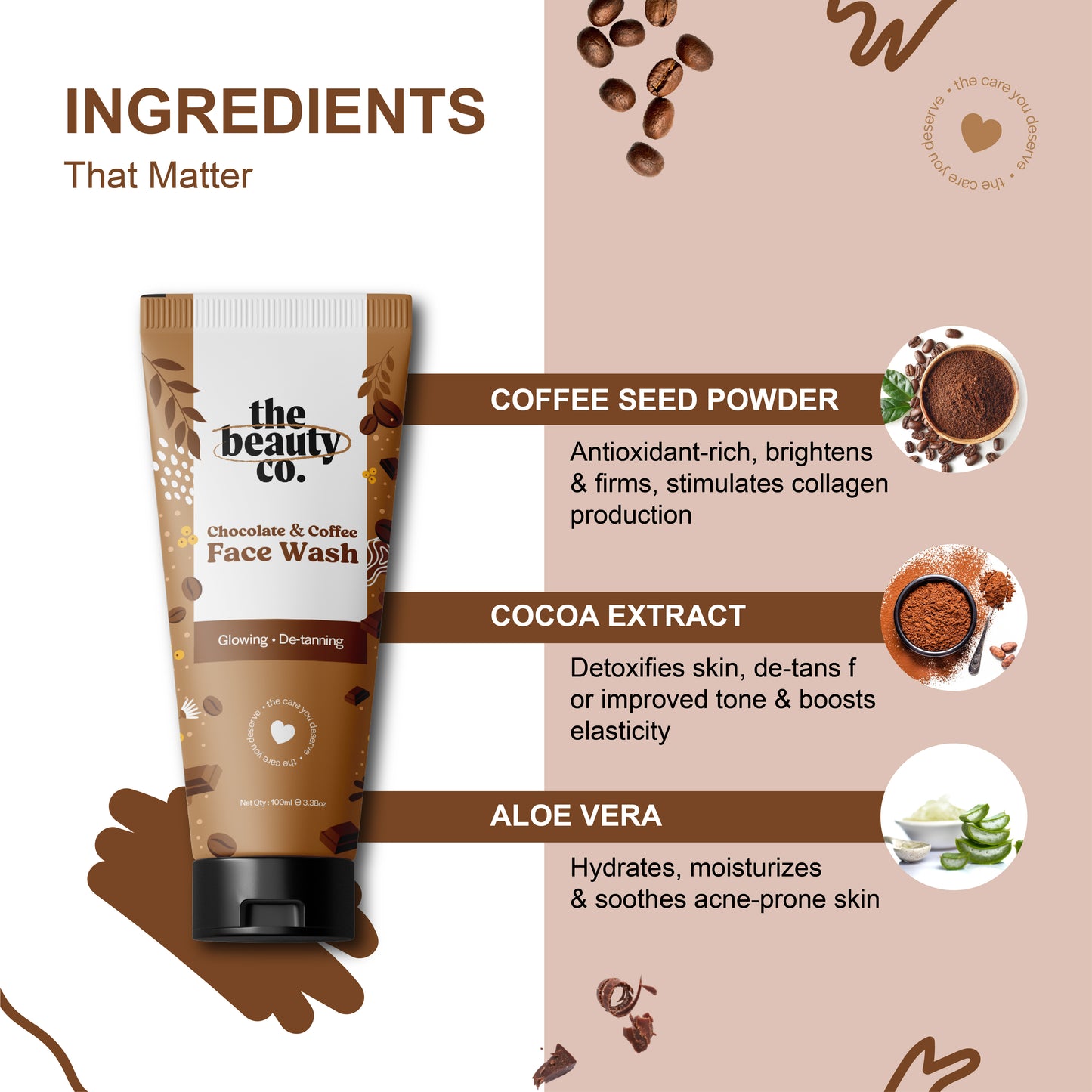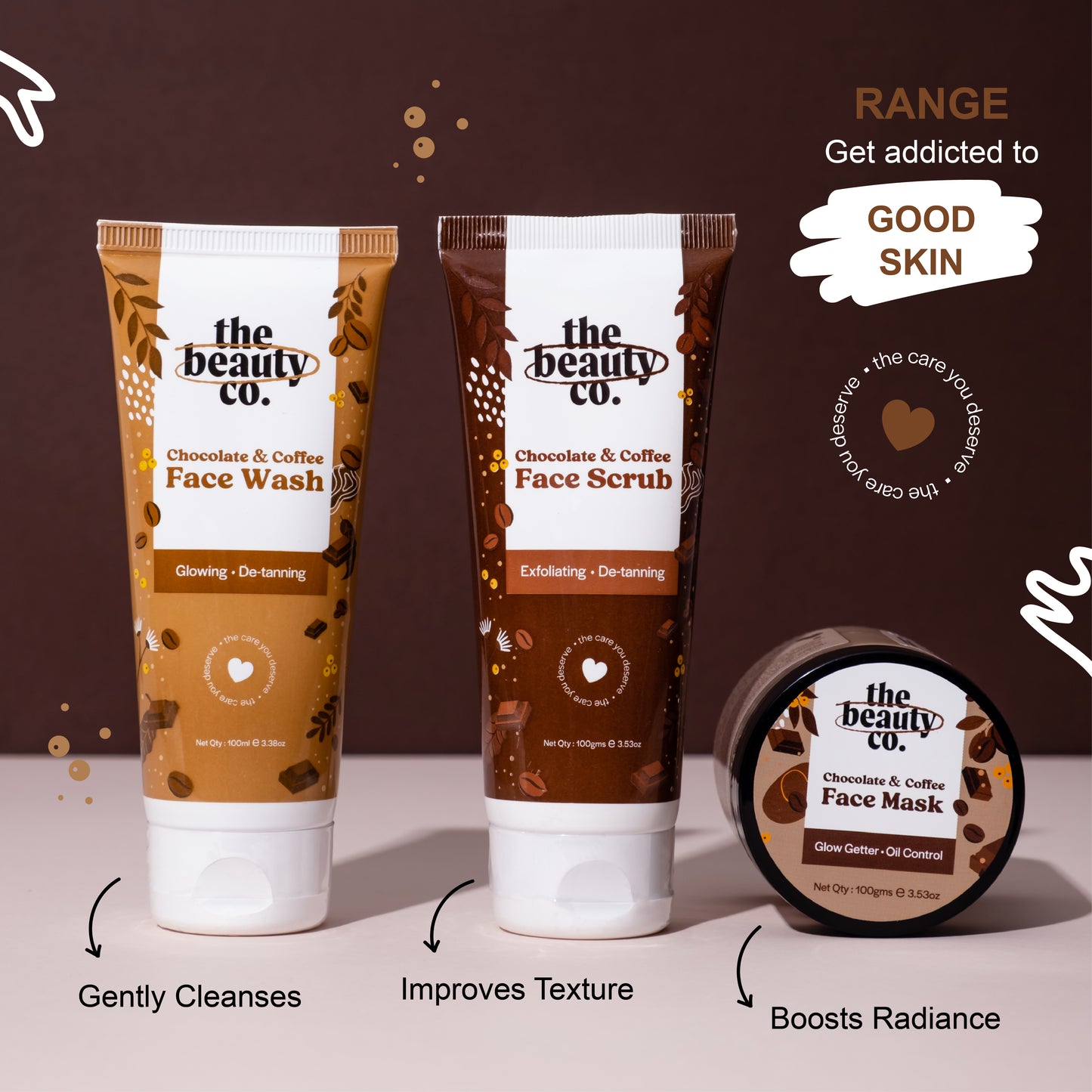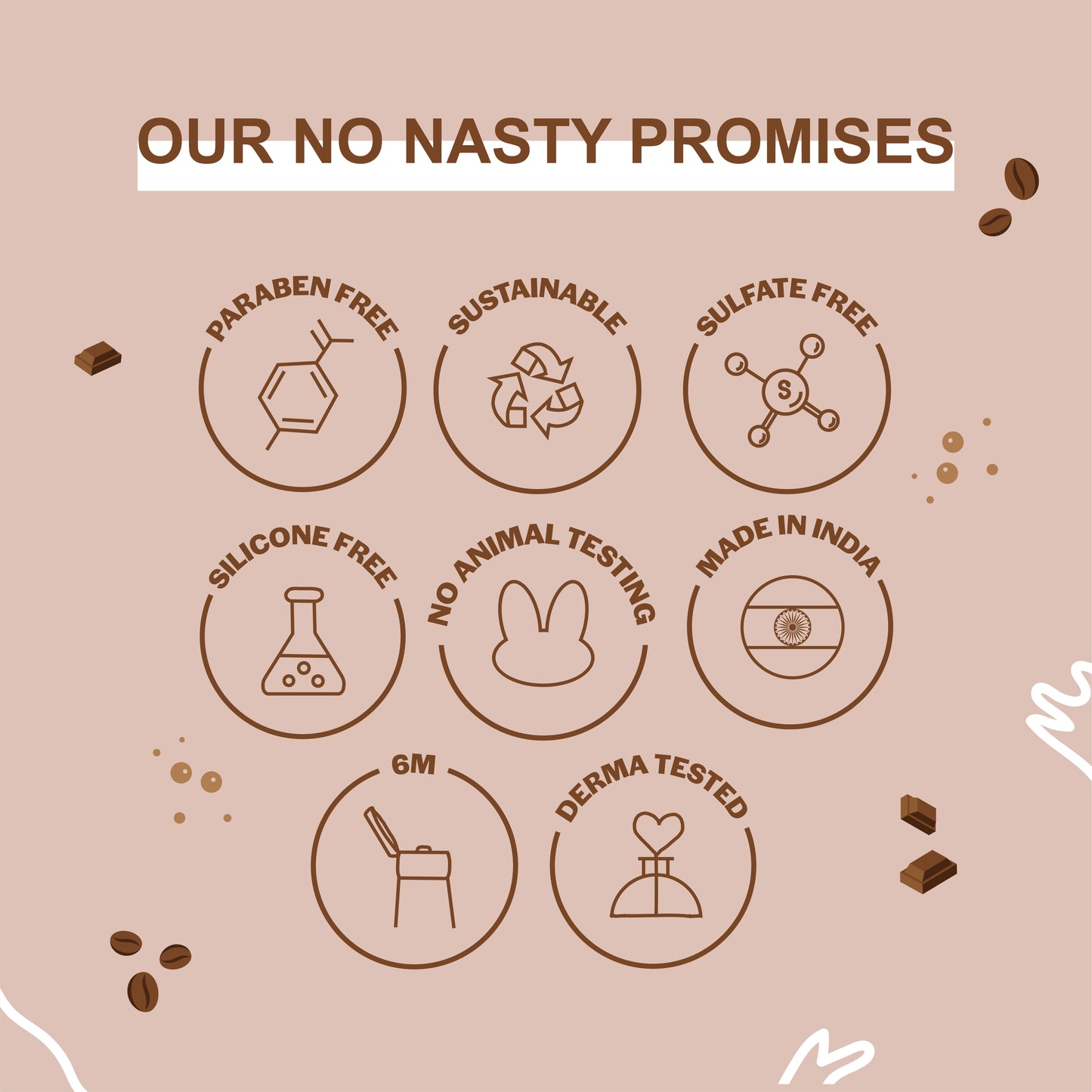 Cocoa Extract

-Repairs & replenishes skin

-Combats acne & pimples

-Retains moisture

-Protects skin from sun damage

Coffee Robusta Powder

-Reduces cellulite on skin

-Age-defying benefits

-Treats dark circles & spots

-Soothes puffiness, irritation or inflammation

Aloe vera Extract

-Heals dry, flaky skin

-Improves skin tone & texture

-Provides intense hydration

-Renders softness & suppleness to skin
Frequently Asked Questions
Can we use coffee face wash daily?

Yes, you can use coffee face wash daily. It helps protect skin against free radical damage while deeply cleansing to make your skin feel rejuvenated and energized.
Is Caffeine good for skin?

Yes, Caffeine has deep cleansing properties which helps detoxify and clear skin. It helps brighten, fight dullness and prevent signs of premature aging. 
What are the benefits of Robusta Coffee Seed Powder?

Robusta coffee is often used in skincare products because of its high caffeine content and potential benefits for the skin, such as improving circulation and reducing inflammation. It also contains chlorogenic acid, which may have antioxidant and anti-aging properties.
Is the product dermatologist-tested?

Yes, the product is dermatologist-tested. If you have extremely sensitive skin or have any potential skin allergy, it is best to patch test the product on your arm and wait for 24-48 hour to notice any irritation.
Say Nay to Acne… With Highly-Effective Face Wash
Using a face wash is one of the most common acts that we do quite a few times a day. That's the reason we should be more careful about something that touches our skin these many times a day. The Beauty Co. Chocolate Coffee Face Wash for acne-prone skin is a perfect solution for your facial skin for the care you deserve! The unique blend of Cocoa Extract, Coffee Extract, and Aloe Vera work fabulously on your skin. Just massage it gently on your face to remove dust and toxins, repair dry & flaky skin, restrict acne and pimples, and replenish the lost glow of your skin. See how this mild, foamy face wash turns the coarse and hard skin into soft, supple and oh-so-touchable!.