Chocolate & Coffee Face Scrub With Robusta Coffee | 100gm
All Skin Types
Regular price
Sale price
₹350.00
Unit price
per
Sale
Sold out
Oil, dirt, impurities & dead skin cells can make your pores clogged and your skin dull. Try The Beauty Co. Chocolate Coffee Face Scrub to exfoliate the top layer of the skin to reveal clearer, smoother, and fresher skin. It helps regenerate new skin by getting rid of dead skin cells first. The tiny granules of Walnut Shell Powder & Robusta Coffee Ground gently buff and clarify pores while Almond Oil & Cocoa Powder nourish the skin. It also helps de-tan, reduce blackheads and improve the appearance of fine lines. 
Share
Reasons To Love

1. Formulated with physical exfoliants, this scrub helps improve skin texture & reveal soft, smooth skin. 

2. Unlike other face scrubs, the exfoliant granules are fine & gentle on the skin. 

3. The gentle abrasion allows the skin to regenerate and revivify for a brighter, fresher and healthier skin. 

4. Crafted with 100% Robusta Coffee Extract, it is rich in chlorogenic acid which has restorative power to combat damage caused by free radicals and sun. 
Ingredients

Cocoa Powder

Walnut Shell Powder

Sweet Almond Oil

Shea Nut Extract
How to use

Spread: Wet your face with lukewarm water and take a blob of The Beauty Co. Chocolate Coffee Face Scrub.

Massage: Massage it gently on the face in a circular motion for a few minutes to exfoliate the dead skin cells.

Relax: Relax for 3 to 5 minutes; allow the scrub to hydrate your skin & soak in all the goodness of rich ingredients.

Rinse: Rinse the scrub off and ditch the dullness within minutes to slay all day!
Additional Information

Best Before: 24 Months

Manufactured/Packed By: Goodness Of Nature

Marketed By: Zen Lifestyle Private Limited

1701, Mondeal Heights, Near Novotel Hotel, S G Highway 380051

Country Of Origin: India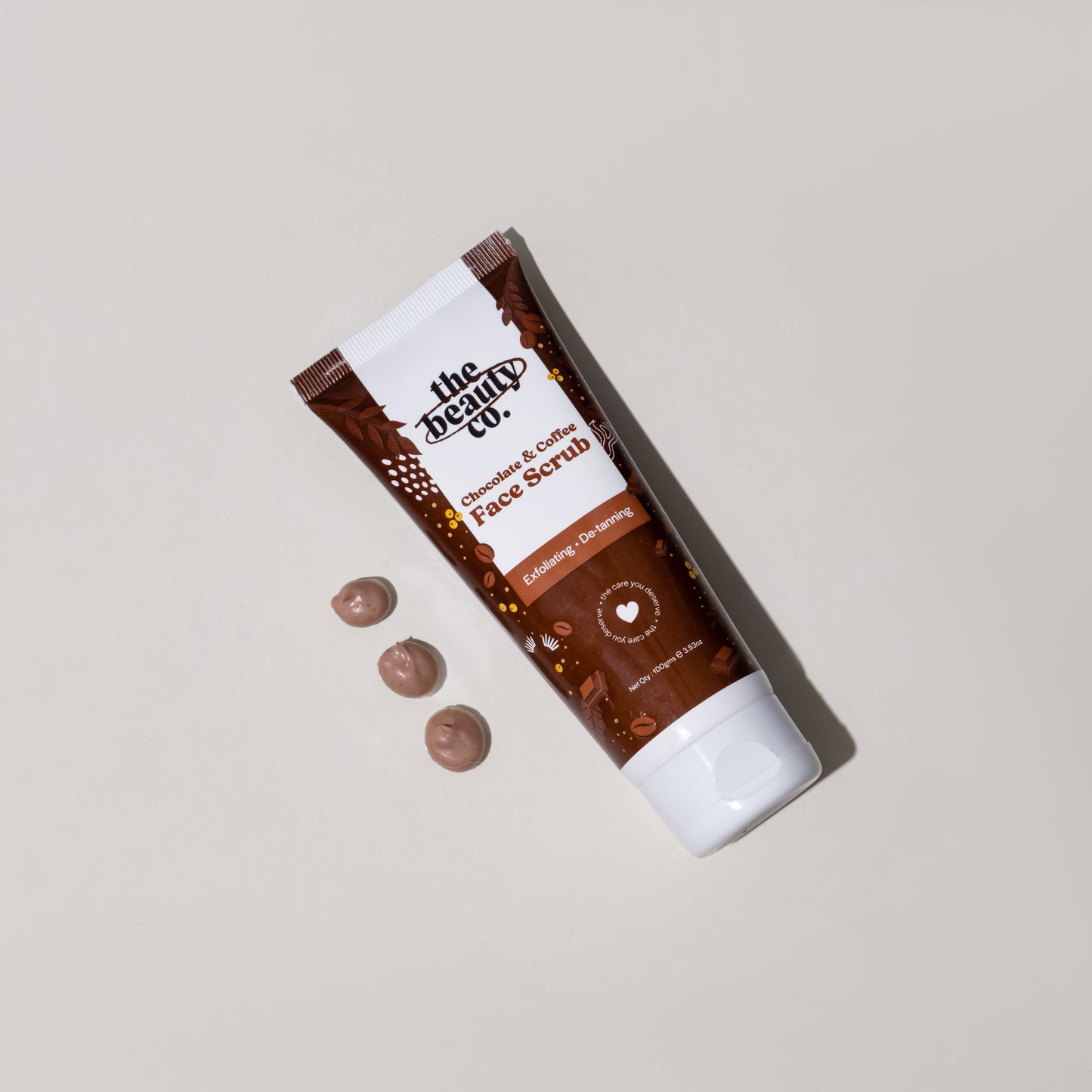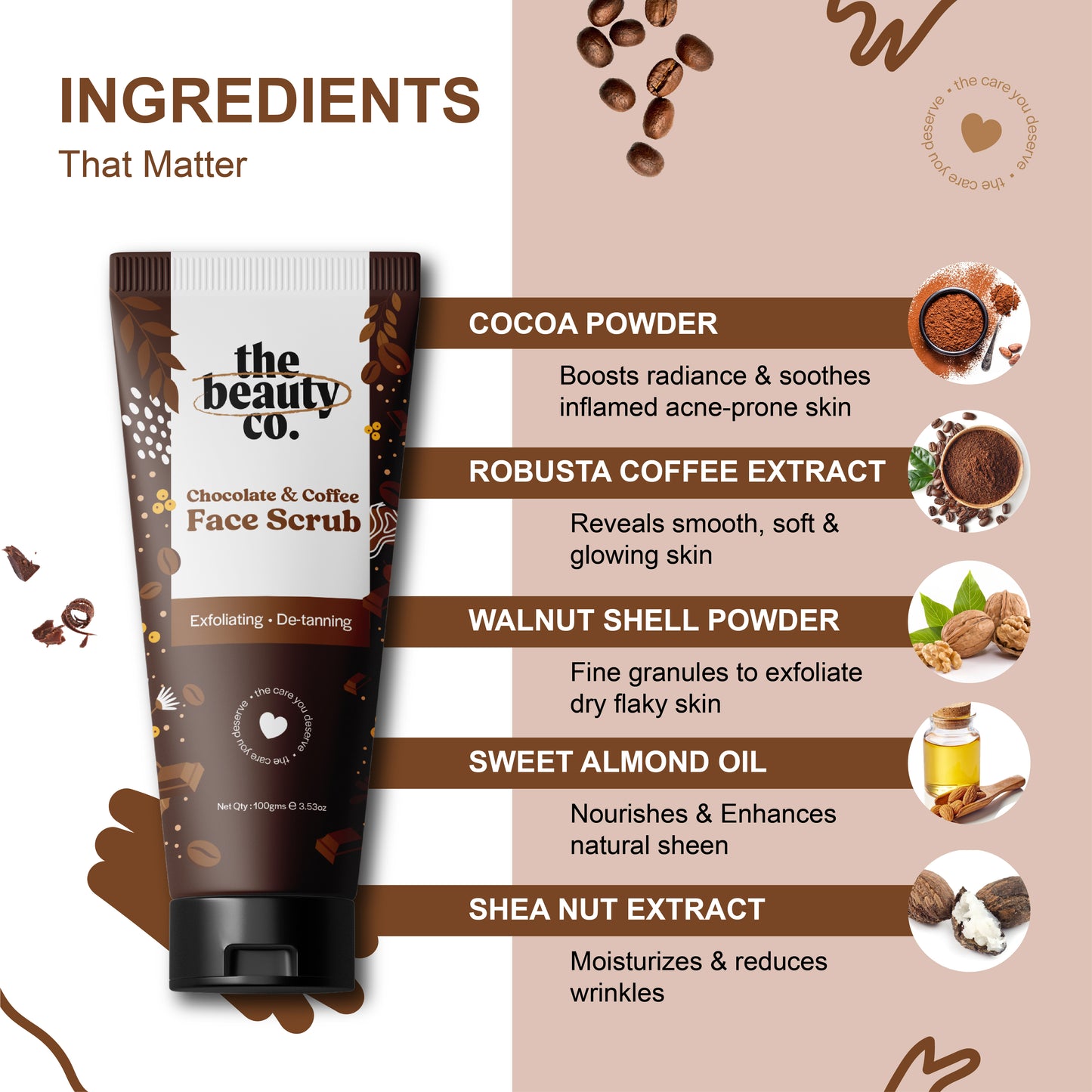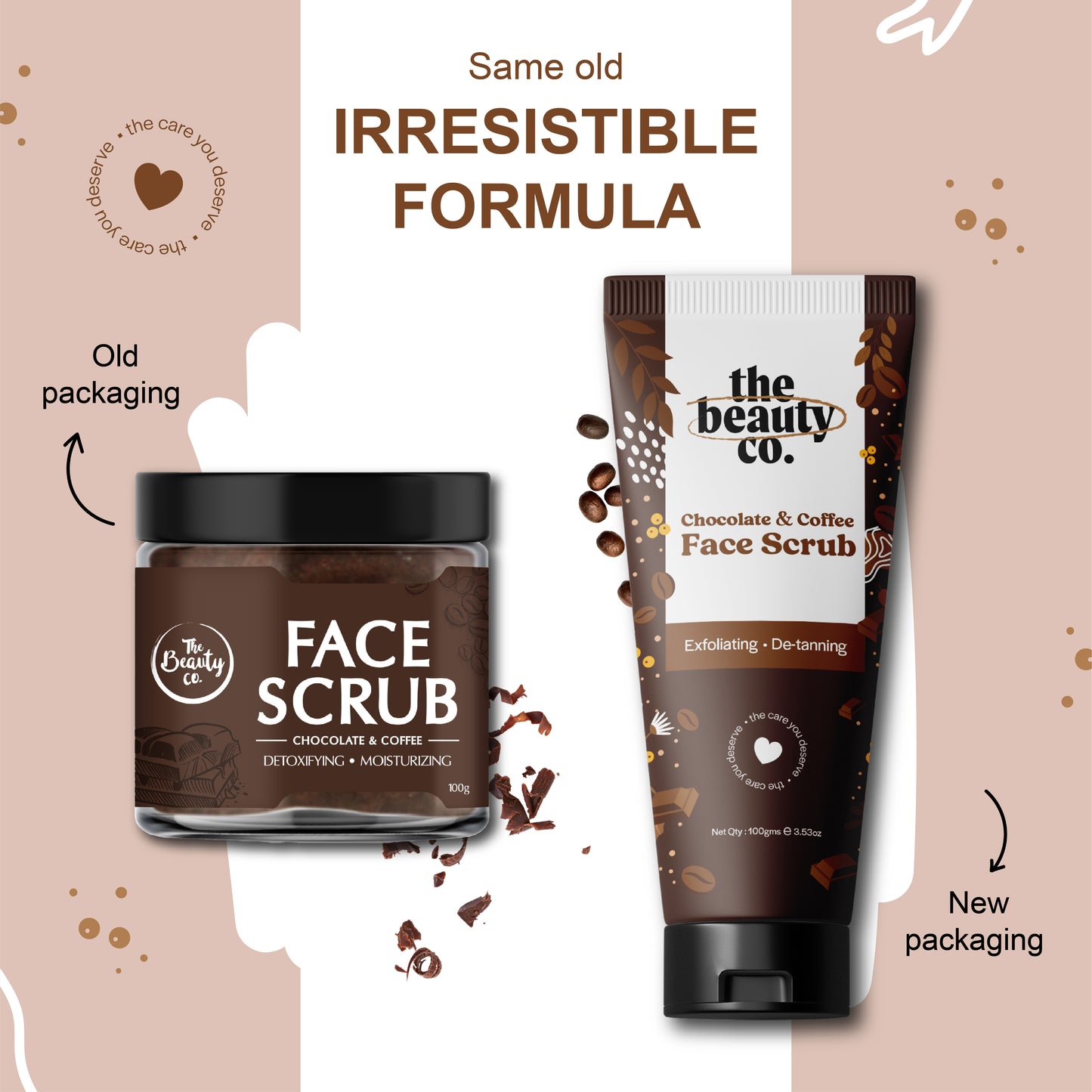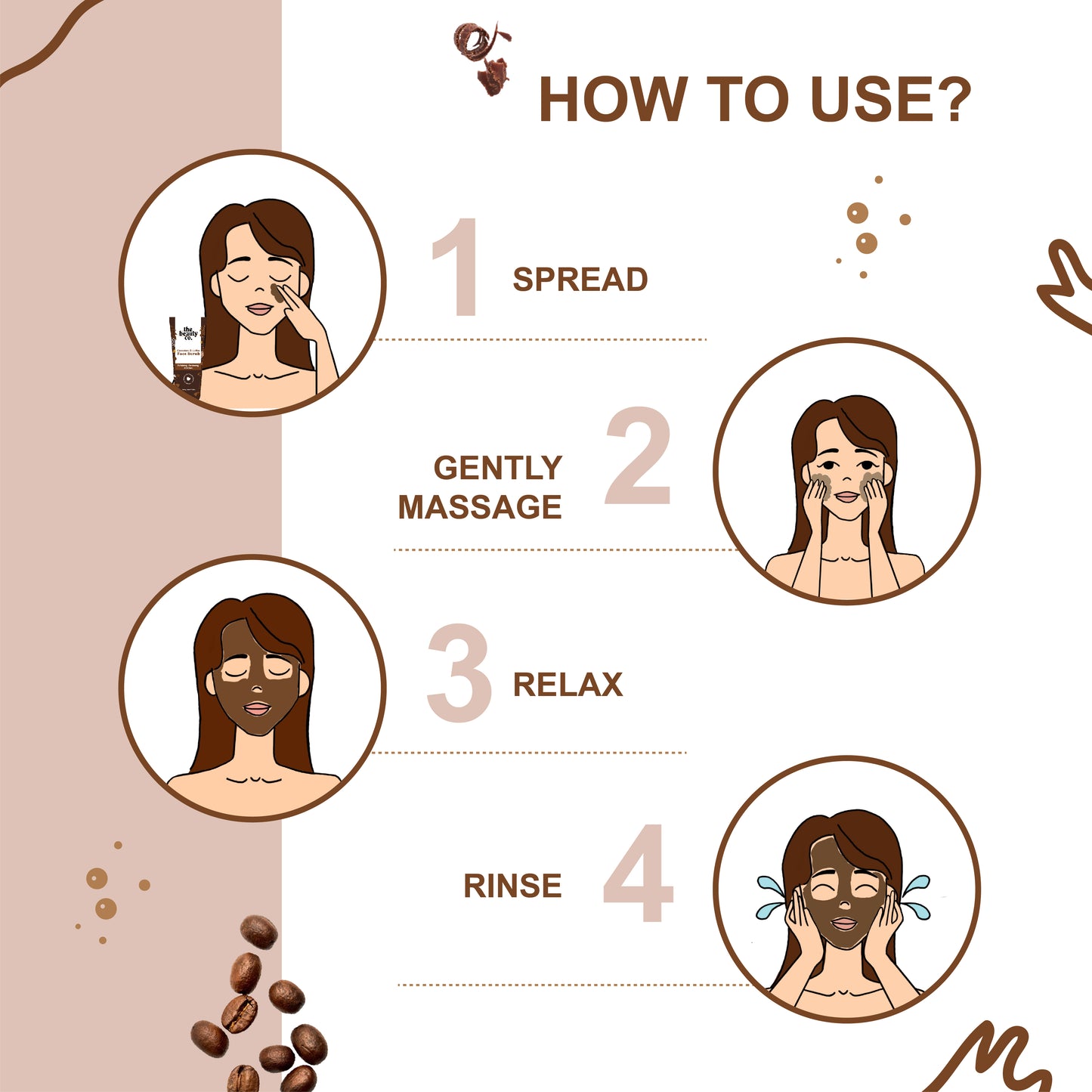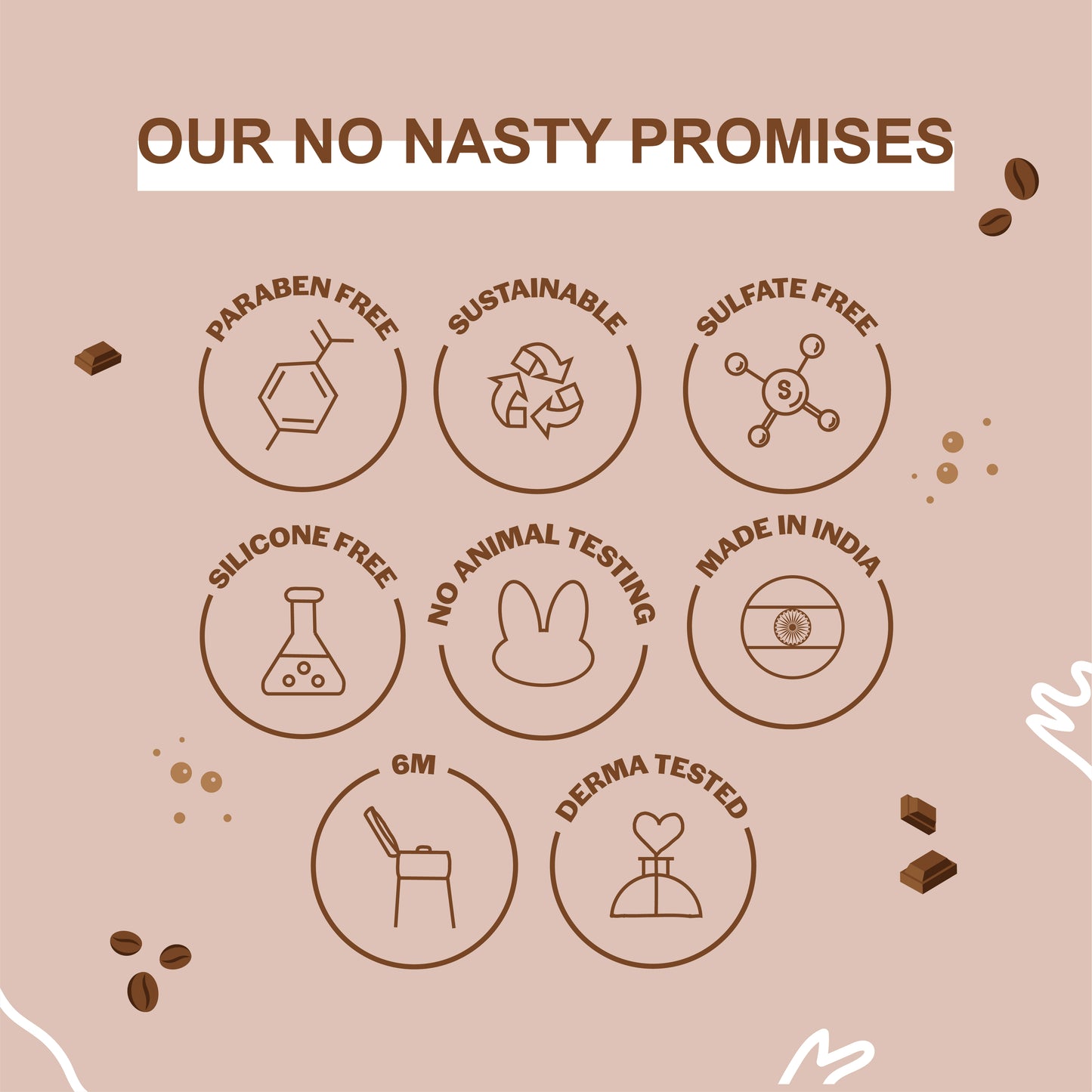 Cocoa Extract

-Repairs & replenishes skin

-Combats acne & pimples

-Retains moisture

-Protects skin from sun damage

Walnut shell Powder

-Treats common skin concerns

-Curbs fungal skin infection

-Removes dead skin cells

-Rich in antioxidants

Shea Butter extract

-Enhances skin texture

-Cleans & clears clogged skin pores

-Works on the overall tone & texture of skin

-Leaves skin smooth & soft
Frequently Asked Questions
Is Coffee good to use daily on the skin?

Add coffee to your daily skincare routine to jolt up your skin! It is rich in nutrients that help support healthy skin to prevent breakouts, uneven skin tone and wrinkles. Coffee is high on antioxidants like phenols that help boost collagen production in the skin.
Can I use a chocolate coffee skincare range in conjunction with other skincare products?

It is generally safe to use a chocolate coffee skincare range in conjunction with other skincare products. However, it is always a good idea to read the labels and be mindful of any potential interactions or sensitivities. If you are using multiple products, it may also be helpful to introduce them gradually to allow your skin time to adjust.
Why is robusta coffee better than arabica in skincare products?

Robusta coffee is better because it contains a higher level of caffeine than Arabica coffee. Caffeine has been shown to have a number of potential benefits when applied topically to the skin, including improving circulation, reducing inflammation, and reducing the appearance of cellulite and puffiness. Robusta coffee also contains a higher amount of chlorogenic acid than Arabica coffee, which have antioxidant and anti-aging properties.
Is the product dermatologist-tested?

Yes, the product is dermatologist-tested. If you have extremely sensitive skin or have any potential skin allergy, it is best to patch test the product on your arm and wait for 24-48 hour to notice any irritation.
Ditch The Dullness Away!
Maintenance! Each asset that we own costs a good amount of maintenance and a gentle touch of care! Your skin too is your valuable asset, and one of the first things that anyone notices about you! Hence a gentle touch, little care, and a good way of maintaining your skin will definitely go a long way! The Beauty Co. Chocolate Coffee Face Scrub promises you all of the above along with boosting your skin's overall health, tone, and texture through exfoliation. Yes! Exfoliation is an irreplaceable part of your skincare routine. It maintains your skin by removing dead skin cells, eliminating dirt & grime settled on the face, unclogging the skin pores, and revealing its natural glow. This is the scrub for exfoliating face, to get rid of the dullness and brighten the skin.