Chocolate & Coffee Body Scrub For Detanning | 100 gm
All Skin types
Regular price
Sale price
₹399.00
Unit price
per
Sale
Sold out

The Beauty Co. Chocolate Coffee Body Scrub is a delectable blend of premium Coffee & Chocolate. It will polish your skin to give you a luxe sheen. Infused with 100% natural oils, discover extraordinary glow and incredible softness just after the first use. Our Body Scrub will help remove impurities, dead skin cells & dirt from the surface, keeping skin clean & smooth. After consistent use, you can notice visible improvement in skin tone, acne & cellulite. Treat your body & skin to the ultimate detox pamper session with The Beauty Co Chocolate Coffee.
Share
Reasons To Love

Made with Superfoods like Coffee & Chocolate
Leaves your skin soft & smooth
Exfoliates to get rid of dry skin, ingrown hair 
Helps tone & brighten skin 
No harmful chemicals, Vegan & Cruelty-Free
Ingredients

Cocoa Extract

Coffee Robusta Powder

Argan Oil

Shea Butter
Additional Information

Best Before: 24 Months

Manufactured/Packed By: HCP Wellness Pvt Ltd

Marketed By: Zen Lifestyle Private Limited

1701, Mondeal Heights, Near Novotel Hotel, S G Highway 380051

Country Of Origin: India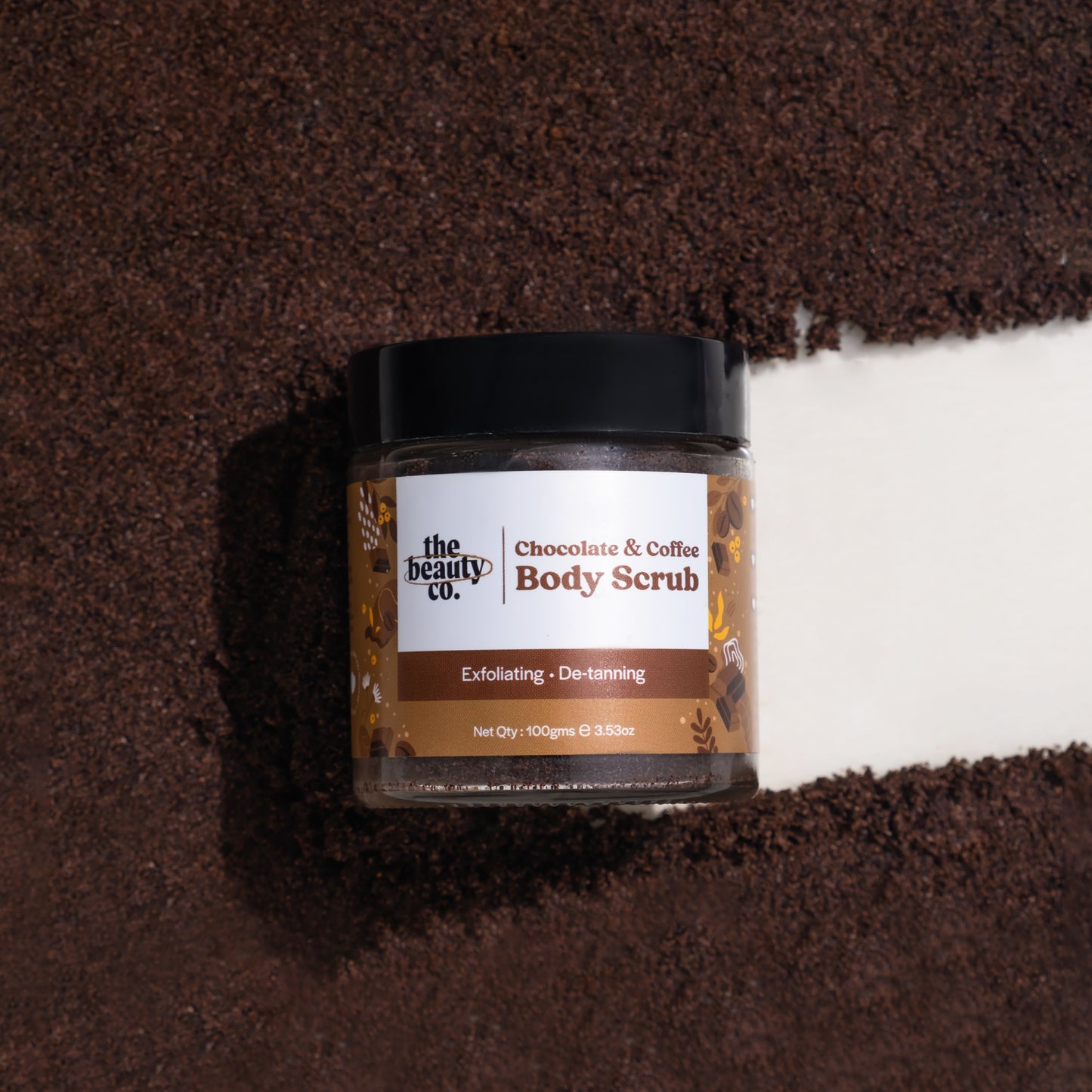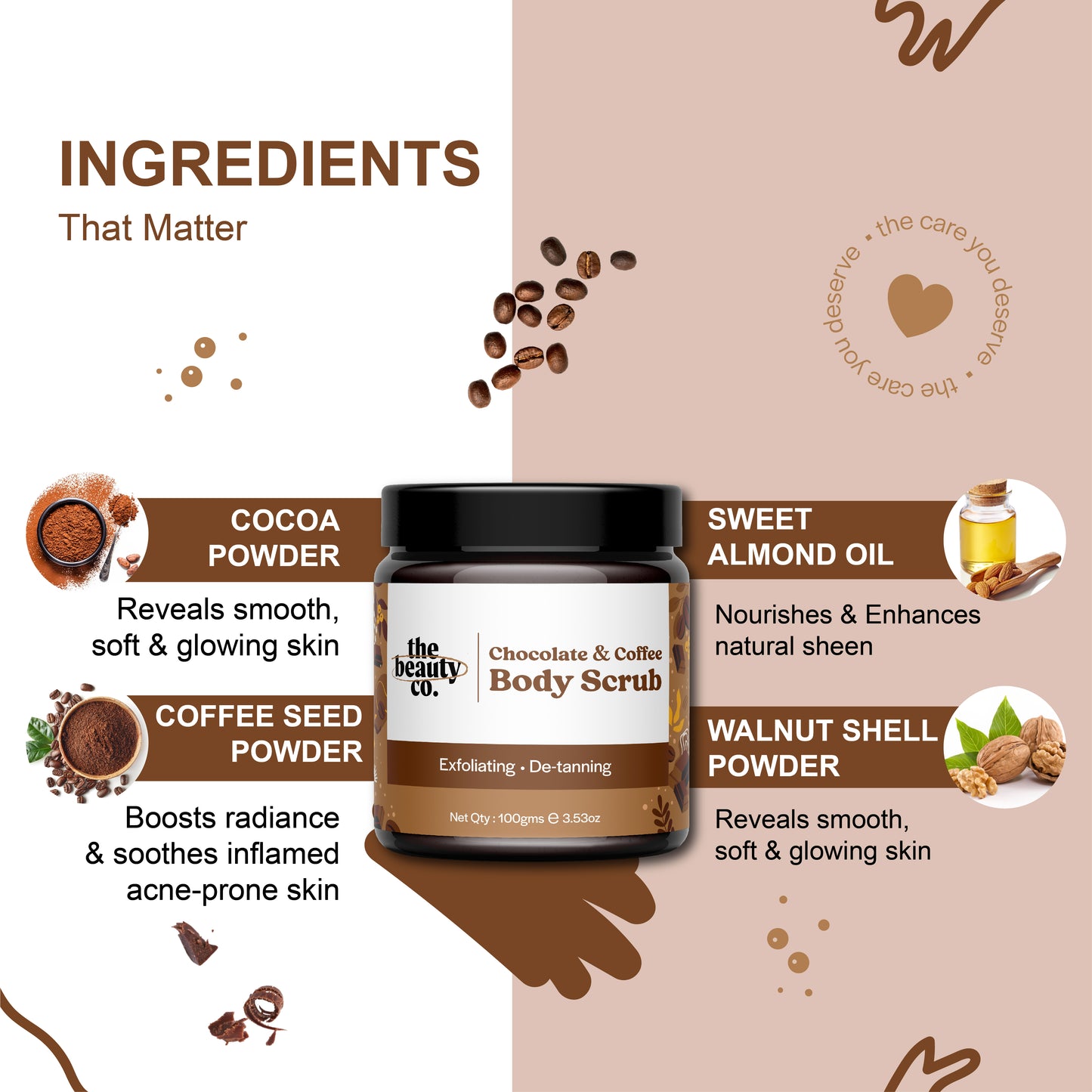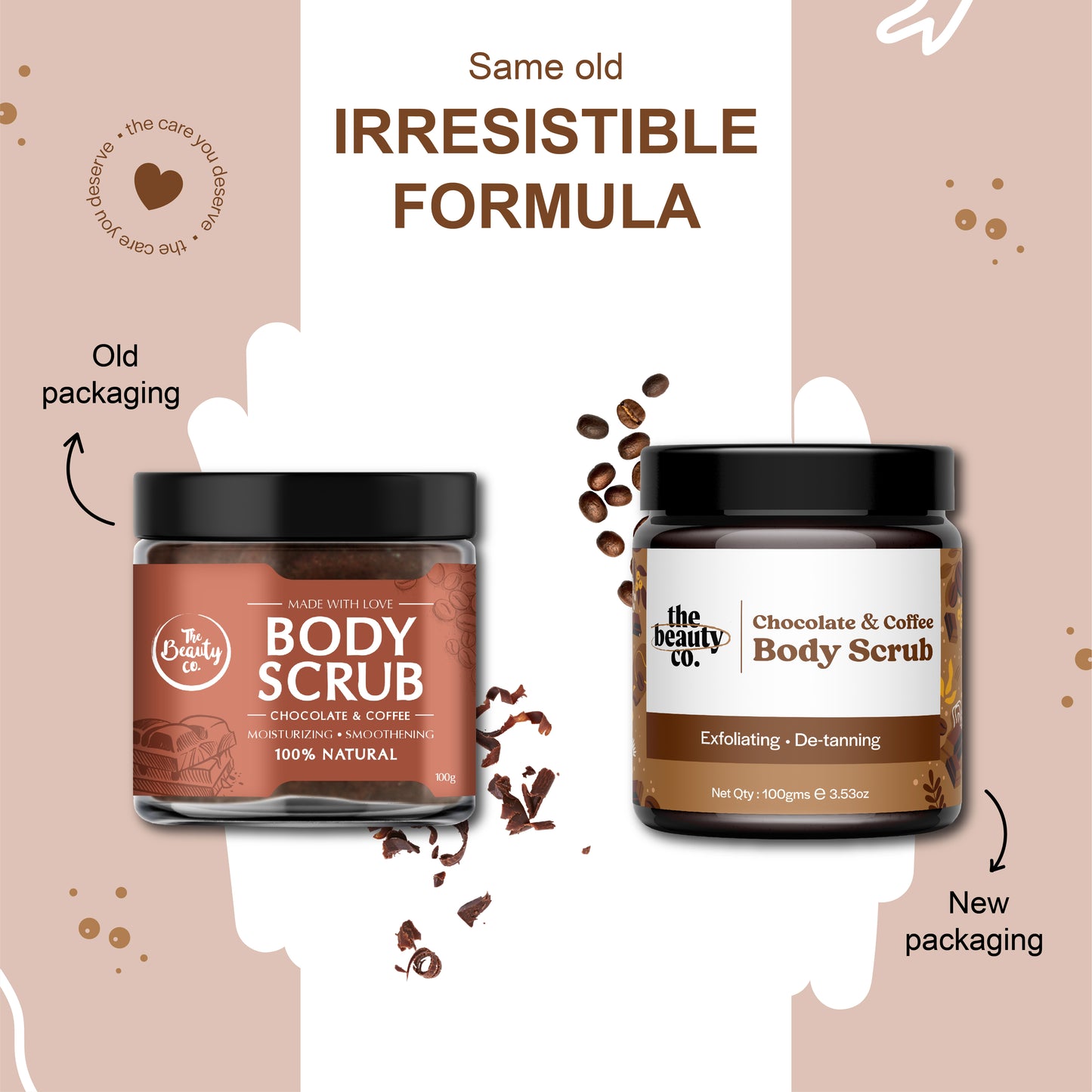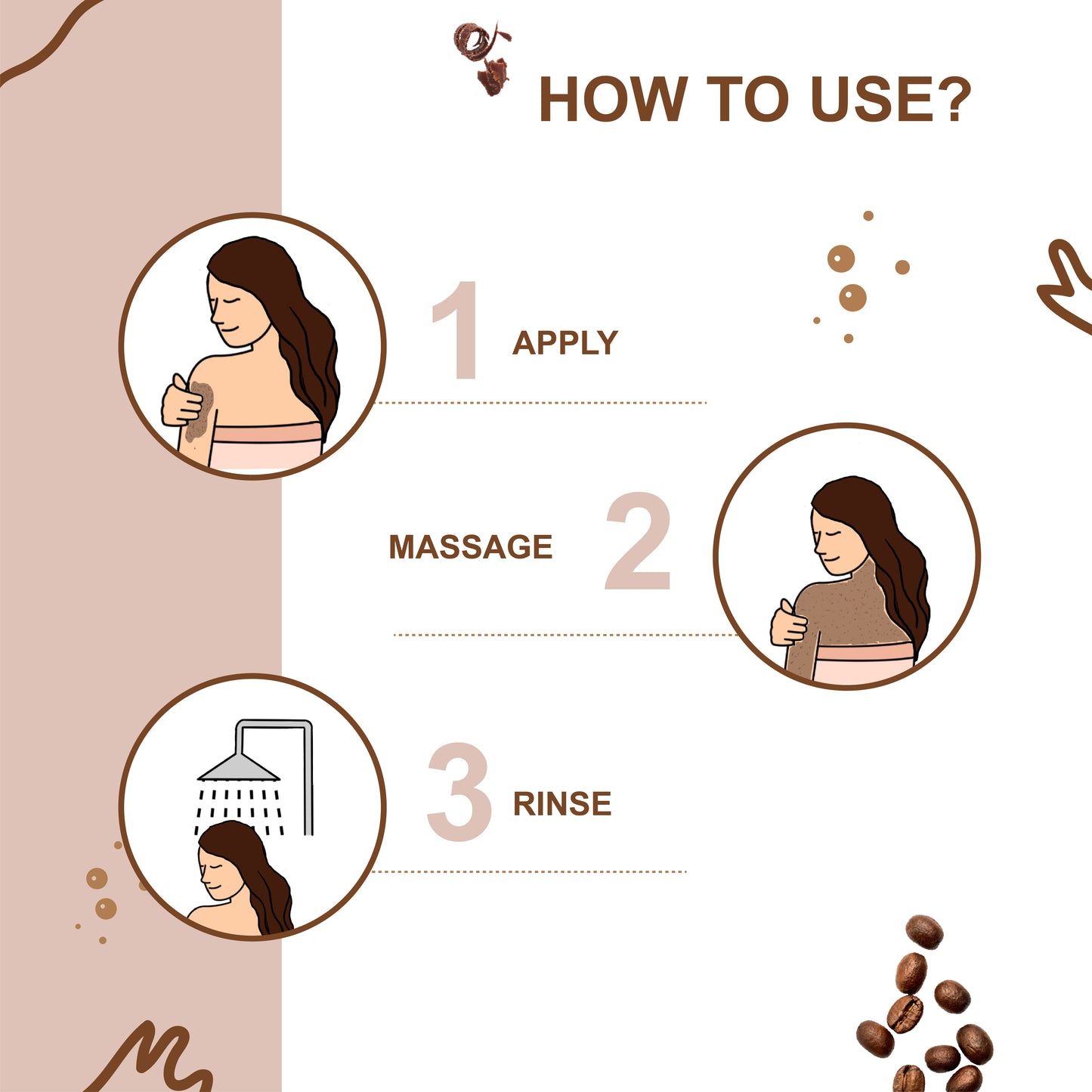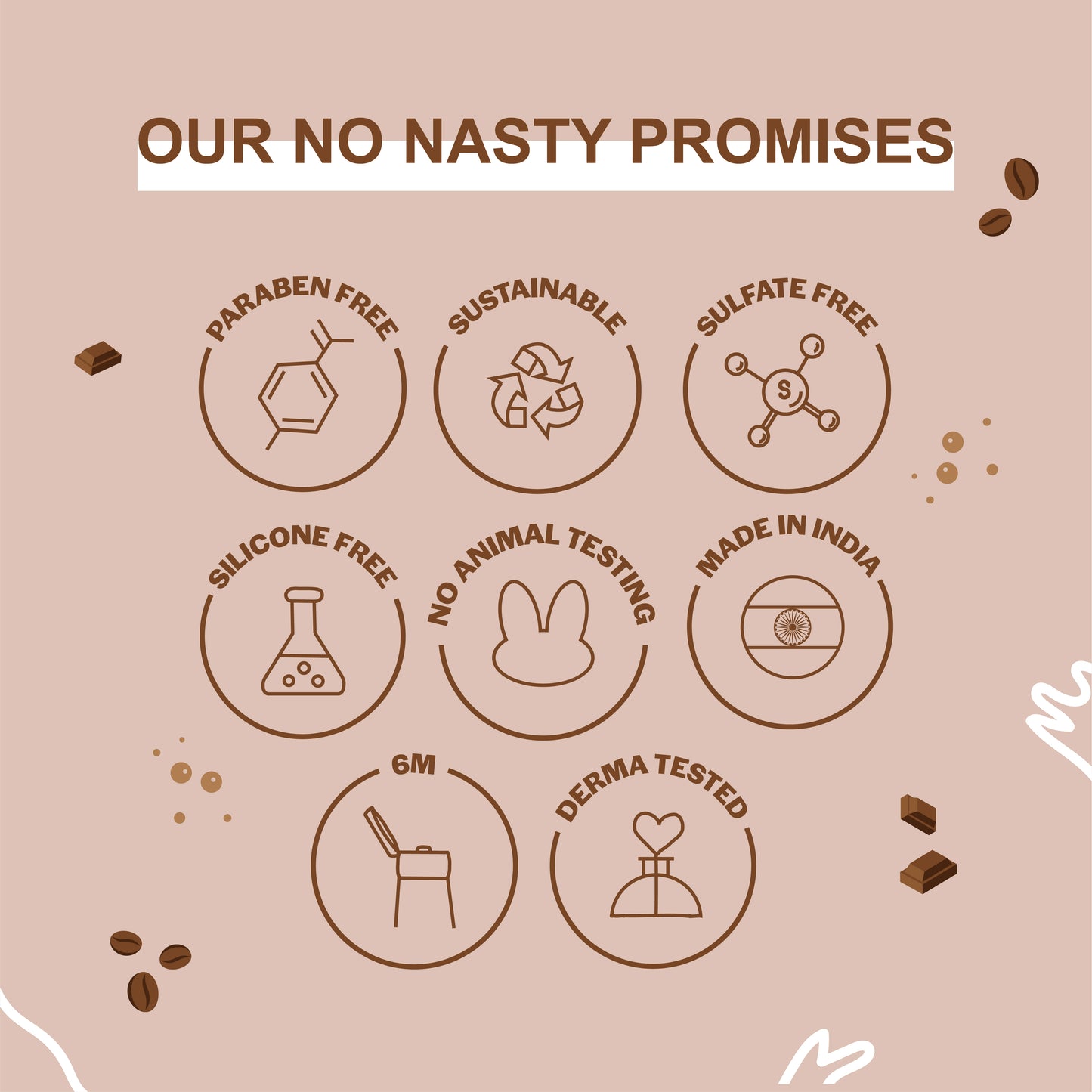 Cocoa Powder

Natural moisturizer

Anti-aging agent

Improves elasticity of skin

Tan removal & prevents sun damage

Coffee Robusta Seed Powder

Soothes skin soothes skin & reduces puffiness

Treats acne & pimples

Natural exfoliator Increases blood circulation

Argan Oil

Hydrates skin

Treats Fine Lines

Heals skin infections

Imparts natural glow
Frequently Asked Questions
Is Caffeine good for skin?

Yes, Caffeine has deep cleansing properties which helps detoxify and clear skin. It helps brighten, fight dullness and prevent signs of premature aging. 
Does Coffee brighten skin?

The caffeine in coffee has antioxidant properties and may help to reduce inflammation and redness. It may also improve circulation and tighten the skin, giving it a brighter, more youthful appearance.
Why is robusta coffee better than arabica in skincare products?

Robusta coffee is better because it contains a higher level of caffeine than Arabica coffee. Caffeine has been shown to have a number of potential benefits when applied topically to the skin, including improving circulation, reducing inflammation, and reducing the appearance of cellulite and puffiness. Robusta coffee also contains a higher amount of chlorogenic acid than Arabica coffee, which have antioxidant and anti-aging properties.
Is the product dermatologist-tested?

Yes, the product is dermatologist-tested. If you have extremely sensitive skin or have any potential skin allergy, it is best to patch test the product on your arm and wait for 24-48 hour to notice any irritation.
Satiate Your Skin & Soul with Chocolate & Coffee!
Who doesn't love the divine combination of chocolate and coffee? Well, most of us do! And if you are among those who love to binge on Choco-Coffee, we are sure your skin too, would! Don't bother about the nature or type of your skin; be it normal, dry, oily or combination skin, The Beauty Co. Chocolate Coffee Body Scrub promises to satiate the basic requirements of every skin type, and how! In fact,The Beauty Co. is the first brand to introduce the combination of Chocolate & Coffee in a body scrub with pleasant fragrance and exceptional features.Made with love with Chocolate, Coffee and Natural Oils, this 100% natural scrub treats your skin with utmost gentleness. It exfoliates the dead skin cells, clears skin pores of grime that usually cause acne & pimples, removes tan and reveals your naturally glowing skin. The divine fragrance of Chocolate & Coffee is sure to alleviate your mood.