Chocolate & Coffee Body Butter With Robusta Coffee
All Skin Type
Regular price
Sale price
₹450.00
Unit price
per
Sale
Sold out
The Beauty Co. Chocolate & Coffee Body Butter is a smooth, creamy blend of Chocolate Extract, Coffee Extract and Glycerine to intensely hydrate and deeply nourish your skin. With the goodness of Chocolate & Coffee, this body butter promises 24-hour hydration to leave your skin soft, supple, healthy and wrinkle-free. Feed your skin with this creamy body butter to give it a rich texture and youthful glow!
Share
Reasons To Love

Smooth, buttery formula for deep nourishment 
Gently exfoliate to relieve dryness
Made with 100% Robusta Coffee Seed Powder 
Contains Cocoa Extract, Shea Butter, Niacinamide & Glycolic Acid
Helps target pigmentation, coarse texture & bumps 
Also helps reduce breakouts
Protects skin from damage caused by free radicals 
No harmful chemicals, Vegan & Cruelty-Free
Ingredients

Cocoa Powder

Robusta Coffee Powder

Glycerine
How to use

Take: Take a dollop of The Beauty Co. Chocolate & Coffee Body Butter.

Apply: Apply it on your body, especially dry areas like elbow & knees.

Massage: Massage it gently while it melts; let the skin absorb all the goodness it has to offer.
Additional Information

Best Before: 24 Months

Manufactured/Packed By: Nulyf India

Marketed By: Zen Lifestyle Private Limited

1701, Mondeal Heights, Near Novotel Hotel, S G Highway 380051

Country Of Origin: India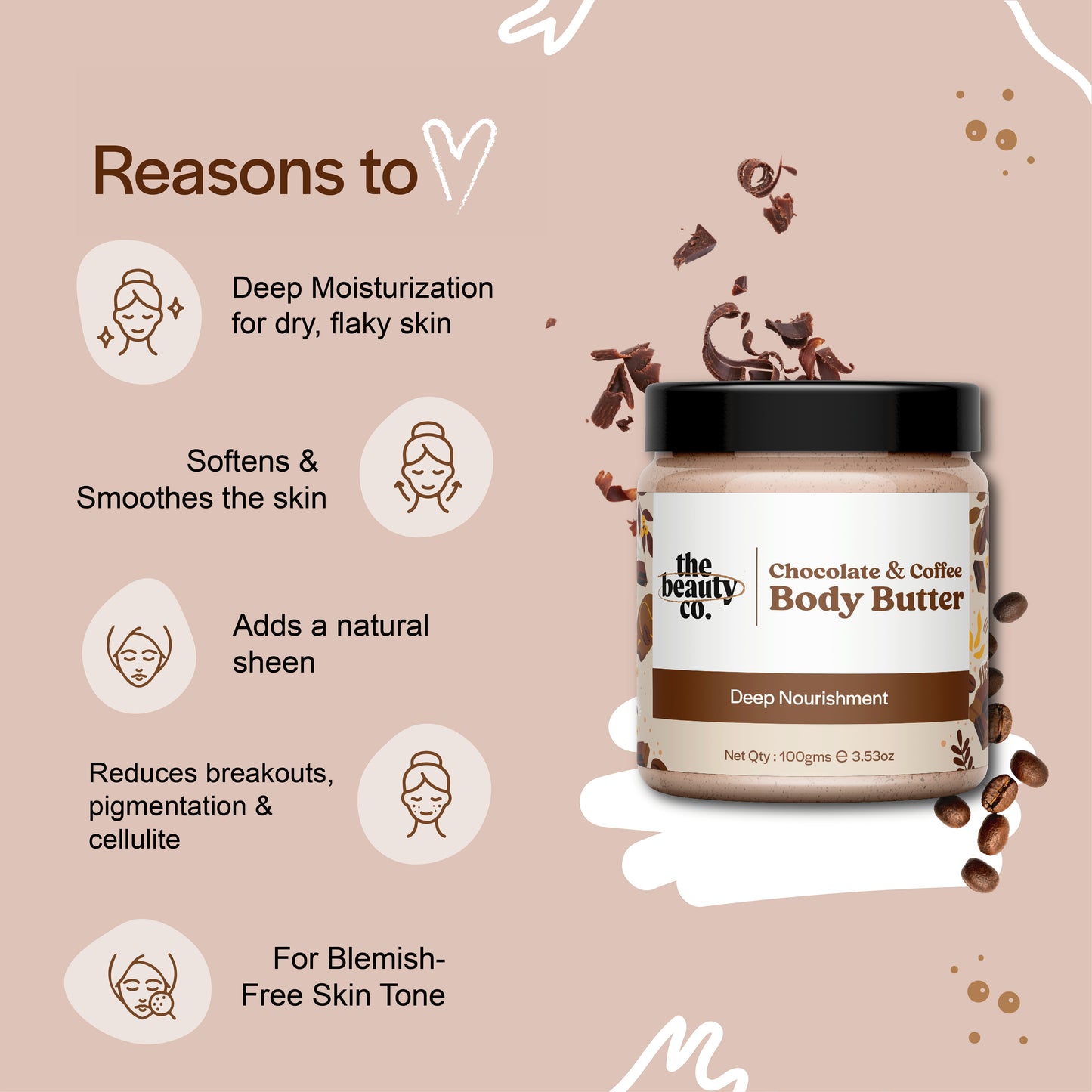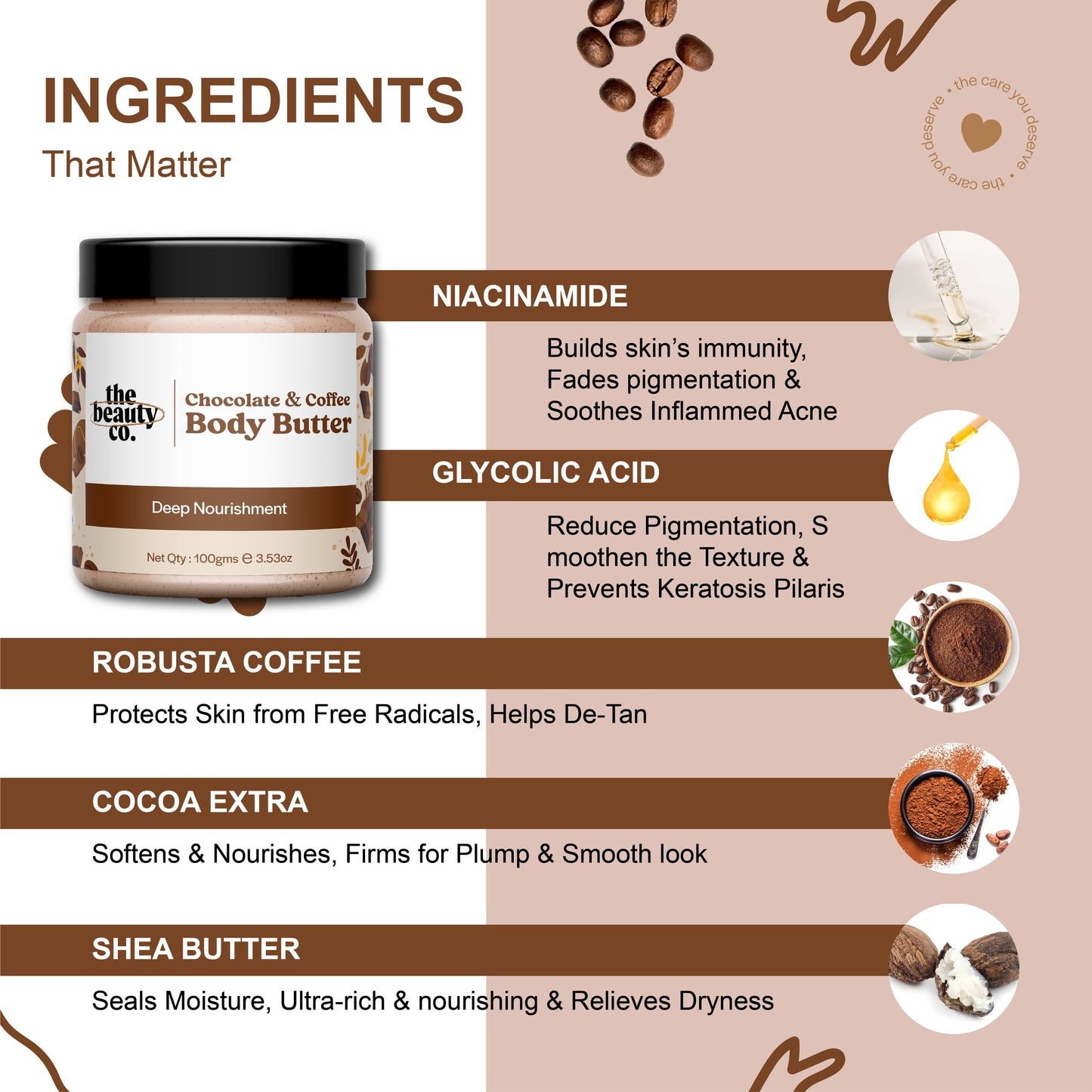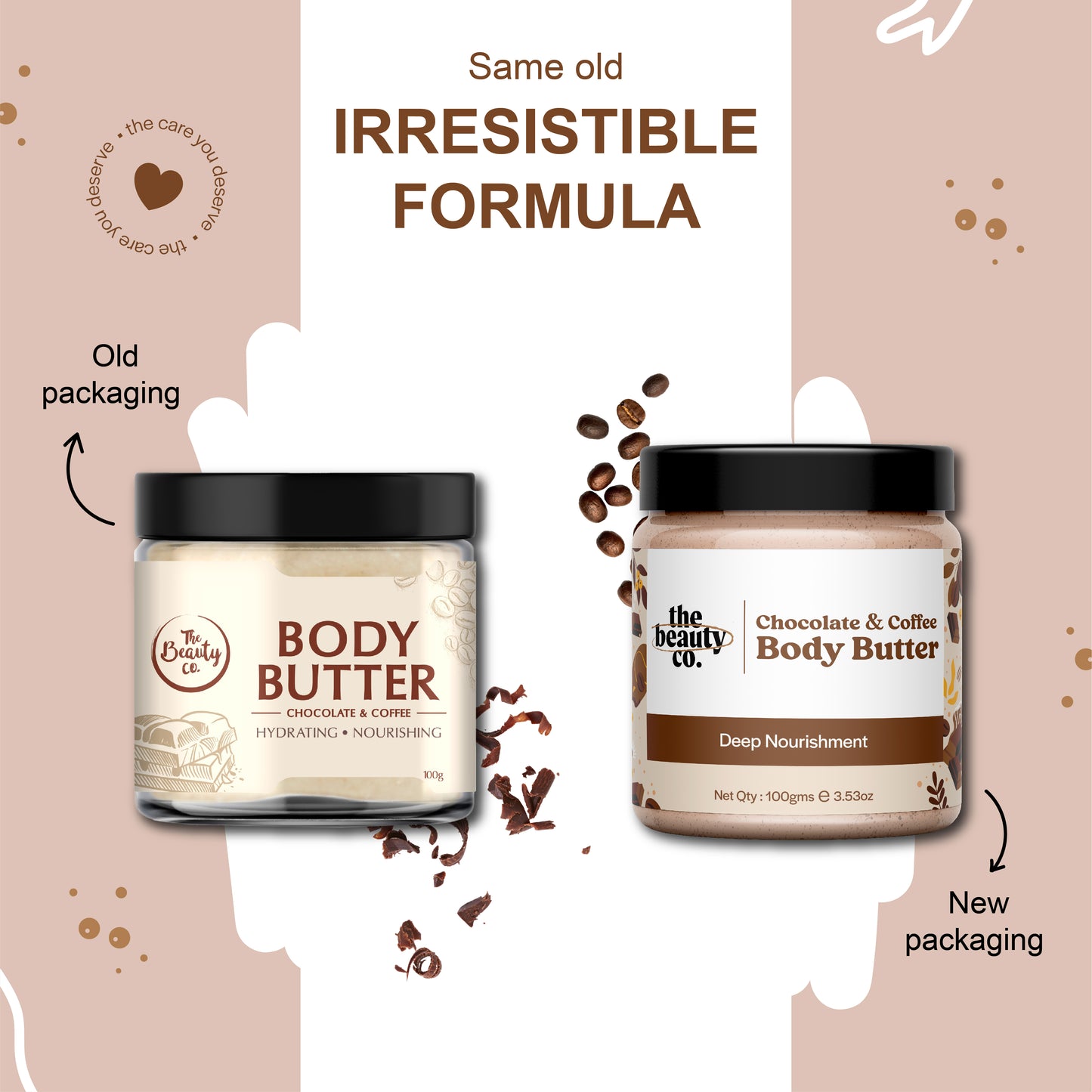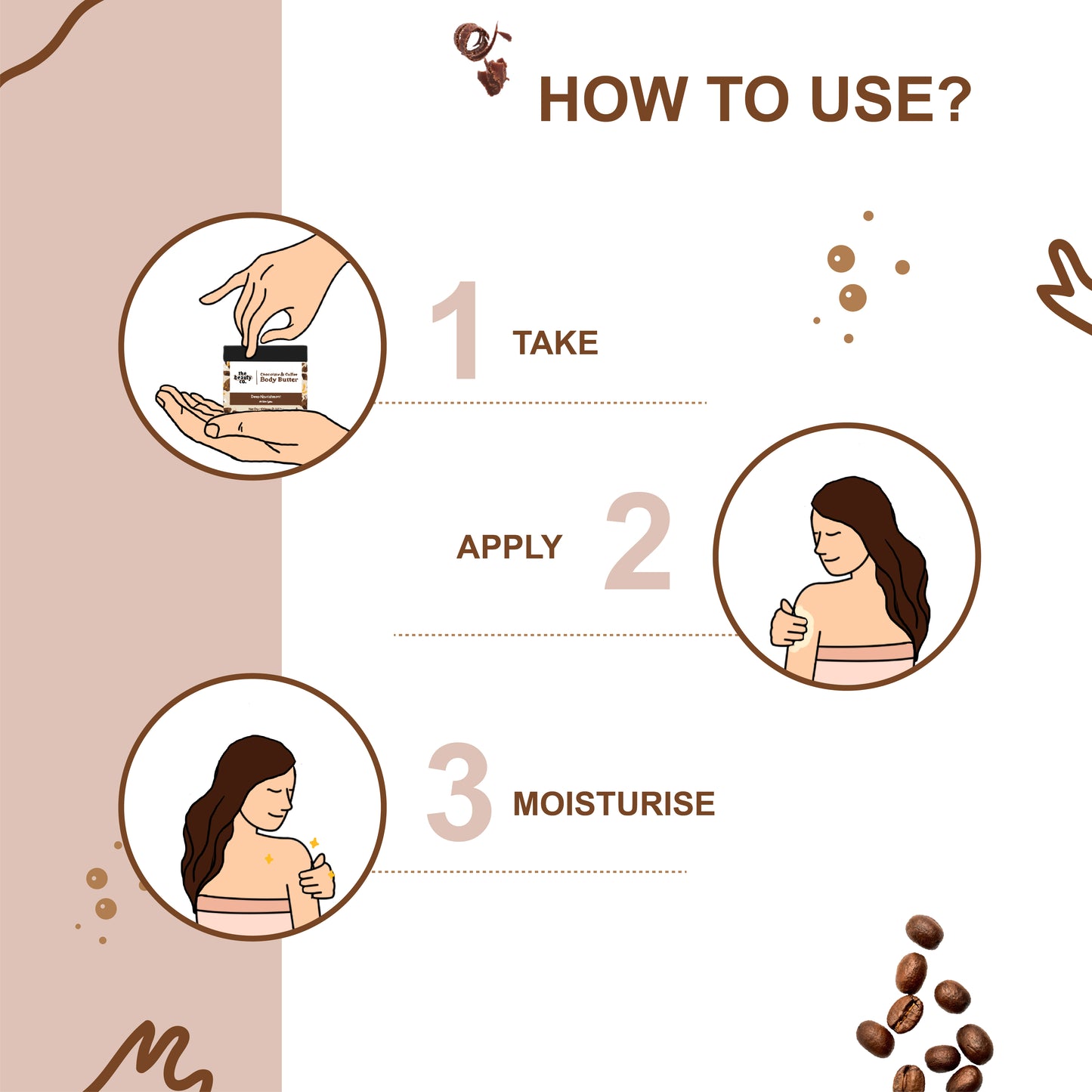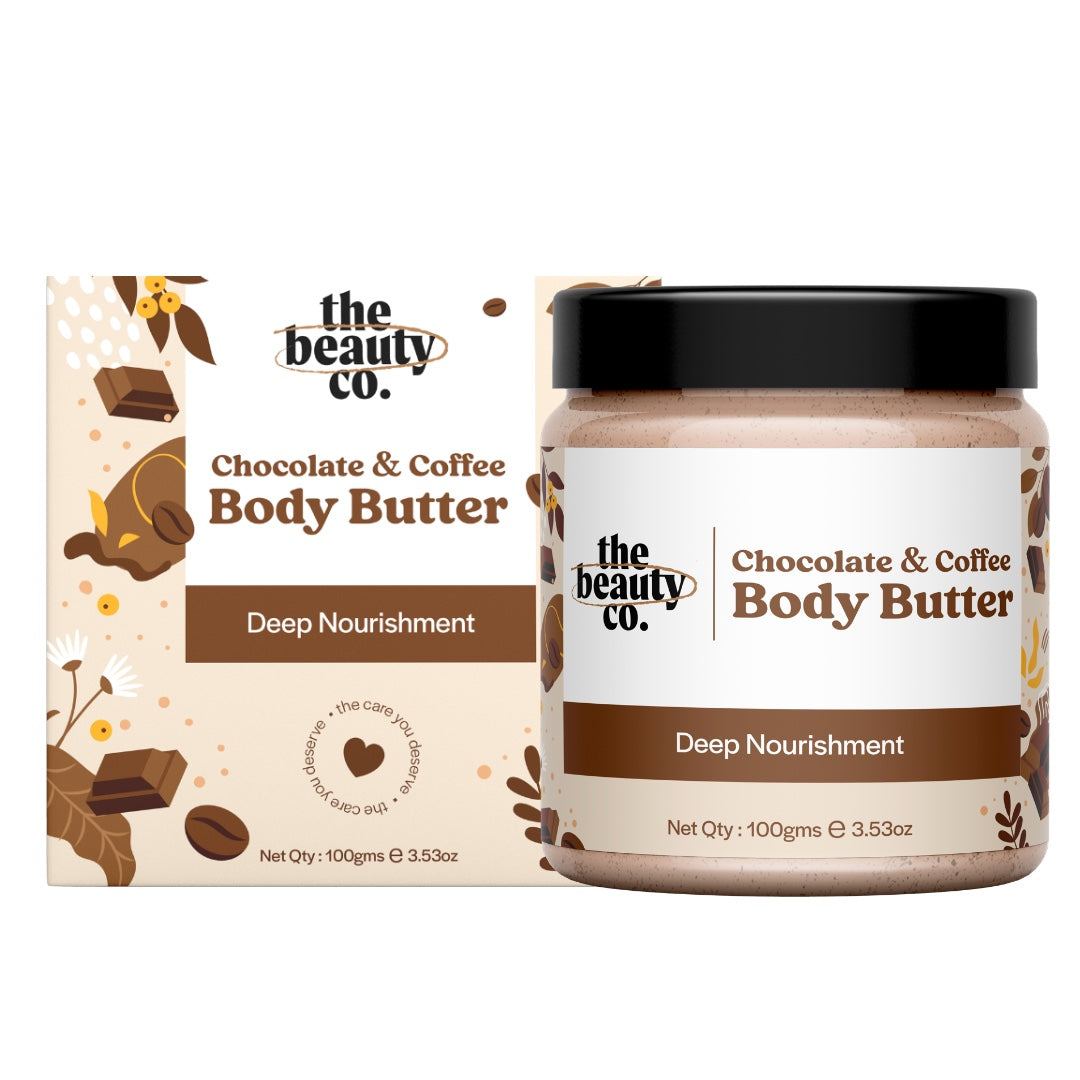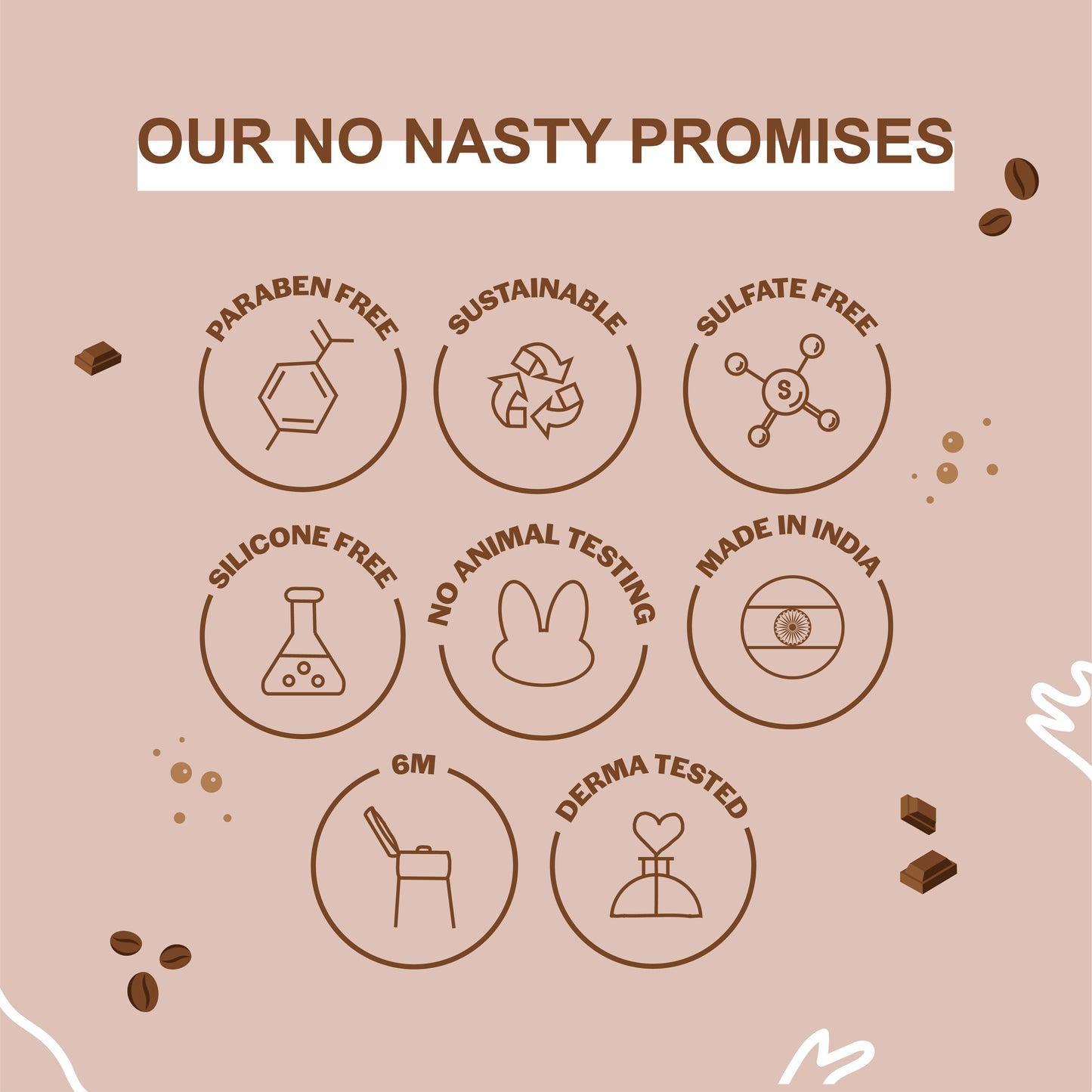 Cocoa Extract

-Repairs & replenishes skin

-Combats acne & pimples

-Retains moisture

-Protects skin from sun damage

Robusta Coffee Powder

-Anti-aging agent; soothes skin conditions

-Rich in antioxidants

-Improves blood circulation

-Tightens & brightens skin

Glycerine

-Treats acne, pimples, etc.

-Controls excess sebum

-Retains moisture into skin

-Imparts natural glow
Frequently Asked Questions
Is Coffee good to use daily on the skin?

Add coffee to your daily skincare routine to jolt up your skin! It is rich in nutrients that help support healthy skin to prevent breakouts, uneven skin tone and wrinkles. Coffee is high on antioxidants like phenols that help boost collagen production in the skin.
Does Coffee brighten skin?

The caffeine in coffee has antioxidant properties and may help to reduce inflammation and redness. It may also improve circulation and tighten the skin, giving it a brighter, more youthful appearance.
What are the benefits of Robusta Coffee Seed Powder?

Robusta coffee is often used in skincare products because of its high caffeine content and potential benefits for the skin, such as improving circulation and reducing inflammation. It also contains chlorogenic acid, which may have antioxidant and anti-aging properties.
Is the product dermatologist-tested?

Yes, the product is dermatologist-tested. If you have extremely sensitive skin or have any potential skin allergy, it is best to patch test the product on your arm and wait for 24-48 hour to notice any irritation.
Soak Your Skin In The Ultra-Rich Body Butter!
Our skin loses hydration due to various reasons – constant exposure to air conditioners, prolonged exposure to heat and sun or pollution. These are a few reasons why our skin feels parched, flaky and stretchy. In fact, dry skin is the root cause of many other common skin concerns like itchiness, irritation, fine lines & wrinkles. In order to prevent them and revive the skin's original texture, we need to provide it with intense hydration. And we vouch for when it comes to The Beauty Co. Chocolate Coffee Body Butter. This Cocoa & Robusta Coffee laden body butter will smoothly glide on to your skin, easily melting and seeping into it, making it look young & fresh. The body butter not only repairs dull, dry, flaky skin but also nourishes it on a day-to-day basis to give it a soft, smooth & supple look. It is made with natural ingredients to cater to the needs of all skin types. Also, it helps the skin to retain moisture for longer hours, diminishing possible signs of aging.