Neem & Aloe Vera Face Wash with Salicylic Acid For Skin Purifying
Regular price
Sale price
₹299.00
Unit price
per
Sale
Sold out
The Beauty Co Neem & Aloe Vera Face Wash is an acne-busting cleanser that gently and thoroughly cleanses pores for a fresh and pimple-free skin. It combats acne-causing bacteria and gets rid of dead skin cells that potentially clogs pores and leads to blackheads and zits. Formulated with Neem and Aloe, its anti-inflammatory properties help soothe redness and irritation. Also blended with Salicylic Acid and Vitamin B3, these two ingredients work really well together to provide during and post acne. Salicylic targets active acne and blackheads while Vitamin B3 takes care of the marks left behind. 
Share
Reasons To Love

Made with skin-safe ingredients 
Non-drying formula with gentle surfactants
Vegan & Cruelty-Free
Clean Beauty with no sulfates, parabens or mineral oil 
Reduces & prevents acne 
Regulates oil production 
Formulated with natural ingredients like Aloe Vera and Neem
Backed by active ingredients like, Salicylic Acid and Vitamin B3
Ingredients

Neem Extract

Aloe Vera

Salicylic acid

Vitamin B3
How to use

Dampen your face with placid water

Pour a pea-sized amount of the face wash in your hand

Apply the face wash to your skin and rub in circular motions and rinse off

Pat dry with a towel or let it air dry
Additional Information

Best Before: 24 Months

Marketed By: Zen Lifestyle Private Limited

1701, Mondeal Heights, Near Novotel Hotel, S G Highway 380051

Country Of Origin: India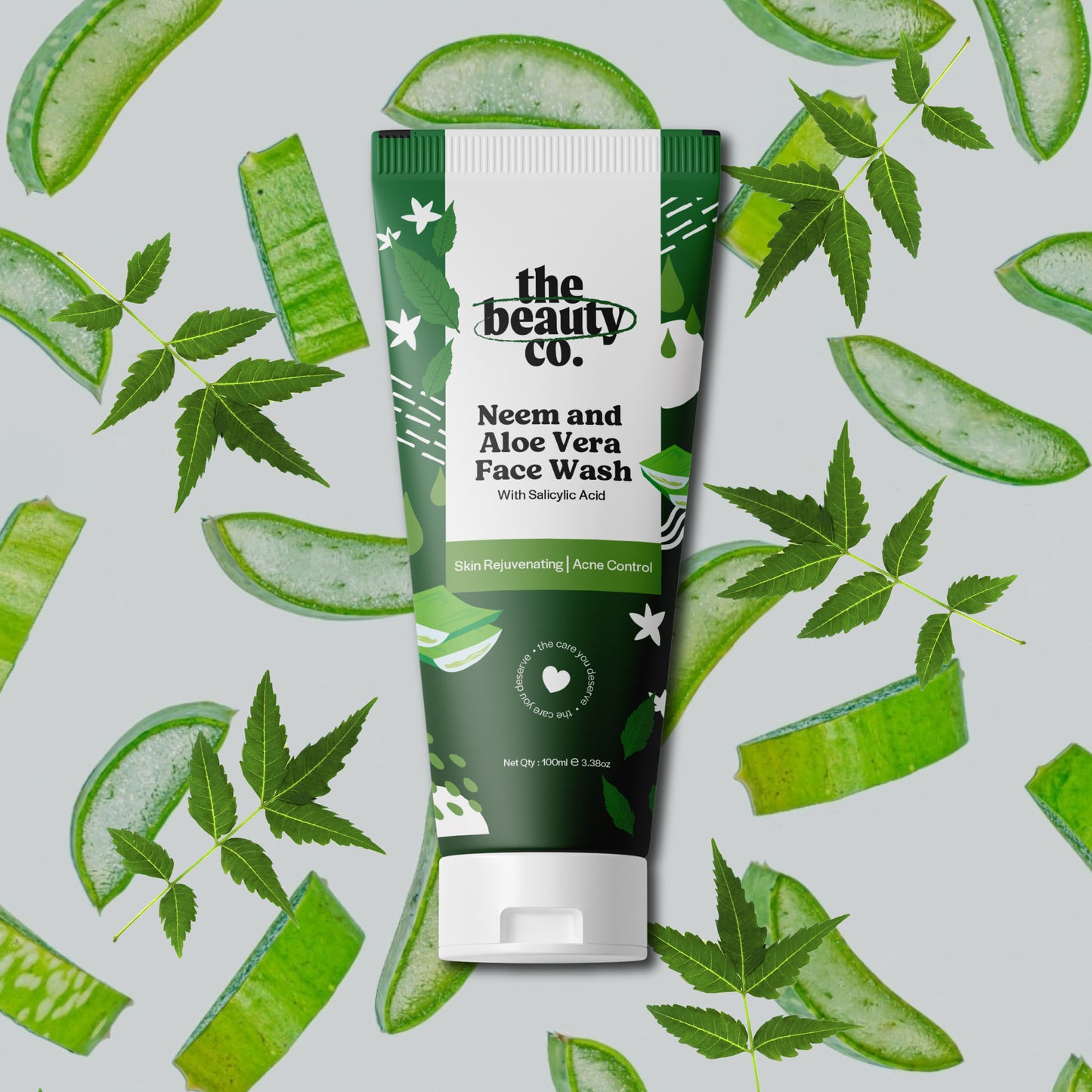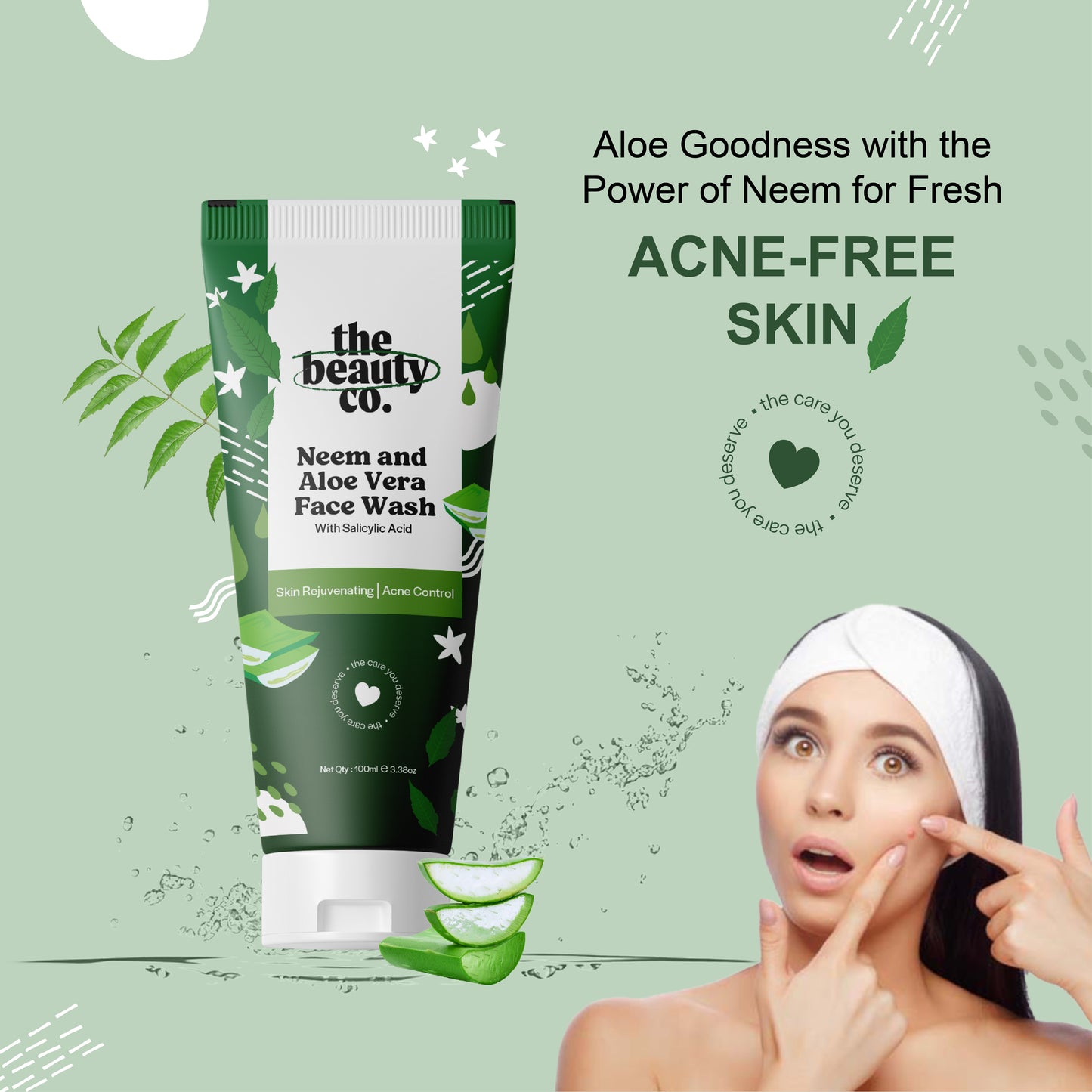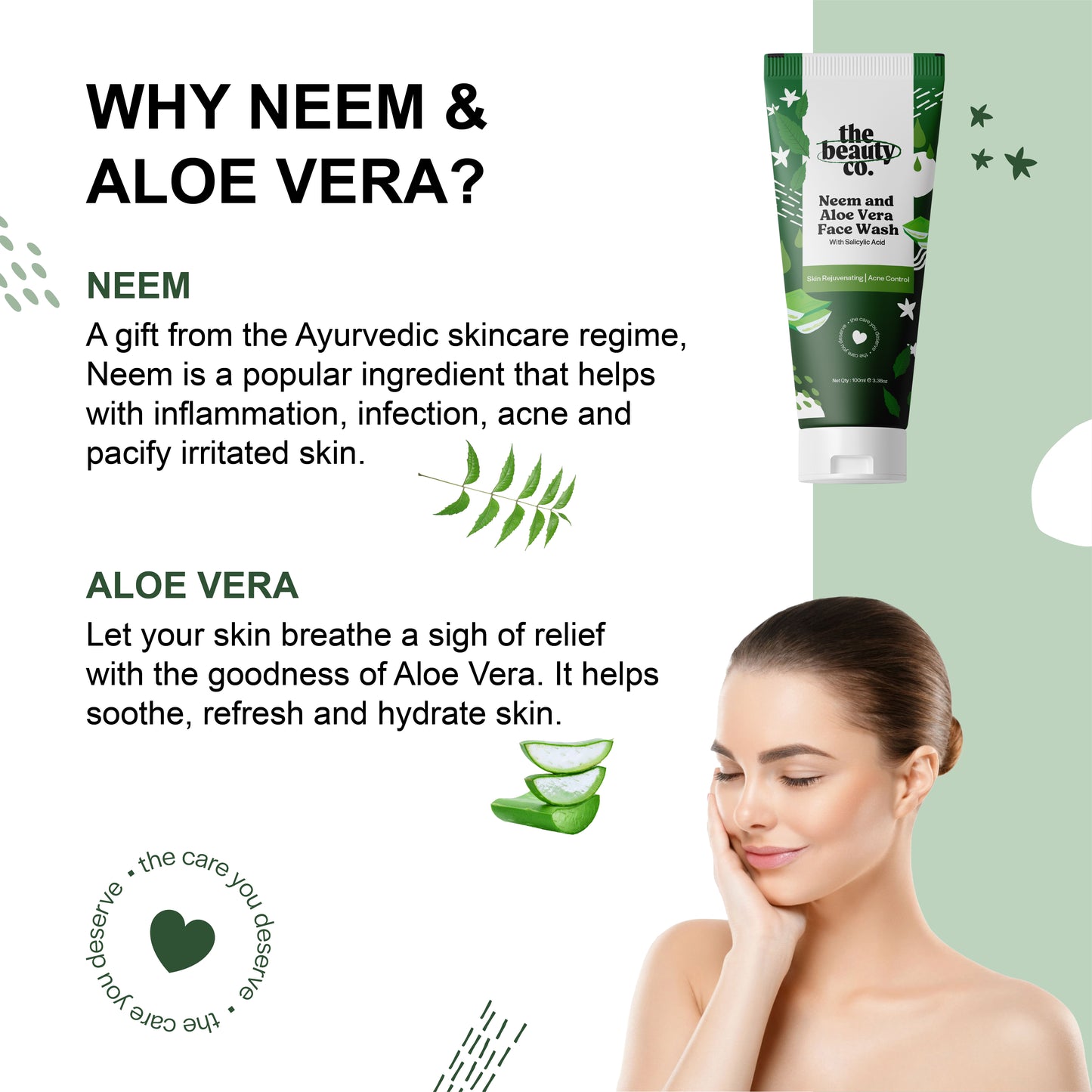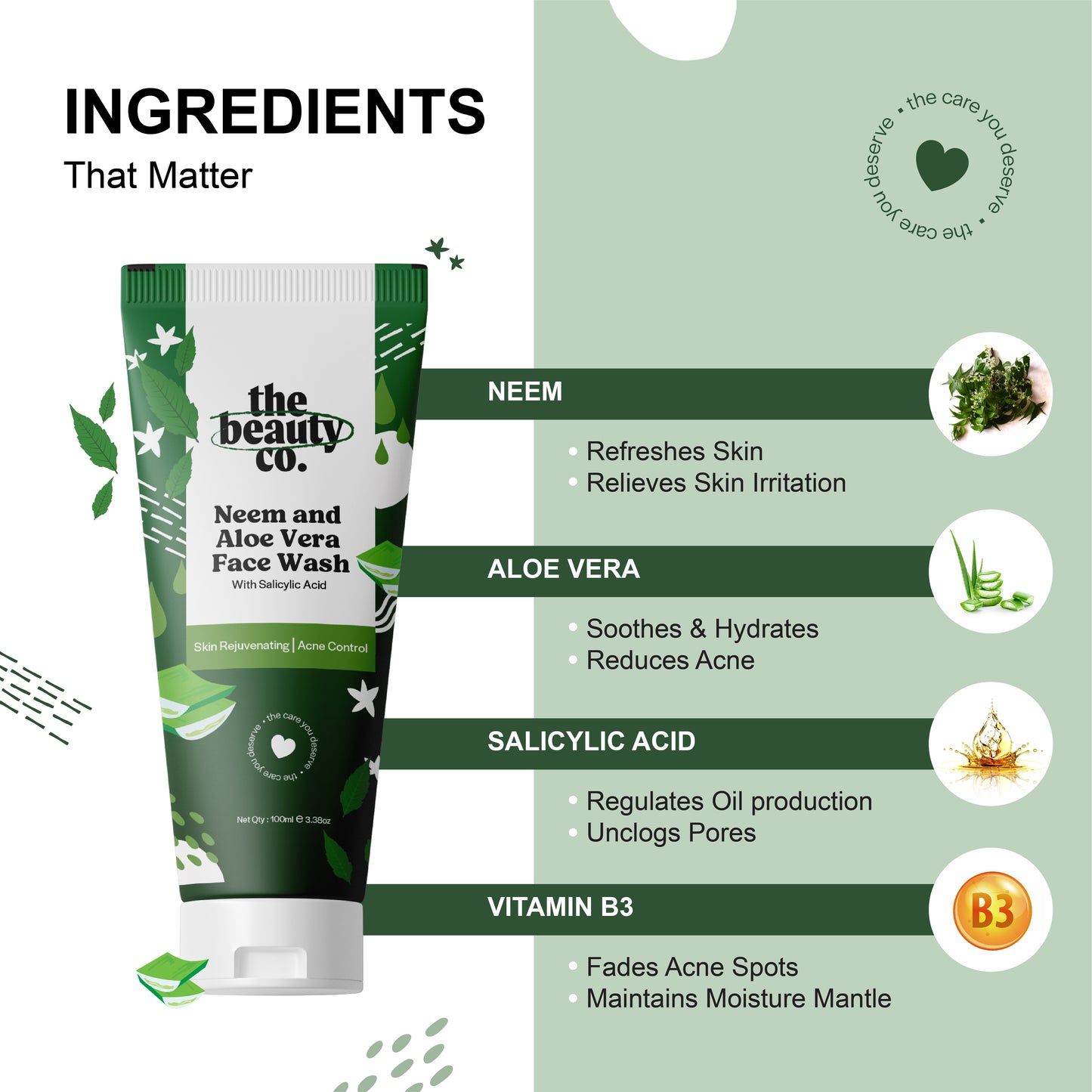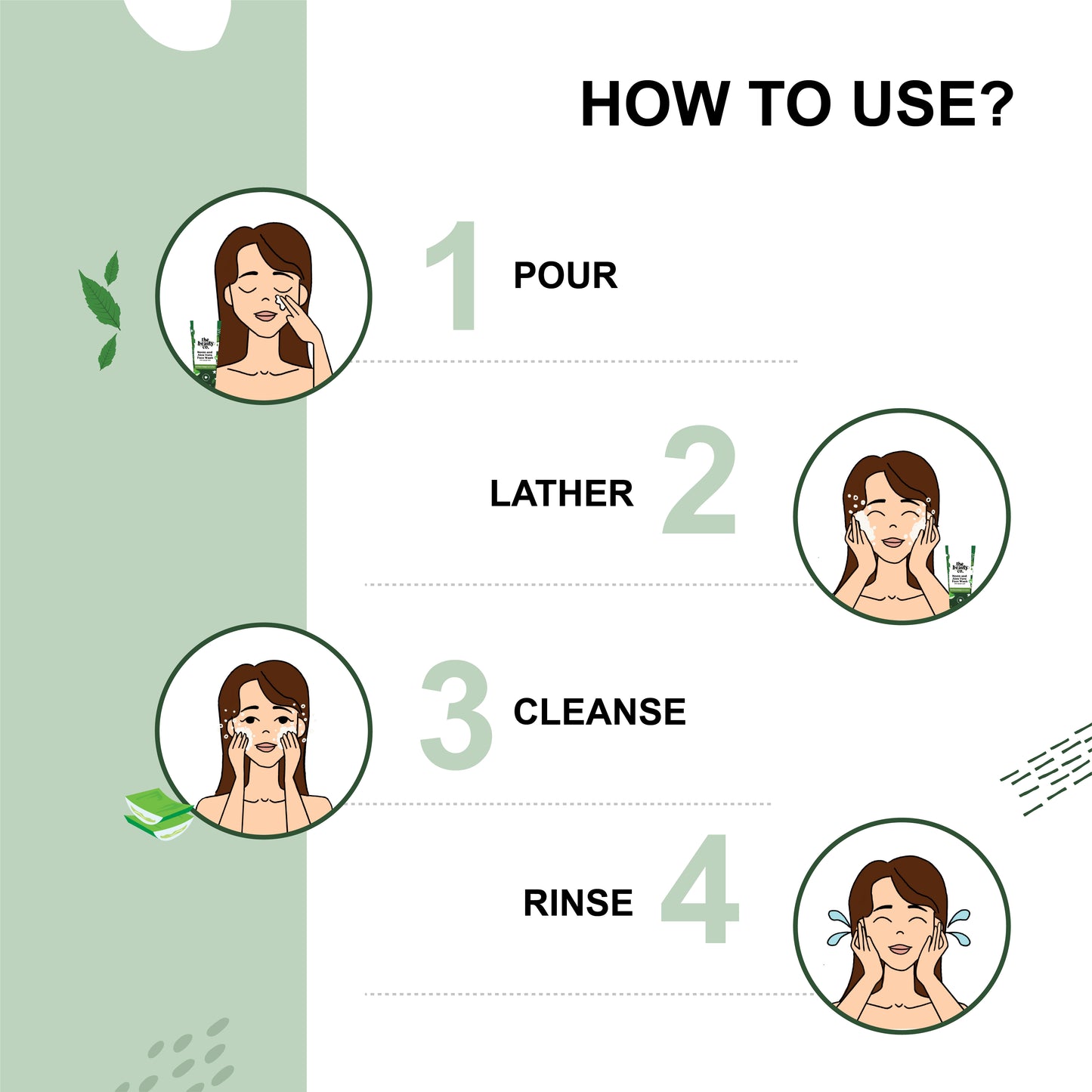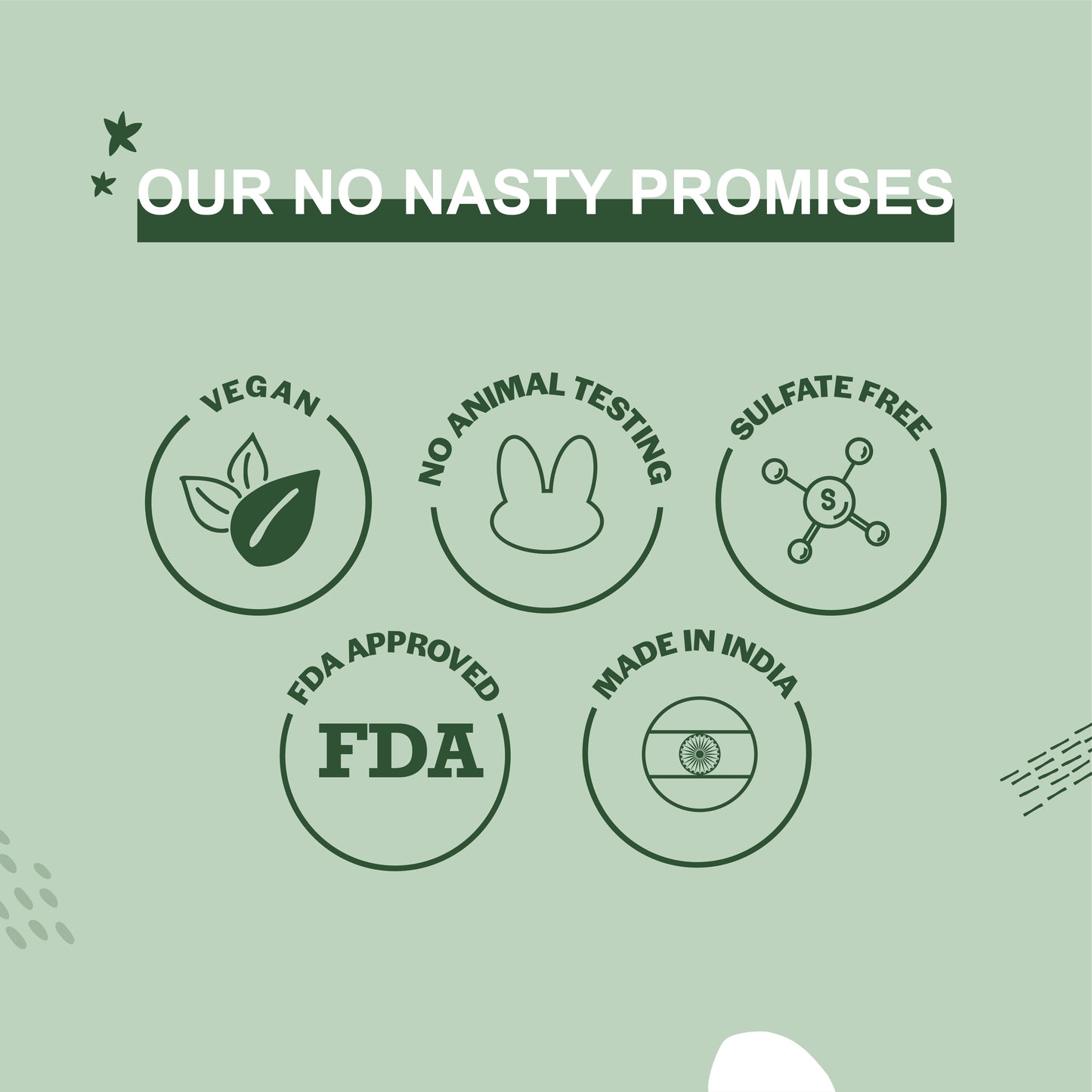 Neem

Refreshes Skin | Relieves Skin Irritation 

Salicylic Acid

Regulates Oil production | Unclogs Pores

Aloe vera

Soothes & Hydrates | Reduces Acne

Vitamin B3

Fades Acne Spots | Maintains Moisture Mantle
Frequently Asked Questions
Is this product made from natural ingredients?

Yes, The Beauty Co Neem & Aloe Vera Face Wash is a blend of powerful natural extracts with active ingredients. It has purifying neem, aloe vera, vitamin b3 and salicylic acid.
Can Aloe Vera & Neem Face Wash be used by men?

Yes, Aloe Vera & Neem Face Wash is suitable for men and women.
Does Neem Face Wash help with dark spots?

The Neem Face Wash may help with old acne scars but it isn't effective on dark spots. Try our Vitamin C Face Wash to help with dark spots.
Is it suitable for my skin type?

Neem and Aloe Vera have been skincare staples for a really long time. Neem is known for its purifying and antibacterial properties while Aloe Vera hydrates and nourishes skin. Blended together in this The Beauty Co Face Wash Formula with Vitamin B3 & Salicylic Acid, they help skin concerns like with acne, dehydration, clogged pores and dullness. It is suitable for all skin types, especially oily and acne-prone skin.
How many times can I use this face wash?

Overwashing your face can strip off its natural oils. Use the face wash only twice a day in the morning and evening for the best results.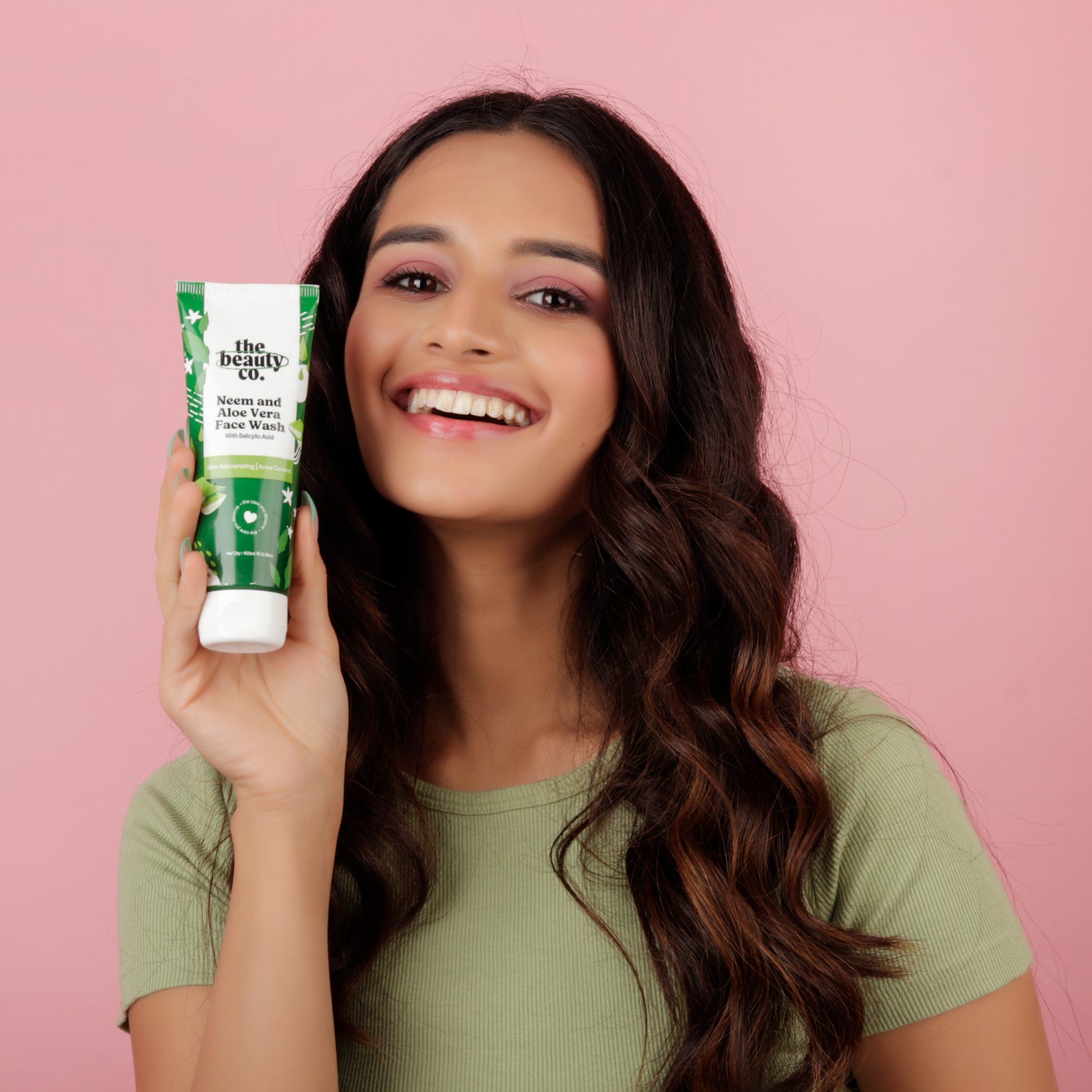 Treat Acne with Care & the goodness of Aloe-Neem Blend
BECAUSE IT'S THE CARE YOU DESERVE
Pimple-Busting Face Wash
Soothes, Refreshes & Hydrates Skin
Enjoy Oil-Free, Soft Skin