Eucalyptus Essential Oil For Cold, Cough and Skin Problems | 15ml
Regular price
₹395.00
Sale price
₹315.00
Unit price
per
Sale
Sold out
A compact solution to common health problems like cough, cold, sore throat, chest congestion, skin and hair problems - The Beauty Co. Eucalyptus Essential Oil. 
The herbal remedy has been highly effective in treating breathing problems and respiratory problems for many centuries now! A few drops on your kerchief or into your steamer for inhalation, Eucalyptus Essential Oil is bound to provide relief from that blocked nose or aching throat.
Share
Reasons To Love

100% pure and natural therapeutic-grade Eucalyptus Oil
Helps with chest congestions 
Relieves from nasal blockage and cough 
Restores & rejuvenates skin 
Helps with skin itchy, dry skin. 
Antibacterial properties to prevent acne on face & body. 
Soothes muscle tension and joint pain
Cruelty free, Non GMO & No Mineral Oil
How to use

Skin: Mix 2-3 drops with a carrier oil and apply it to flaunt your beautiful skin in the presence of Sun.


Hair: Mix it with coconut oil or olive oil and gently massage the blend into scalp for best nourishment to your hairs.

Body: Get rid of various bodily malfunctioning such as joint pain, muscle pain, lower immunity.

Inhalation: Put 2-3 drops in the steaming machine and inhale to relieve cold, cough, sore throat & chest congestion.
Additional Information

Best Before: 24 Months

Manufactured/Packed By: HCP Wellness Pvt Ltd

233, Mahagujarat Industrial Estate,Opp. Mangalam Packaging,Moriya-382213

Marketed By: Zen Lifestyle Private Limited

1701, Mondeal Heights, Near Novotel Hotel, S G Highway 380051

Country Of Origin: India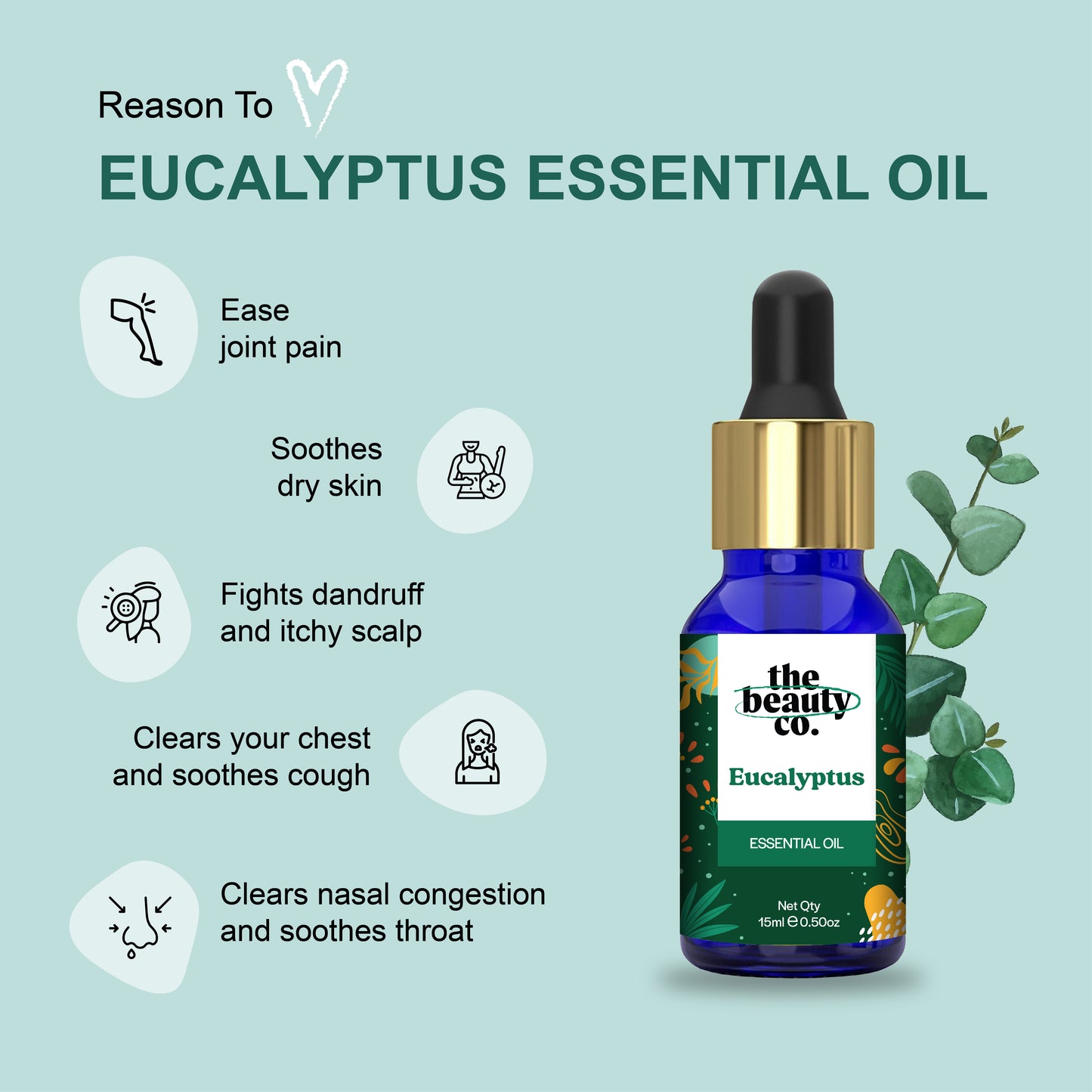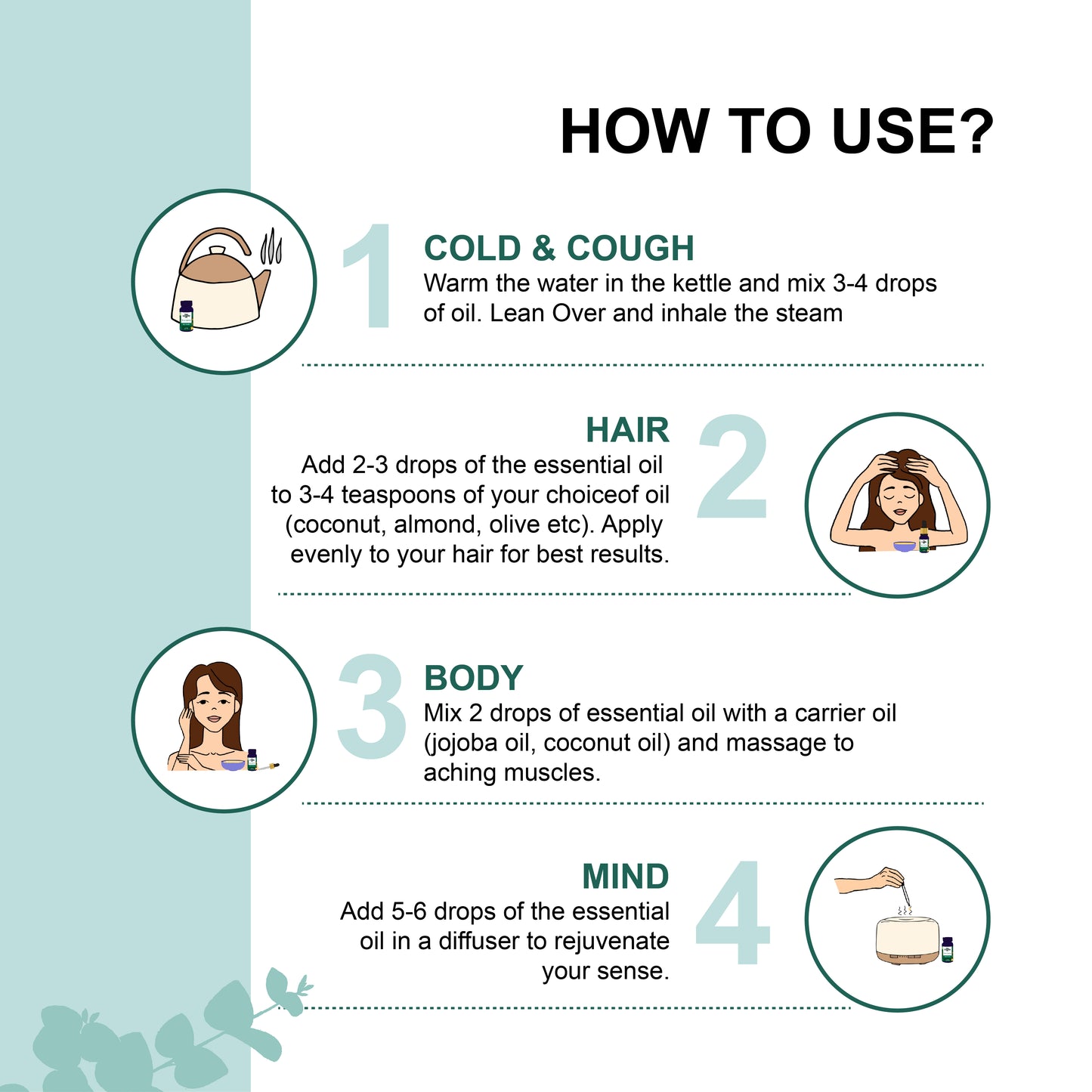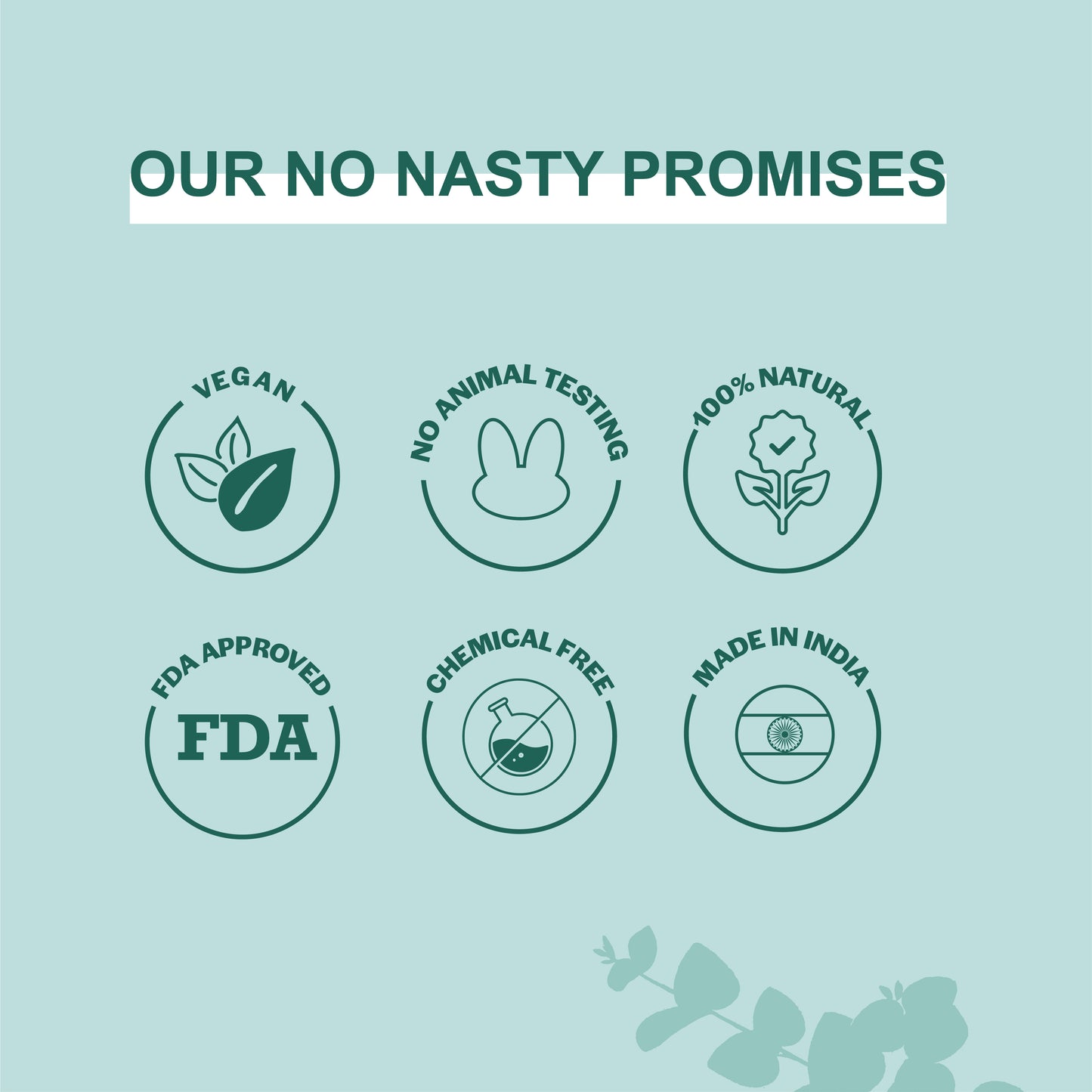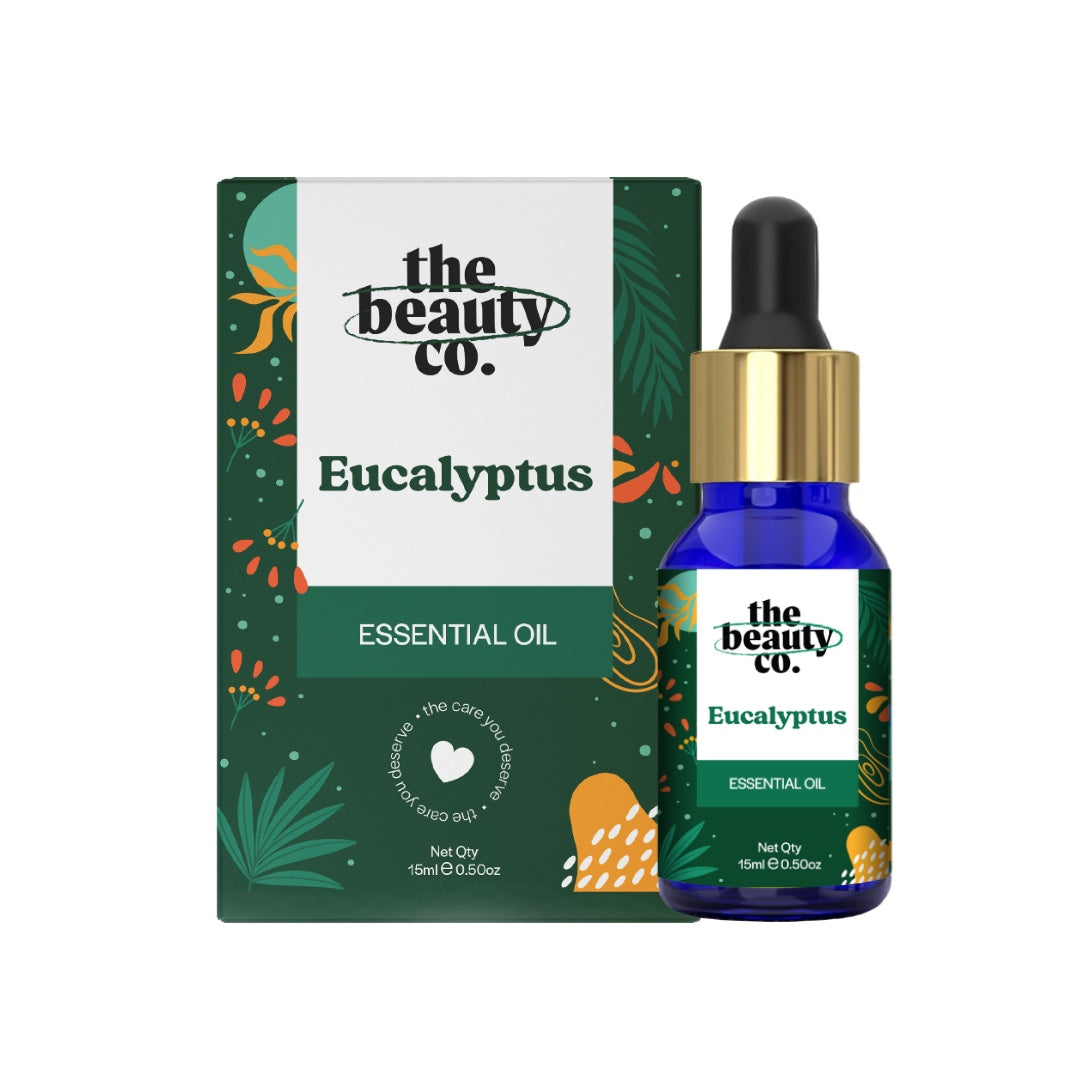 Eucalyptus Oil

100% Natural

Gives acne free skin

Soothes itchy scalp

Woody and Sweet Aroma
Frequently Asked Questions
What are Essential Oils?

Natural plant-based aromatics with a high concentration are known as essential oils. By distilling the leaves, wood, petals, buds, needles, bark, or roots of aromatic plants like lavender, rosemary, cedarwood, rose, peppermint, and cypress, essential oils are created. While the majority of essential oils are generated through distillation, citrus rind essential oils are either cold-pressed or steam-distilled. It is probably not a true essential oil if an aromatic product is made in any other method. It happens frequently for people to misidentify other aromatics as essential oils.
What are Carrier Oils?

Carrier oils, including coconut oil and jojoba oil, dilute essential oils so you can use them safely. They may also moisturize your skin.
When should Essential Oils not be used?

If skin irritation or an allergic reaction occurs with any essential oil or product with essential oils in it, discontinue use.
What is Aromatherapy?

Natural plant extracts are used in aromatherapy, a holistic healing method, to support health and wellbeing. It is sometimes referred to as essential oil therapy. Aromatherapy uses medicinally effective aromatic essential oils to enhance physical, mental, and spiritual well-being. It improves mental and emotional wellbeing.
Adore your Beauty Naturally!
Want to know more about the medicinal benefits of the incredible The Beauty Co. Eucalyptus Essential Oil? It possesses compelling aromatherapy benefits; inhaling the Eucalyptus Oil clears the nasal passage so that the breathing is eased, for the conditions like Asthma. So, here you go with one of the essential oils to help you seep in all the goodness this oil has to offer!
Natural Ingredient, Urban Care!
The Beauty Co. Eucalyptus Essential Oil is a great natural ingredient, which not only takes care of your skin, hair & respiratory ailments but also boosts immunity and energy level. It is considered to be a herbal remedy to treat any kind of breathing troubles or respiratory congestion. Additionally,  the oil happens to be a favourite ingredient for aromatherapy due to its sweet and woody fragrance.