Coconut Milk and Honey Body Lotion with Niacinamide
Regular price
Sale price
₹450.00
Unit price
per
Sale
Sold out
The Beauty Co. Coconut Milk & Honey Lotion spreads like a buttercream frosting on your skin, making it silkier and softer to the touch. The creamy blend of Coconut Milk and Honey Extract delivers deep moisturization, delighting the senses with a fragrance that carries you away to paradise. Besides, the Coconut Water hydrates and leaves the skin feeling breathable, like a gentle summer breeze. The formulation comprises natural ingredients from the lap of nature for non-greasy, optimum nourishment. Niacinamide builds Keratin in your cells, a protein that enriches the skin's health and firmness. With a lightweight feel, this lotion is suitable for all seasons. The inclusion of Cocoa Butter helps heals and soothe dry and chapped skin with its nourishing ingredients. An effective blend of Shea Butter and Glycerin works wonders for dry areas and rough spots on your skin. Thus, it alleviates rough patches and revives depleted skin that has been compromised by chronic exposure to sun rays.
Share
Reasons To Love

Stimulates healthy cellular regeneration 
Combats environmental stressors that hinder smooth skin
Moisturizes and hydrates your skin with a flush glow
Improved water retention and suppleness
Softens the cracked, rough and dry patches 
Calms and heals the chapped, irritated skin
Banish flakes to reveal smoother, supple skin
Heavenly fragrance to invigorate your senses
Even-toned skin with a silky, luminous texture 
Stronger skin barrier system for healthier cells
Non-Greasy and Suitable for all skin types
Ingredients

Coconut Milk

Coconut Water

Honey Extract

Niacinamide

Cocoa Butter

Shea Butter
How to use

Press the pump and take out a few scoops of lotion on your palms and rub them together; apply it on your skin in an upward motion.

Ensure that you cover all body parts, such as the neck, hands, feet and legs and the areas with dry patches, such as elbows and knees.

Massage gently till the lotion is completely dissolved in your skin.
Additional Information

Best Before: 24 Months

Manufactured/Packed By: Goodness Of Nature

Marketed By: Zen Lifestyle Private Limited

1701, Mondeal Heights, Near Novotel Hotel, S G Highway 380051

Country Of Origin: India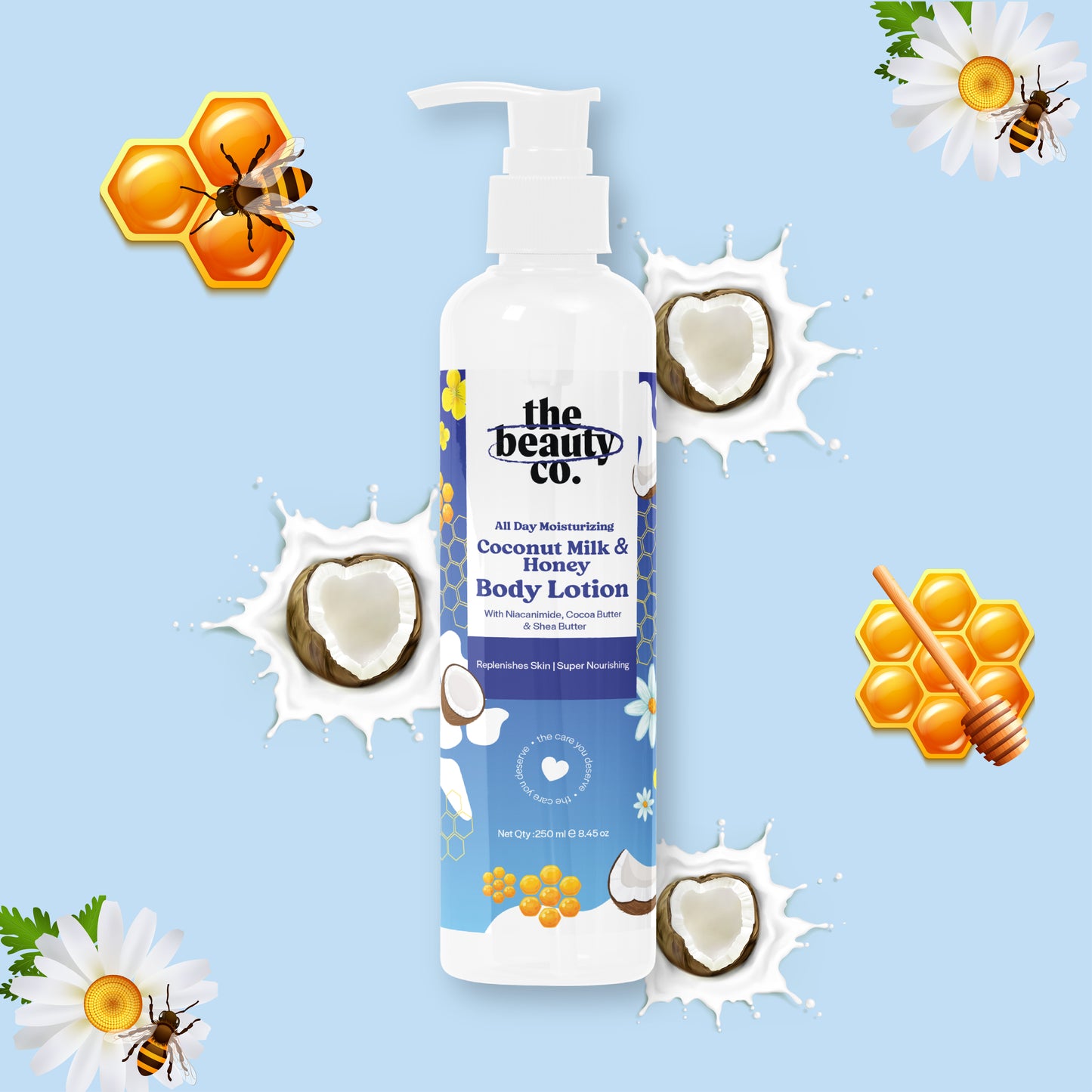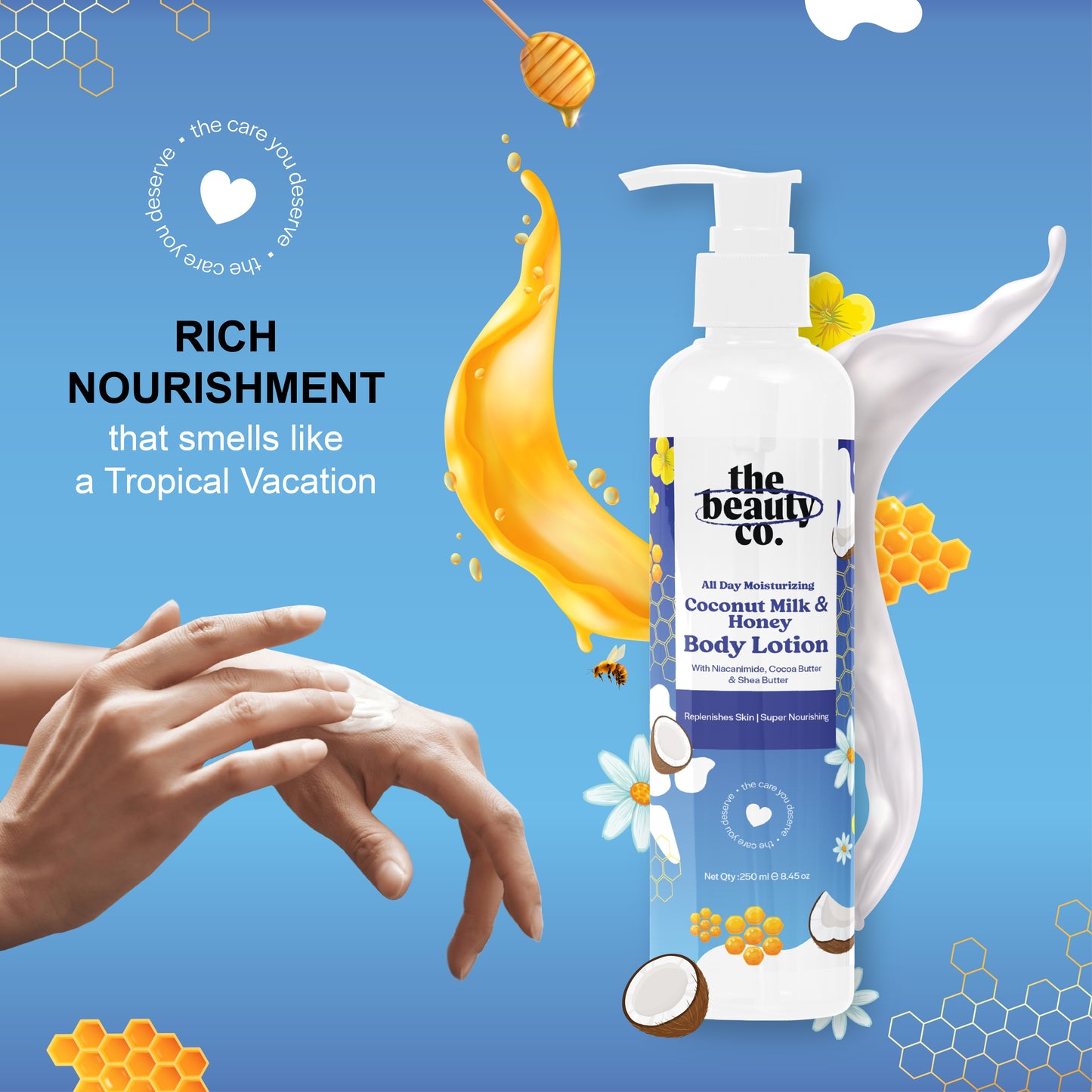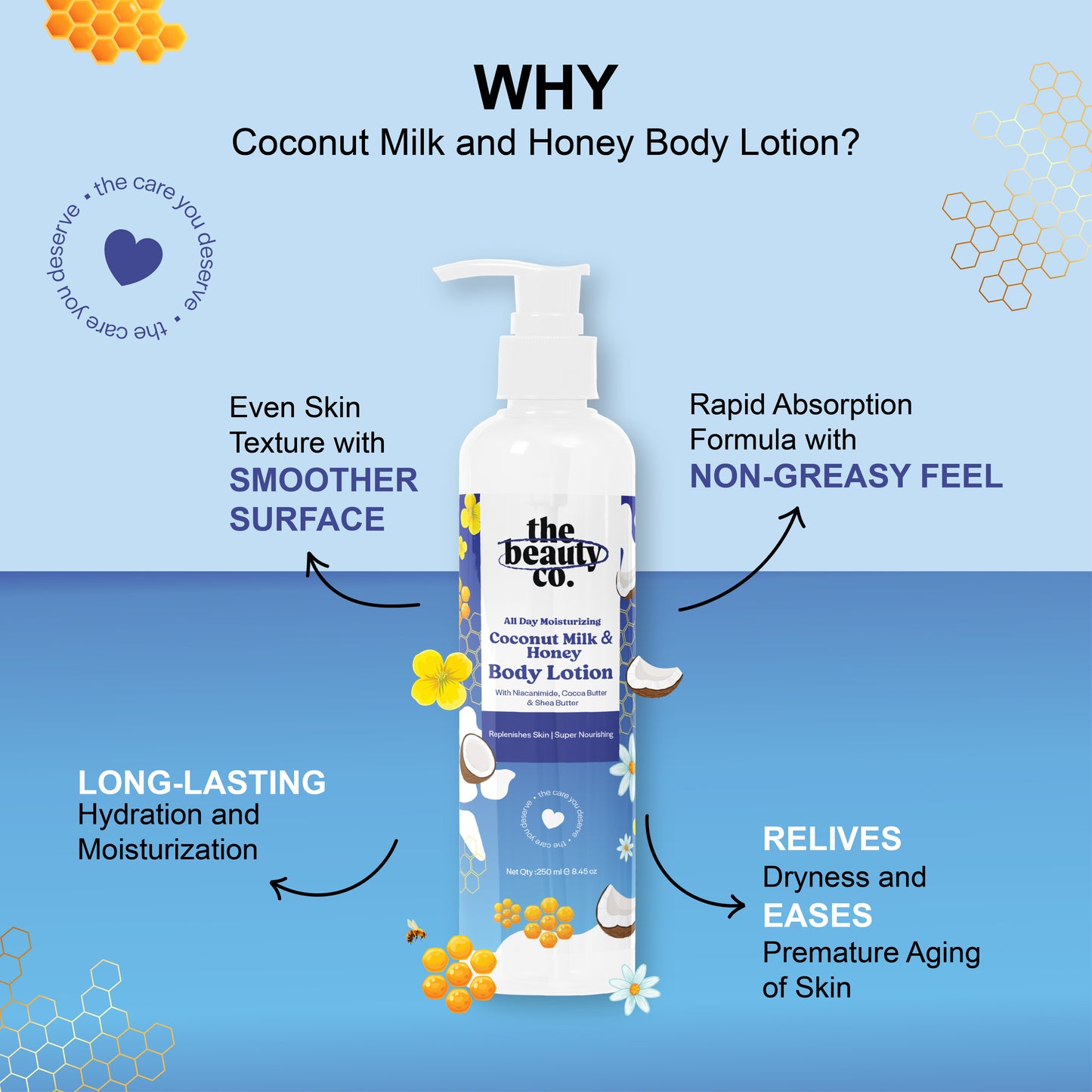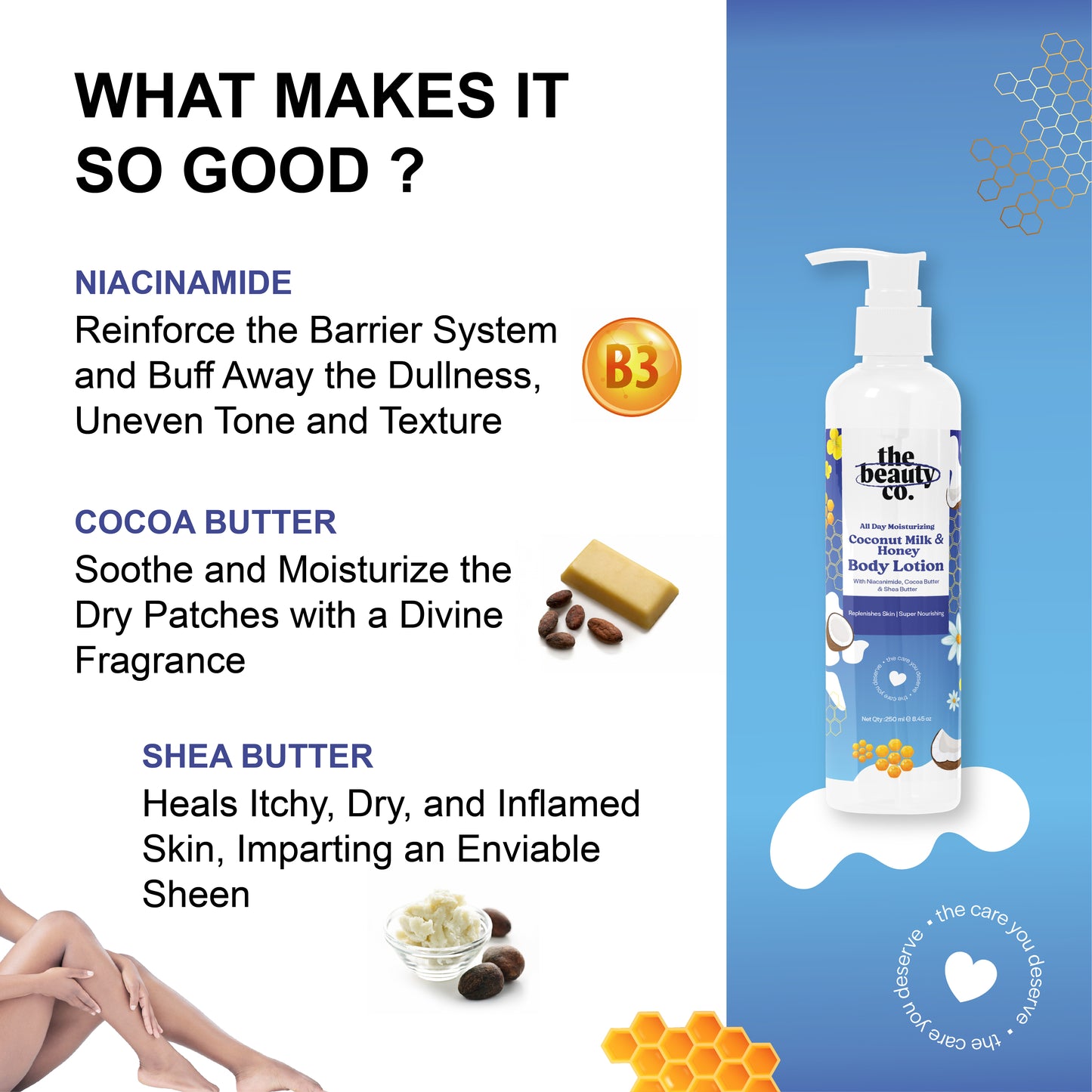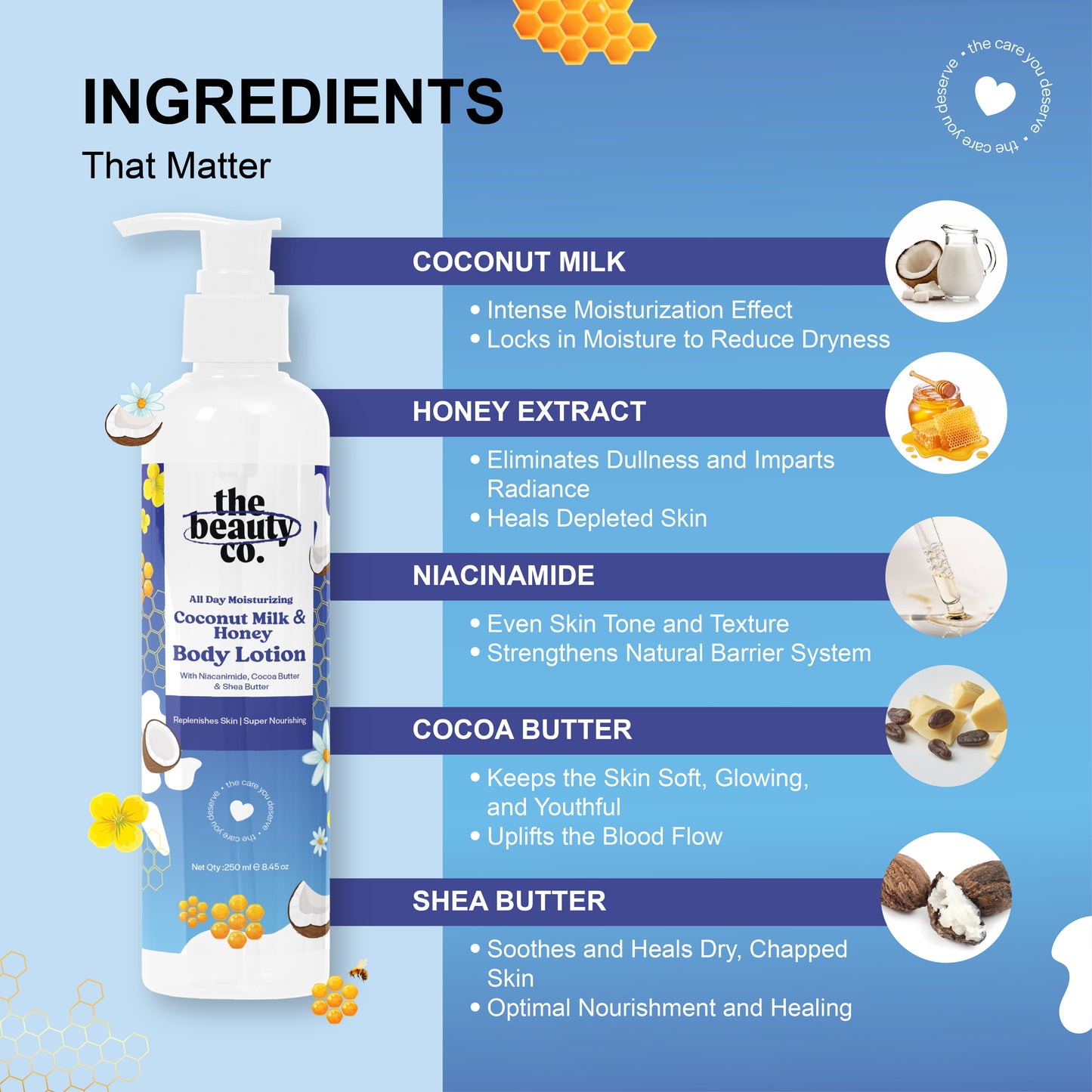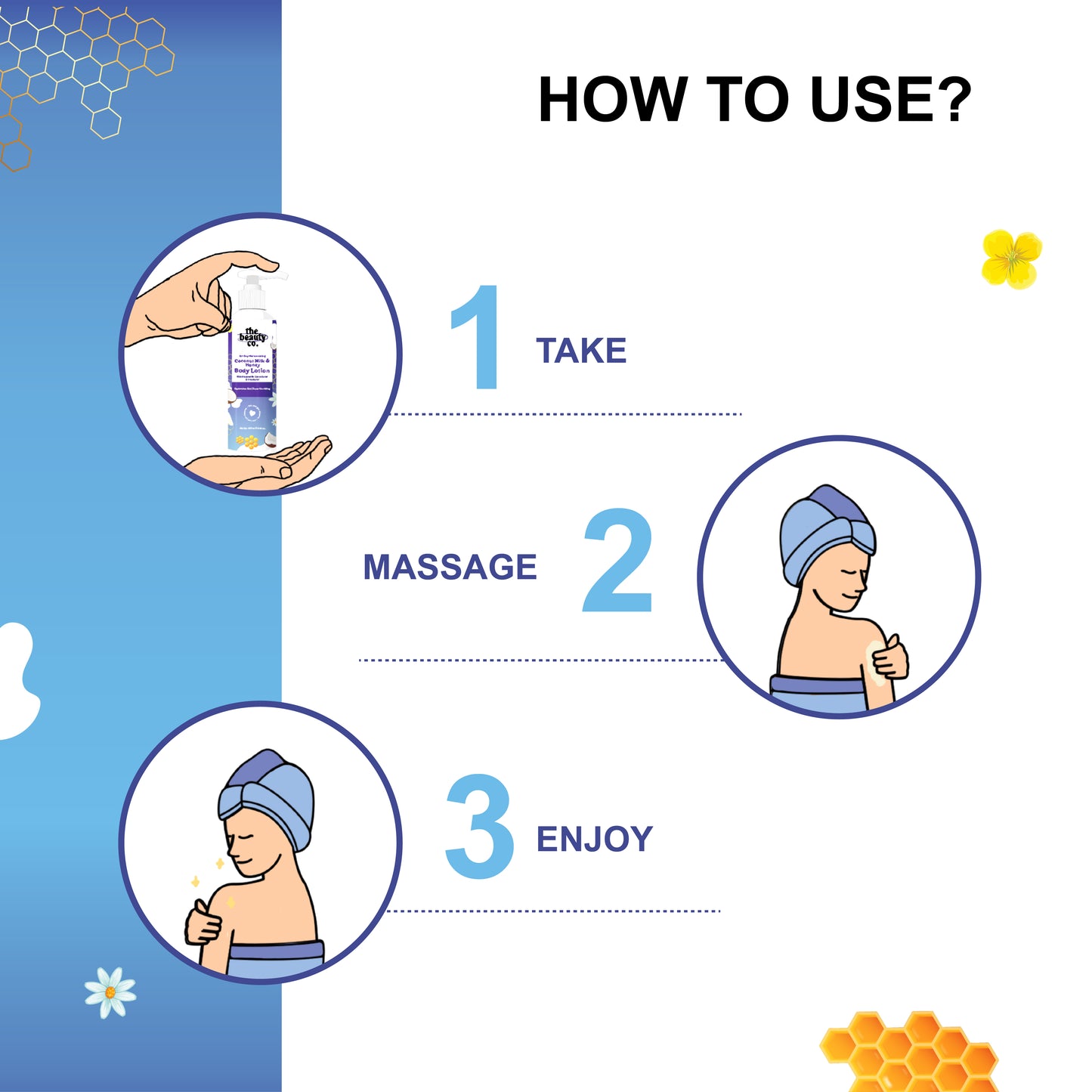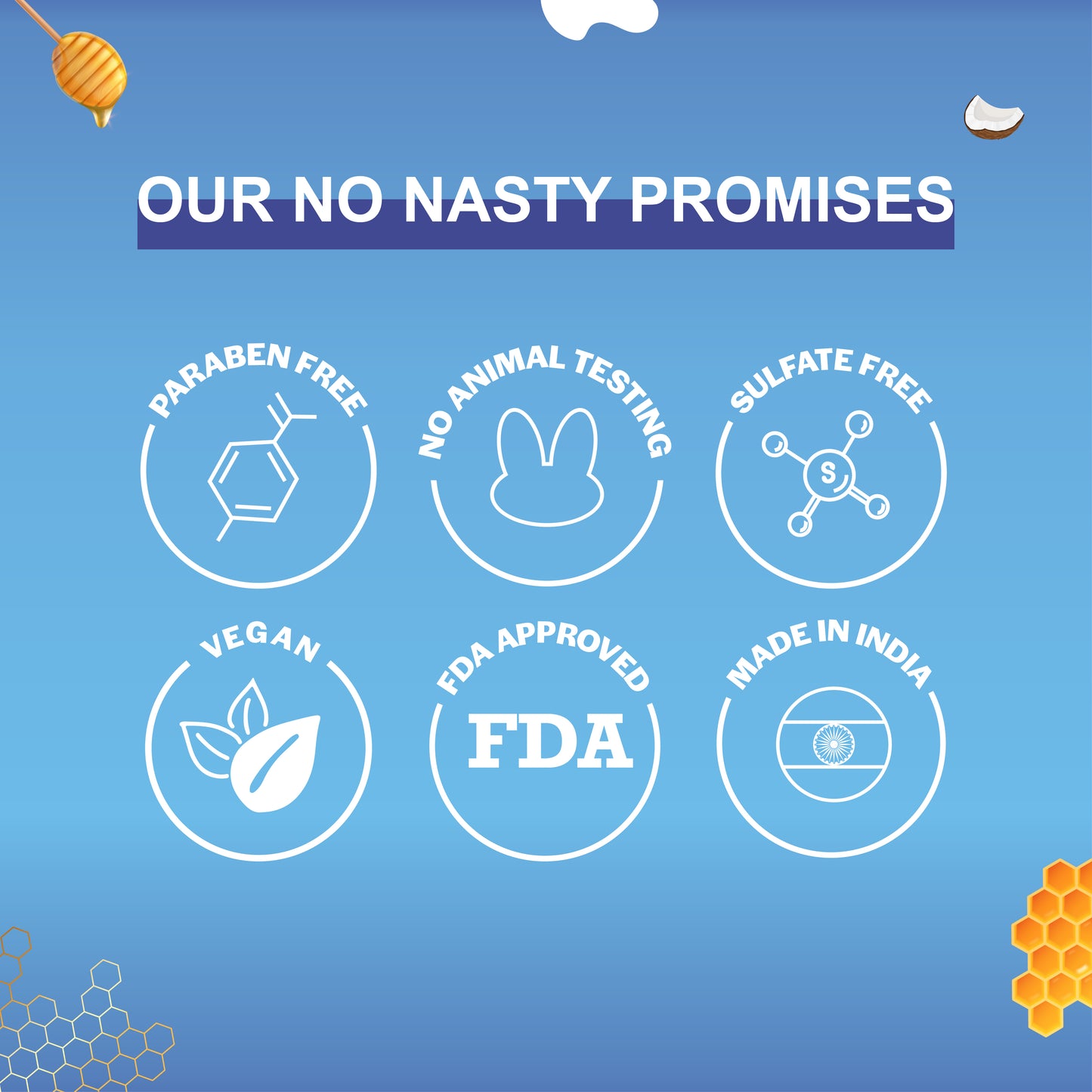 Coconut Milk

Intense Moisturization Effect| Locks in Moisture to Reduce Dryness

Honey Extract

Eliminates Dullness and Imparts Radiance| Heals Depleted Skin

Niacinamide

Strengthens Lipid Barrier | Diminishes Dark Spots | Refines Pores

Shea Butter extract

Hydrates & Softens the Skin| Reduces Rough Patches 
Frequently Asked Questions
Is this product made from natural ingredients?

The Beauty Co Coconut Milk & Honey Lotion is formulated with natural extracts and active ingredients. It has Coconut Milk,Coconut Water, Niacinamide, Honey & Shea Butter that deeply moisturize the skin. 
Is it suitable for my skin type?

Yes, the gentle formulation of The Beauty Co Body Lotion is suitable for all skin types. A patch test is recommended for those with sensitive skin. 
Can I use this body lotion on my face?

While it is generally safe to use body lotion on your face, some people find that the ingredients in certain products can be too rich or heavy for the delicate skin on their face. If you have sensitive or acne-prone skin, you may want to avoid using this body lotion on your face. If you do decide to try it, be sure to use a very small amount and apply it gently, avoiding the eye area.
Is Coconut Milk good for skin?

Yes, coconut milk can be good for the skin. It is a rich source of fatty acids and proteins, which can help to nourish and moisturize the skin. 
When should I use this body lotion?

Use the body lotion twice a day - once you have showered & at night before sleeping. You can also use it whenever your skin feels dry and ashy. 
Awaken to Nurtured, Glowing Skin with Coco-Honey
Aromatic Blend of Natural Ingredients: The Beauty Co. Coconut Milk and Honey Body Lotion is nature's magical elixir poured into a bottle. Its formulation comprises of finest botanical ingredients to provide your skin with the gentlest and most effective care. Besides, the lotion is suitable for all skin types and feels like a feather on the skin for lightweight, long-lasting hydration. 
Quench Your Skin's Thirst, the Delightful Way: The milky consistency of this lotion helps to nourish dry skin and seals in moisture. It also promotes healthy skin cells and reinforces the natural barrier. In addition, the lotions aids in making your skin firmer, toned, and supple for a healthier appearance inside out.
Chase Away the Winter Skin Blues: Do not let the winters take away your skin's charm. Combat dryness, dullness, rough patches, flaky skin, and itchiness with this ultra-nurturing body lotion. It relieves your skin from winter woes through intense moisturization. As a result, your skin feels soft, smoother, and glowing throughout the season.