Chocolate & Coffee Face Mask With Robusta Coffee
All Skin Types
Regular price
Sale price
₹425.00
Unit price
per
Sale
Sold out
Did you know that acne or irritated skin can be the result of irregular lifestyle, stress or eating habits? As if it wasn't hard enough balancing work, social & personal life, having to worry about skin should be the last thing on your list. If you are looking to reset your skin, try The Beauty Co. Chocolate & Coffee Face Mask for a skin-detox session! Formulated with indulging Robusta Coffee, Cacao Extract & Glycolic Acid, it helps improve skin texture & tone while clearing away pores deeply. This tan-removal  exfoliating mask targets troubled skin and helps get rid of dullness, dead skin cells & flaky skin. 
Share
Reasons To Love

An exfoliating face mask 
Smoothens texture for soft, clear skin 
Boosts cell turnover 
Helps brighten & de-tan 
Detoxifies & Clarifies acne-prone to prevent breakouts 
Made with skin-loving ingredients
No harmful chemicals, Vegan, Cruelty-Free & Dermatologically Tested.
Ingredients

Cocoa Powder

Coffee Powder Extract:

Glycerin
How to use

On a freshly cleansed face, take a blob of The Beauty Co. Chocolate Coffee Face Mask.

Apply it evenly on the face & neck with an upward stroke leaving the area around the eyes.

Leave it for 10-15 minutes to soak all the good things.

Rinse & follow up with a moisturizer.
Additional Information

Best Before: 24 Months

Manufactured/Packed By: Nulyf India

Marketed By: Zen Lifestyle Private Limited

1701, Mondeal Heights, Near Novotel Hotel, S G Highway 380051

Country Of Origin: India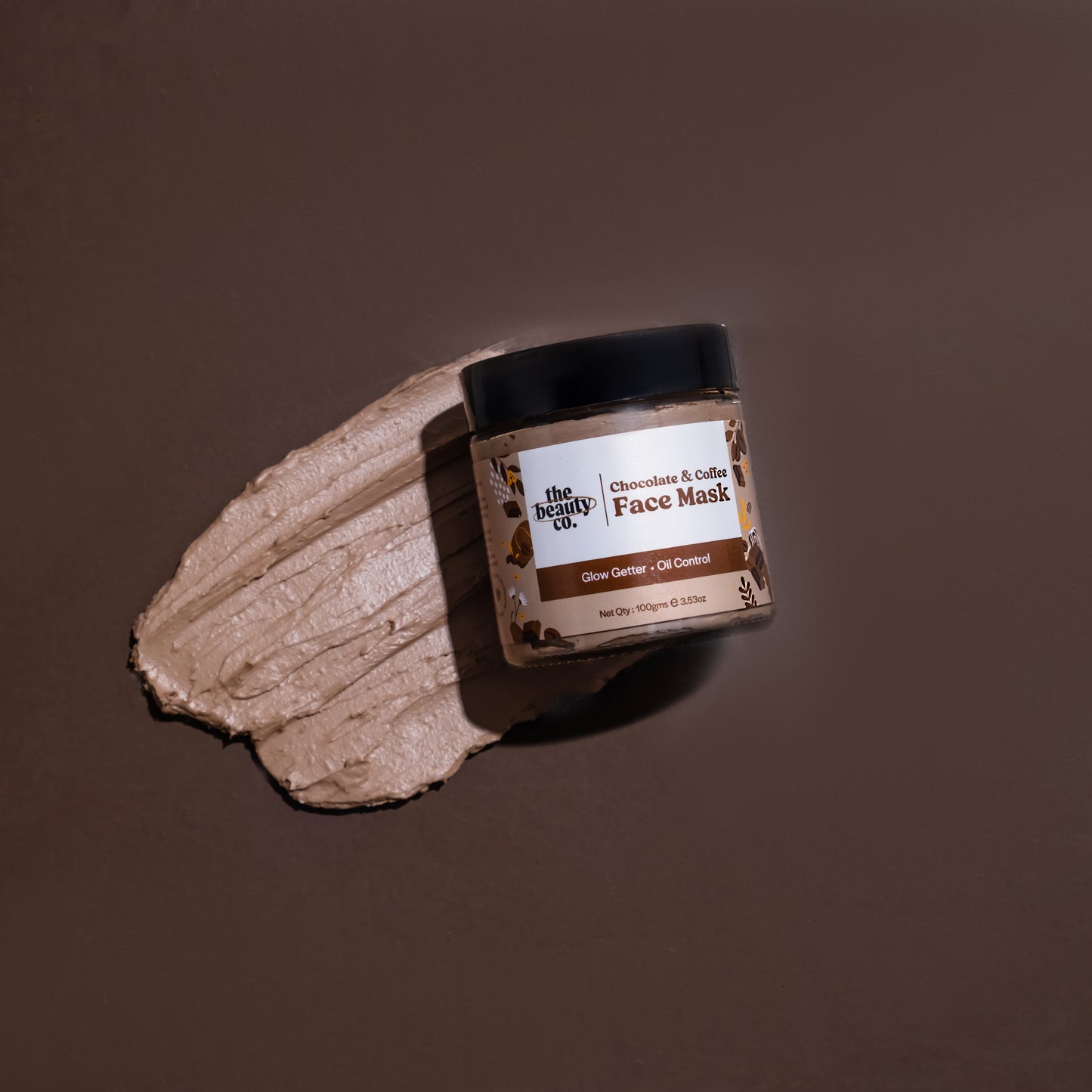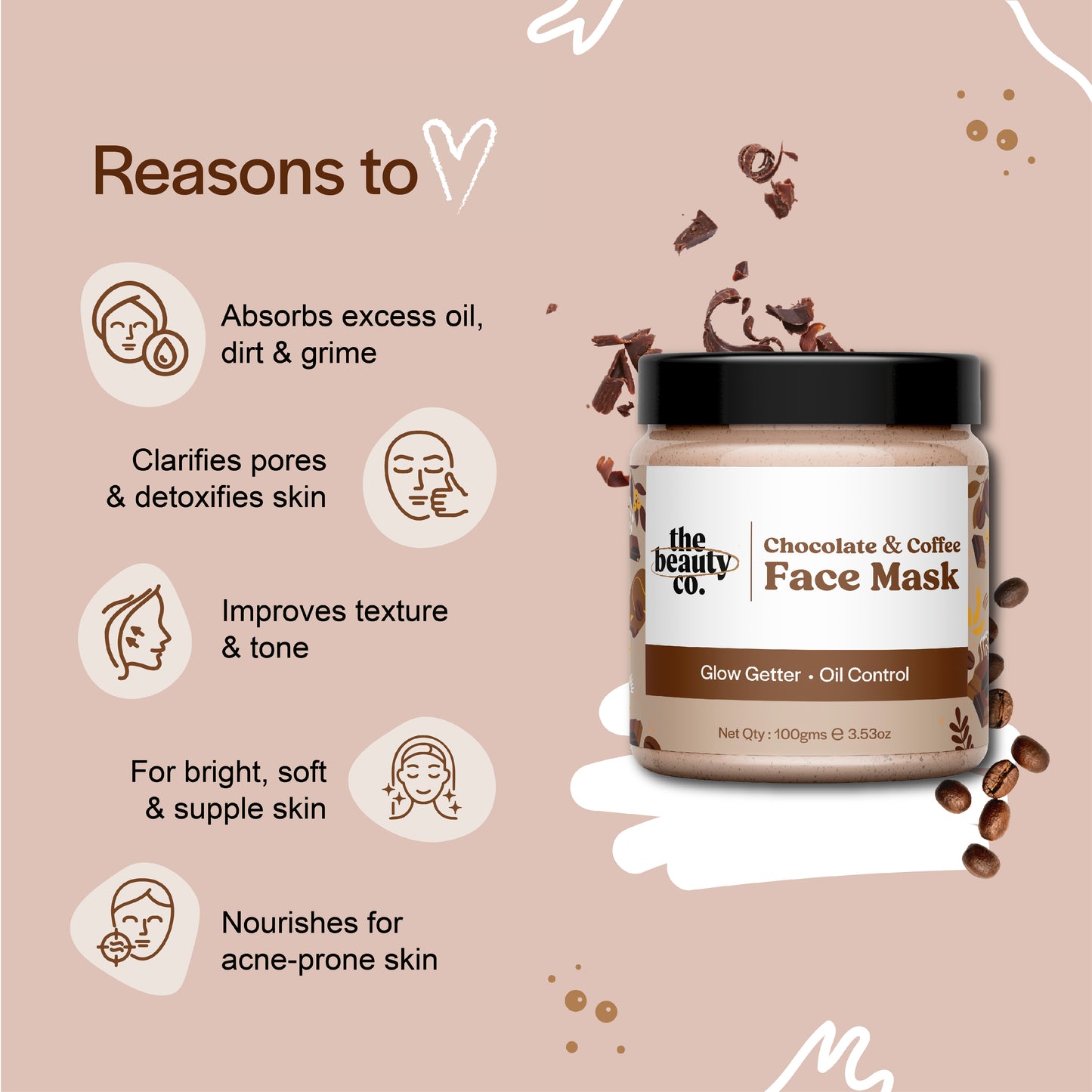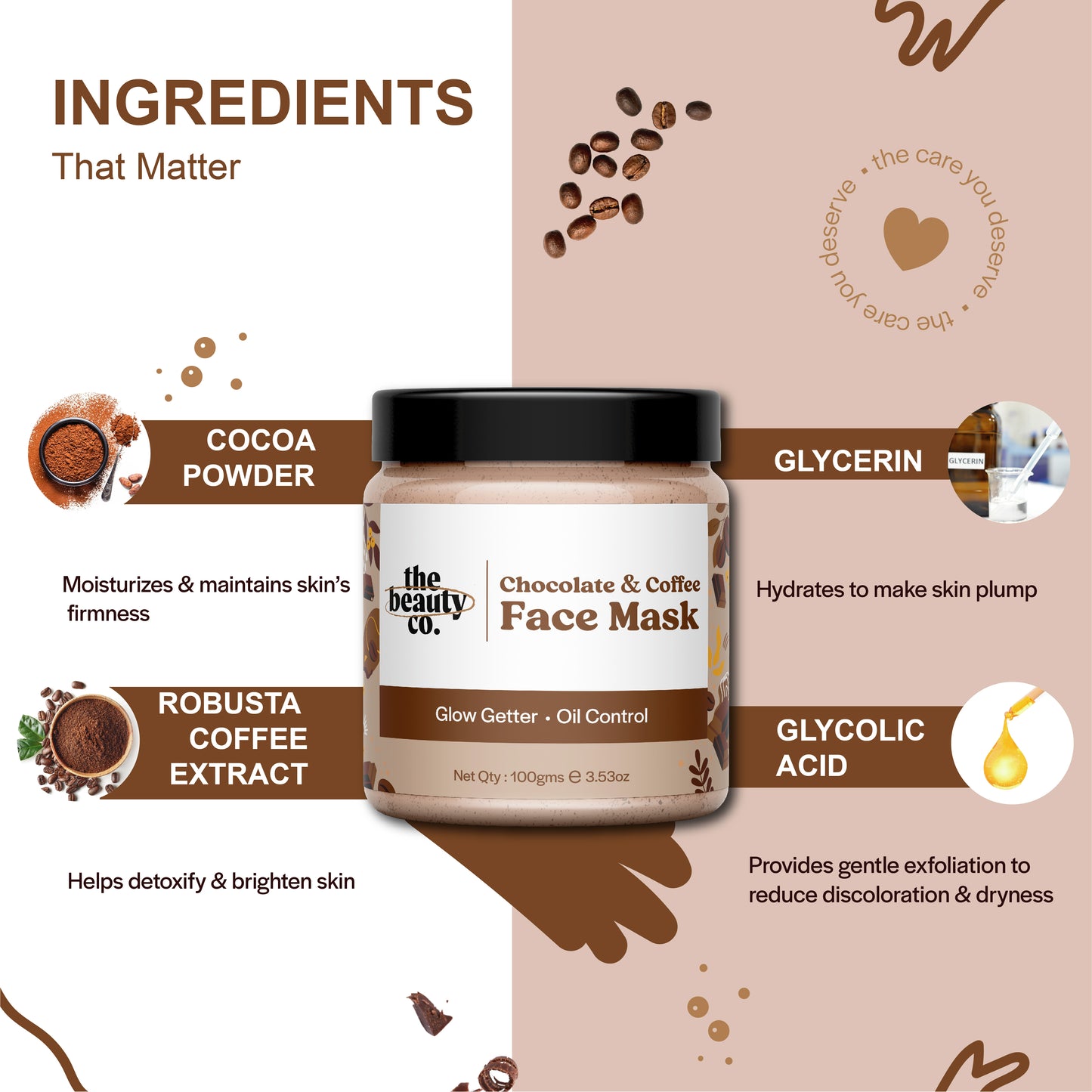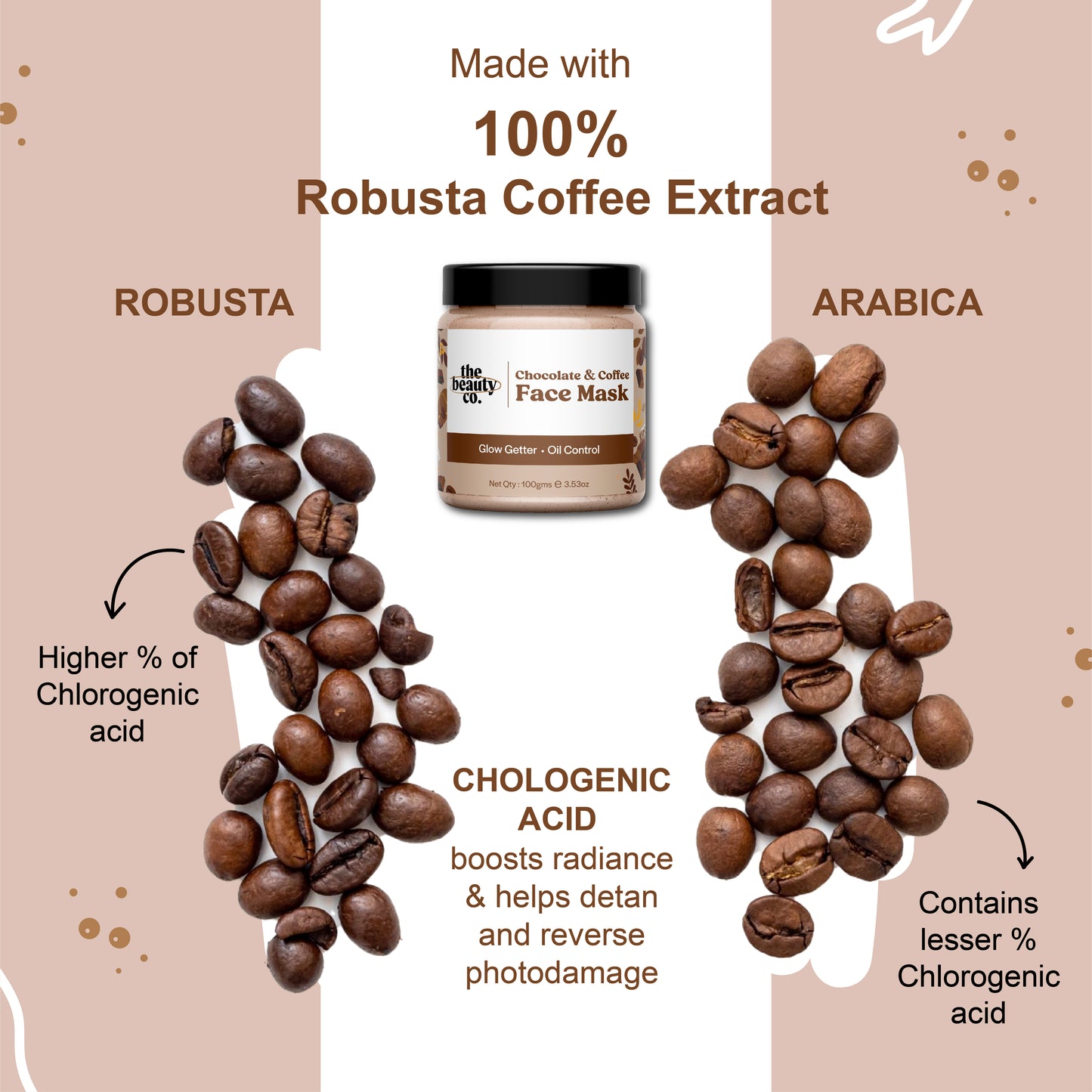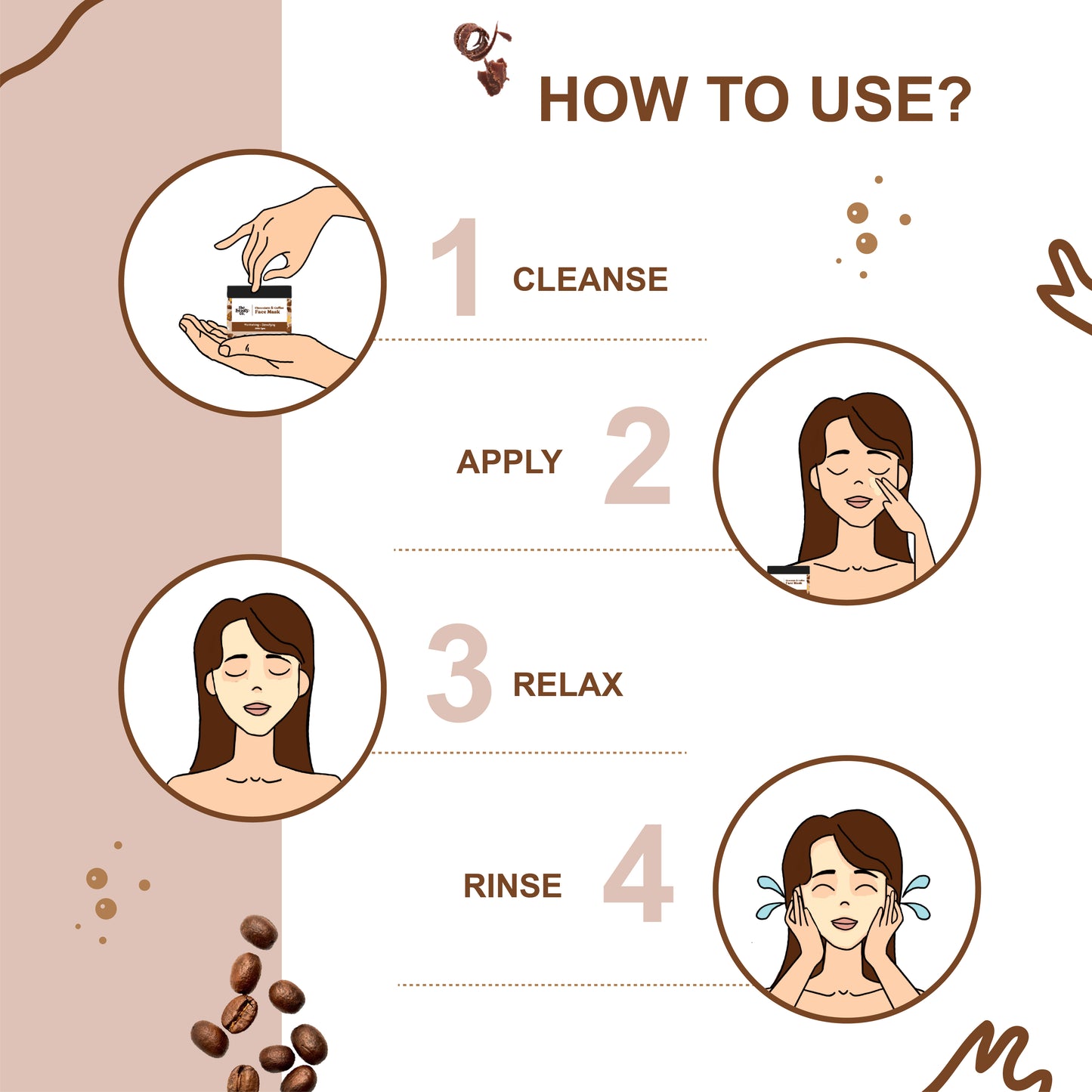 Cocoa Extract

-Repairs & replenishes skin

-Combats acne & pimples

-Retains moisture

-Protects skin from sun damage

Robusta Coffee Powder

-Anti-aging agent; soothes skin conditions

-Rich in antioxidants

-Improves blood circulation

-Tightens & brightens skin

Glycerine

-Treats acne, pimples, etc.

-Controls excess sebum

-Retains moisture into skin

-Imparts natural glow
Frequently Asked Questions
How is Chocolate Coffee Face Mask good for the skin?

The Beauty Co Chocolate Coffee Face Mask is an exfoliating mask. It is formulated with Robusta Coffee, Cocoa Powder, Glycerin & Glycolic Acid. Robusta helps detoxify skin while Cocoa moisturizes & firms the skin. Glycolic Acid helps get rid of dead skin cells and helps reveal brighter & even-toned skin.
Is Glycolic Acid in the Face Mask safe for the skin?

Yes, the product is dermat-tested & is safe to use on the skin. Follow the instructions for application and use it only once or twice a week. If you have sensitive skin, a patch test is recommended.
Is the product dermatologist-tested?

Yes, the product is dermatologist-tested. If you have extremely sensitive skin or have any potential skin allergy, it is best to patch test the product on your arm and wait for 24-48 hour to notice any irritation.
What are the benefits of Robusta Coffee Seed Powder?

Robusta coffee is often used in skincare products because of its high caffeine content and potential benefits for the skin, such as improving circulation and reducing inflammation. It also contains chlorogenic acid, which may have antioxidant and anti-aging properties.
Get Skin-Detox for Fresh & Rejuvenated Glow
Why choose Robusta Coffee? 
Robusta beans contain almost double the Chlorogenic Acid (CGA) content than Arabica beans, which is a powerful antioxidant, and something that you definitely want in your skincare arsenal.