Chocolate & Coffee Body Wash for Deep Cleansing | 250 ml
All Skin Types
Regular price
Sale price
₹399.00
Unit price
per
Sale
Sold out
The Beauty Co. Chocolate Coffee Scented Body Wash for nourishing skin. This body  wash is packed with a kick of coffee and a dash of chocolate.
The Beauty Co. Chocolate Coffee Body Wash for nourishing skin. This body wash is packed with a kick of coffee and a dash of chocolate – a recipe for perfect skin! It contains high amounts of antioxidants to prevent free radicals from damaging the skin. It not only deep cleanses your skin to undo the skin damages due to UV exposure and pollution but also curbs sudden acne, pimple breakouts, minimizes fine lines, and restores moisture into the skin making it softer and suppler. 
Share
Reasons To love

Enjoy skin detox with the goodness of Coffee & Cacao Extract
Mild Formulation for Clean, Soft & Supple Skin
Rejuvenates, refreshes & revives senses 
Non-stripping formula with Aloe Vera & Cucumbers 
Helps prevent acne, promotes an even tone & smooths texture
Soothes photodamaged skin
Made with natural ingredients, nasty-free formula 
Ingredients

Cocoa Powder

Coffee Robusta Seed Powder

Aloe Vera Extract

Glycerin

Coconut Oil
How to use

Take Take some The Beauty Co. Chocolate Coffee Body Wash.

Apply Apply it on your Body and rub it in a circular motion.

Lather: Work up a rich lather to cleanse the skin and soak the richness of natural ingredients.

Rinse: Rinse it thoroughly with water to leave your skin feeling refreshed and energized.
Additional Information

Best Before: 24 Months

Manufactured/Packed By: HCP Wellness Pvt Ltd

233, Mahagujarat Industrial Estate,Opp. Mangalam Packaging,Moriya-382213

Marketed By: Zen Lifestyle Private Limited

1701, Mondeal Heights, Near Novotel Hotel, S G Highway 380051

Country Of Origin: India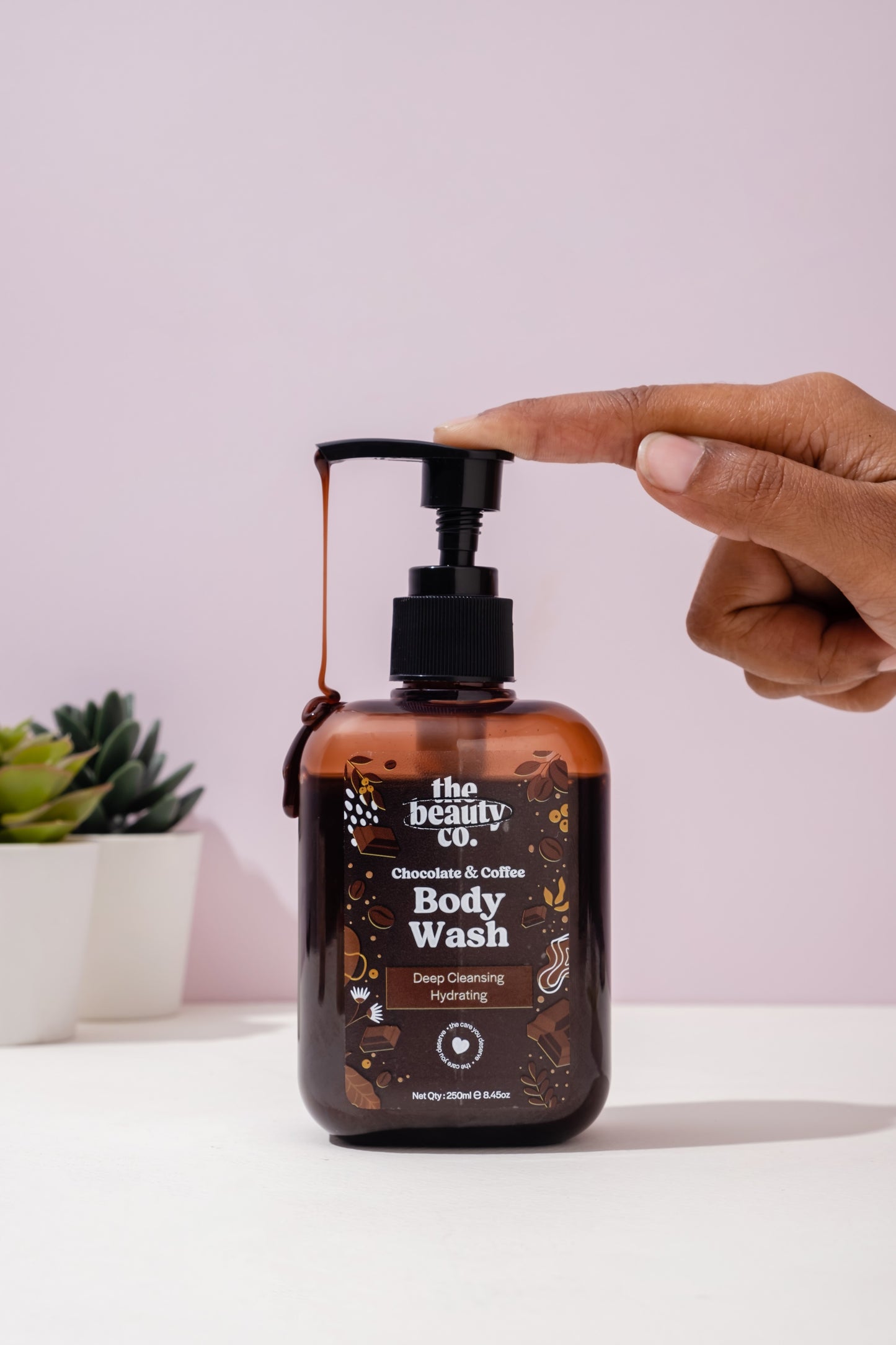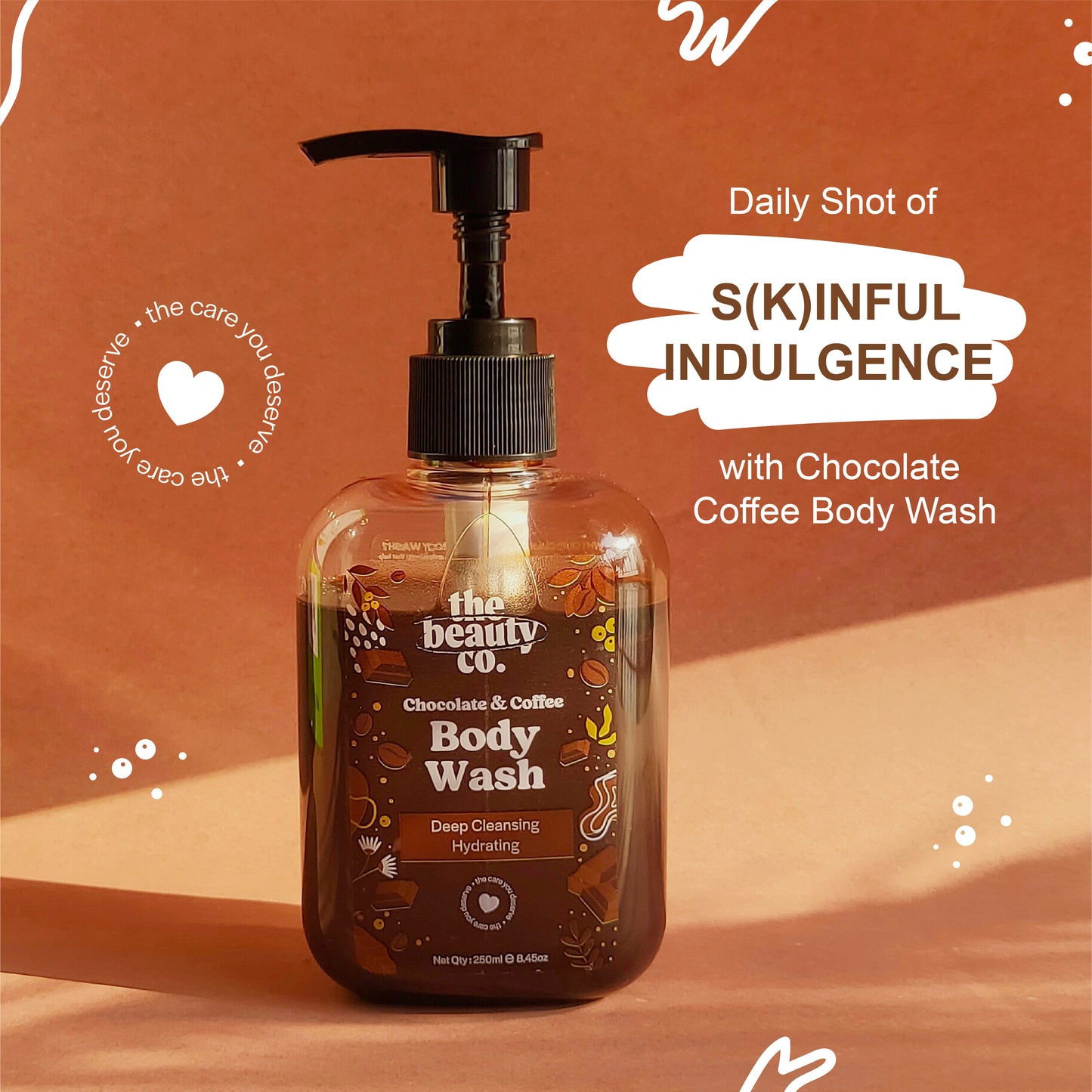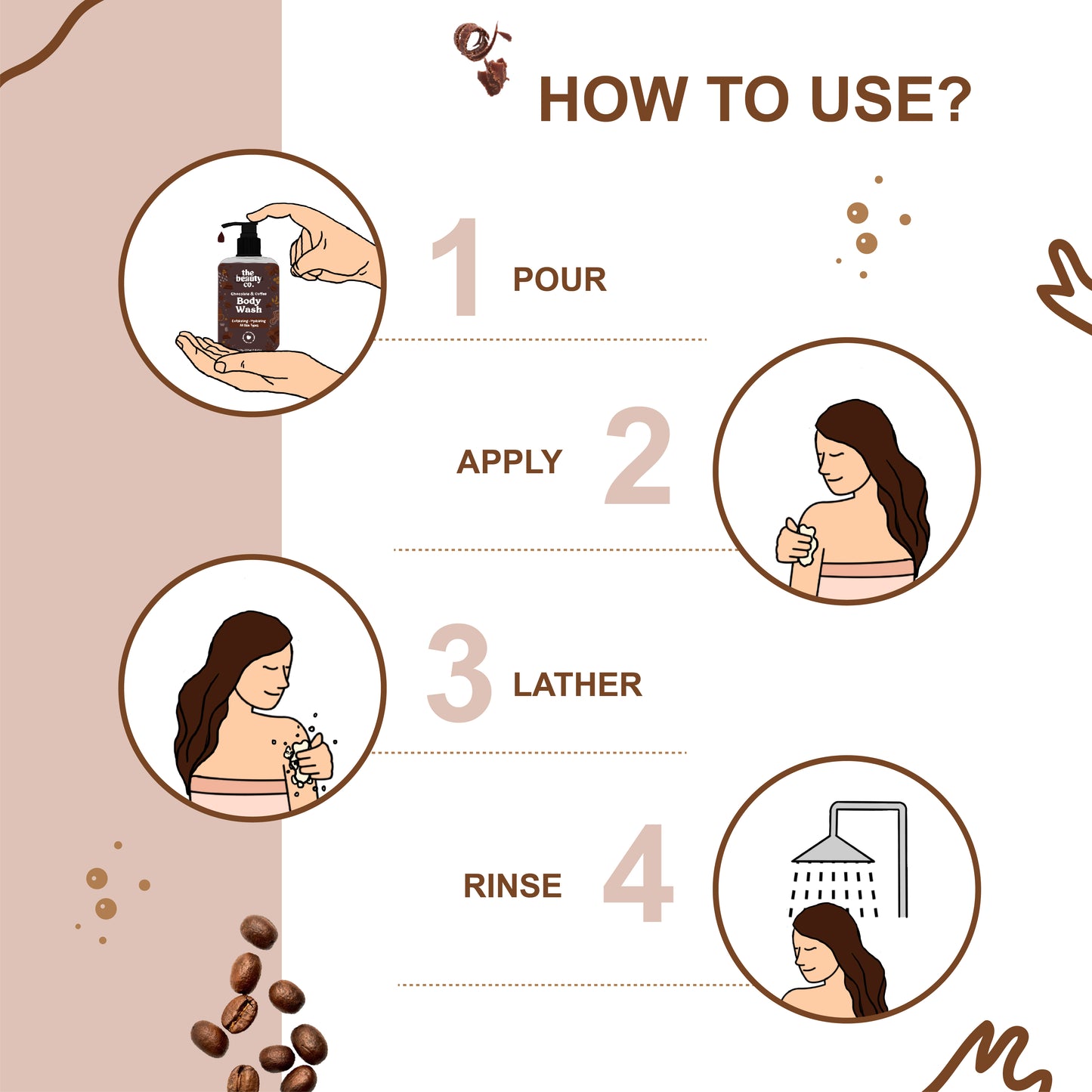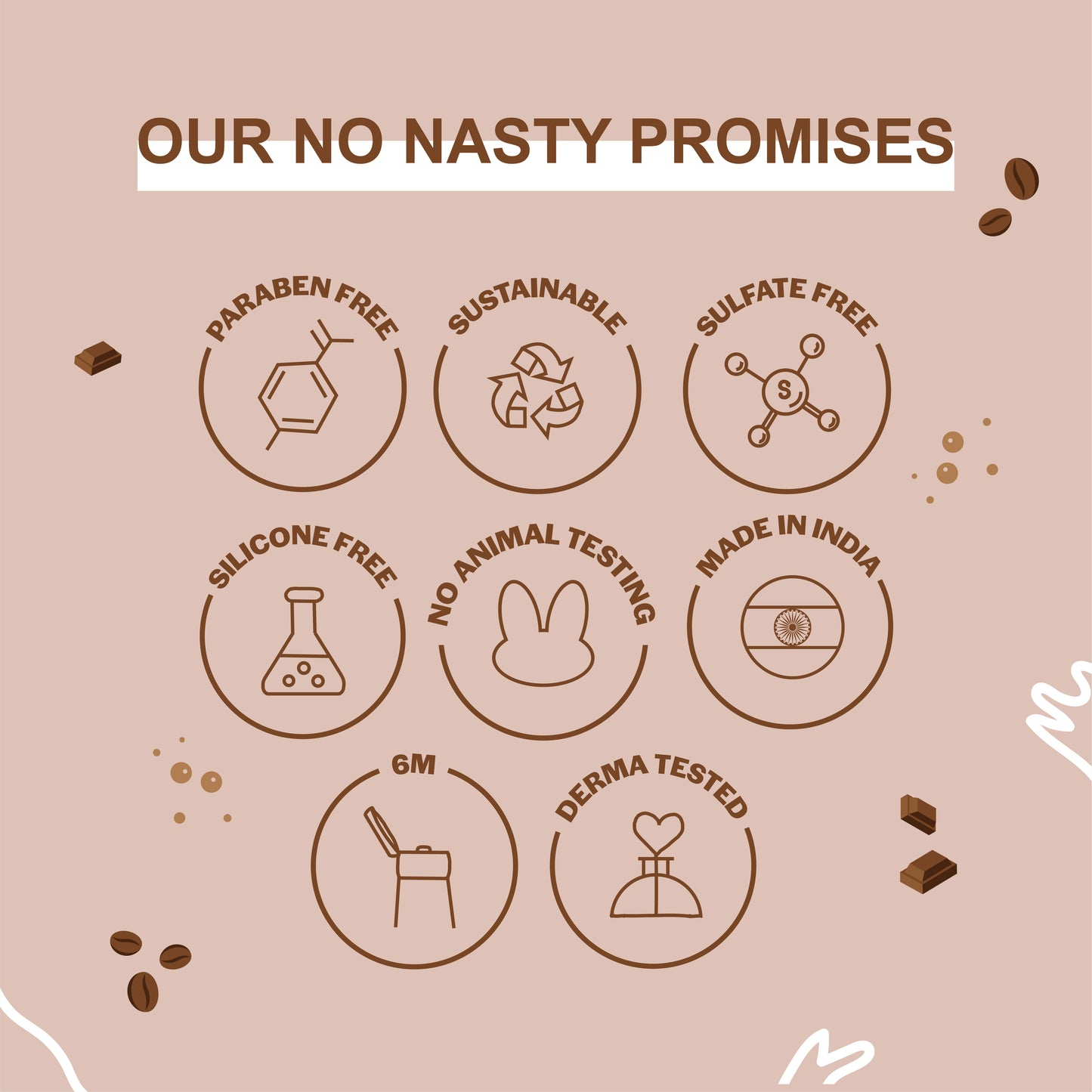 Cocoa Powder

Natural moisturizer

Anti-aging agent

Improves elasticity of skin

Tan removal & prevents sun damage

Coffee Robusta Seed Powder

Soothes skin soothes skin & reduces puffiness

Treats acne & pimples

Natural exfoliator Increases blood circulation

Aloe Vera Extract

Possesses anti-aging properties

Treats dry skin

Maintains pH balance

Soothes skin irritation, sunburns

Vitamin E Oil

Moisturizer for skin

Reduces itchiness 

Treats fine lines & wrinkles

Rejuvenates skin cells, Renders healthy skin
Frequently Asked Questions
Is Caffeine good for skin?

Yes, Caffeine has deep cleansing properties which helps detoxify and clear skin. It helps brighten, fight dullness and prevent signs of premature aging. 
Does Coffee brighten skin?

The caffeine in coffee has antioxidant properties and may help to reduce inflammation and redness. It may also improve circulation and tighten the skin, giving it a brighter, more youthful appearance.
Is Coffee good to use daily on the skin?

Add coffee to your daily skincare routine to jolt up your skin! It is rich in nutrients that help support healthy skin to prevent breakouts, uneven skin tone and wrinkles. Coffee is high on antioxidants like phenols that help boost collagen production in the skin.
Is the product dermatologist-tested?

Yes, the product is dermatologist-tested. If you have extremely sensitive skin or have any potential skin allergy, it is best to patch test the product on your arm and wait for 24-48 hour to notice any irritation.
Take a dip in the ocean of chocolate and coffee
The perfect blend of energizing Coffee Robusta Seed Powder, soothing Cocoa Powder, and refreshing Aloe Vera Gel, and Glycerin uplifts your skin's tone and texture by reviving the skin from its everyday struggle. Be it sunburn or skin inflammation due to UV exposure, breakouts due to dust, grime, and pollution or dry skin problems, this body wash promises to restore, revive your skin giving it a renewed look! 
People also viewed these products
View all