Chocolate & Coffee Body Lotion With Robusta Coffee
All Skin Type
Regular price
Sale price
₹490.00
Unit price
per
Sale
Sold out
The Beauty Co. Chocolate Coffee Body Lotion delivers a rich moisturizing effect to rejuvenate and nurture the skin. It heals dry and patchy skin, giving you a healthy sheen. The blend of Robusta Coffee with Cocoa Butter is a treat for your skin that doubles as a treat for your soul. It reduces stretch marks, boosts skin firmness, and smoothes the texture for a youthful appearance. This lotion helps restore moisture in the skin cells and tissues, keeping your skin feeling fresh, plump and hydrated. Furthermore, Niacinamide builds skin immunity and improves the function of lipid barriers. Likewise, the Glycerin and Shea Butter aid in cell regeneration and boost radiance, reinforcing the skin's natural barrier. Treat your skin to caffeine-infused, decadent lotion for a constant supply of moisture, glow-boosting power, and nutrients.
Share
Reasons To Love

Rich in Niacinamide, Robusta Coffee, and Cocoa Butter
Super-Soft and Silky Skin 
Shields the Skin Against the Environmental Stressors
Keeps the Dryness and Itchiness at Bay
Treats the Rough Patches for a Uniform Texture
Lightweight Nourishment That Is Gentle on Sensitive Skin
Quick-Absorbing, Lightweight Formula
Firmer, Toned, and Youthful Skin Appearance
No harmful chemicals, Vegan & Cruelty-Free
Ingredients

Robusta Coffee

Cocoa Butter

Niacinamide

Cocoa Powder

Shea Butter

Glycerin
How to use

Spread: Wet your face with lukewarm water and take a blob of The Beauty Co. Chocolate Coffee Face Scrub.

Massage: Massage it gently on the face in a circular motion for a few minutes to exfoliate the dead skin cells.

Relax: Relax for 3 to 5 minutes; allow the scrub to hydrate your skin & soak in all the goodness of rich ingredients.

Rinse: Rinse the scrub off and ditch the dullness within minutes to slay all day!
Additional Information

Best Before: 24 Months

Manufactured/Packed By: Goodness Of Nature

Marketed By: Zen Lifestyle Private Limited

1701, Mondeal Heights, Near Novotel Hotel, S G Highway 380051

Country Of Origin: India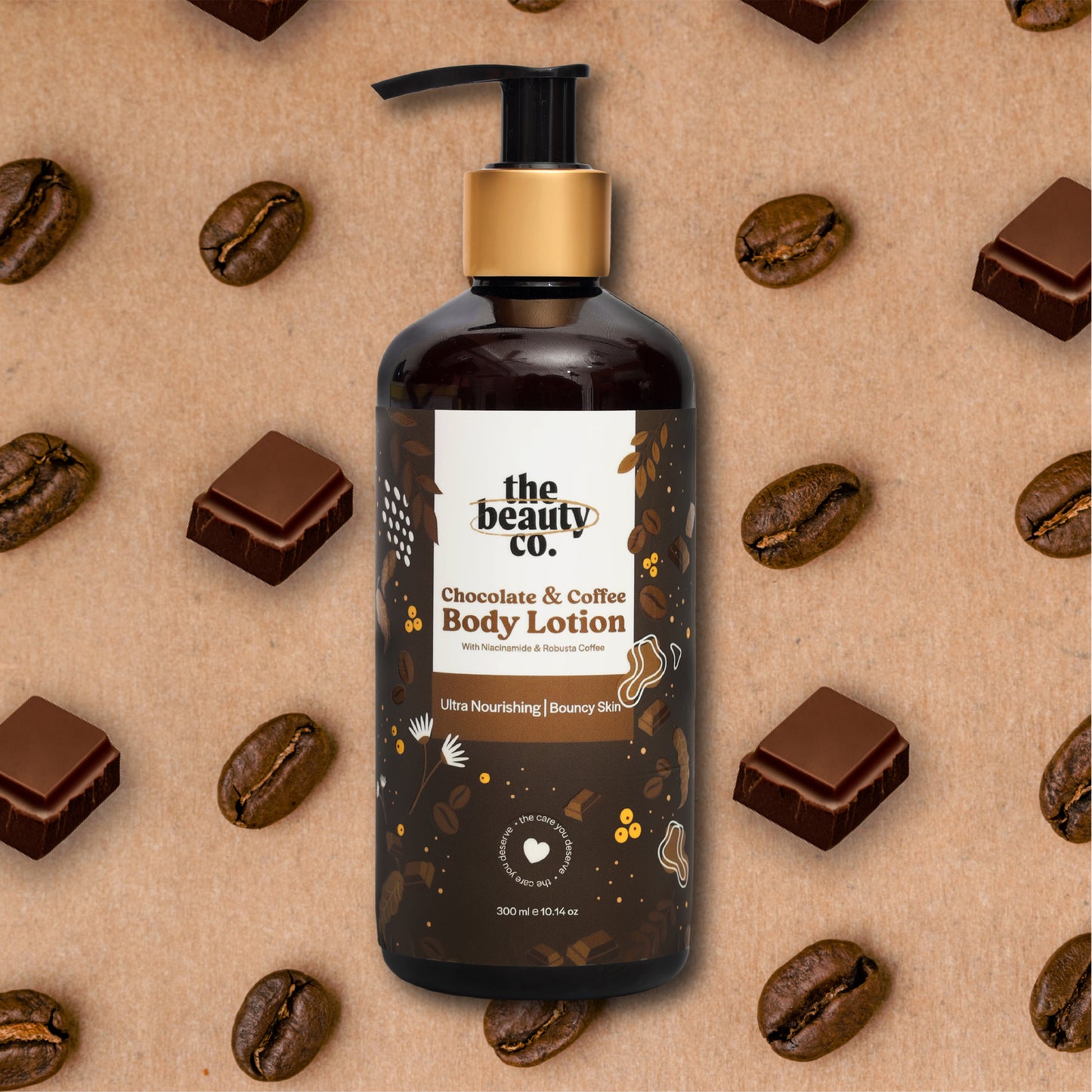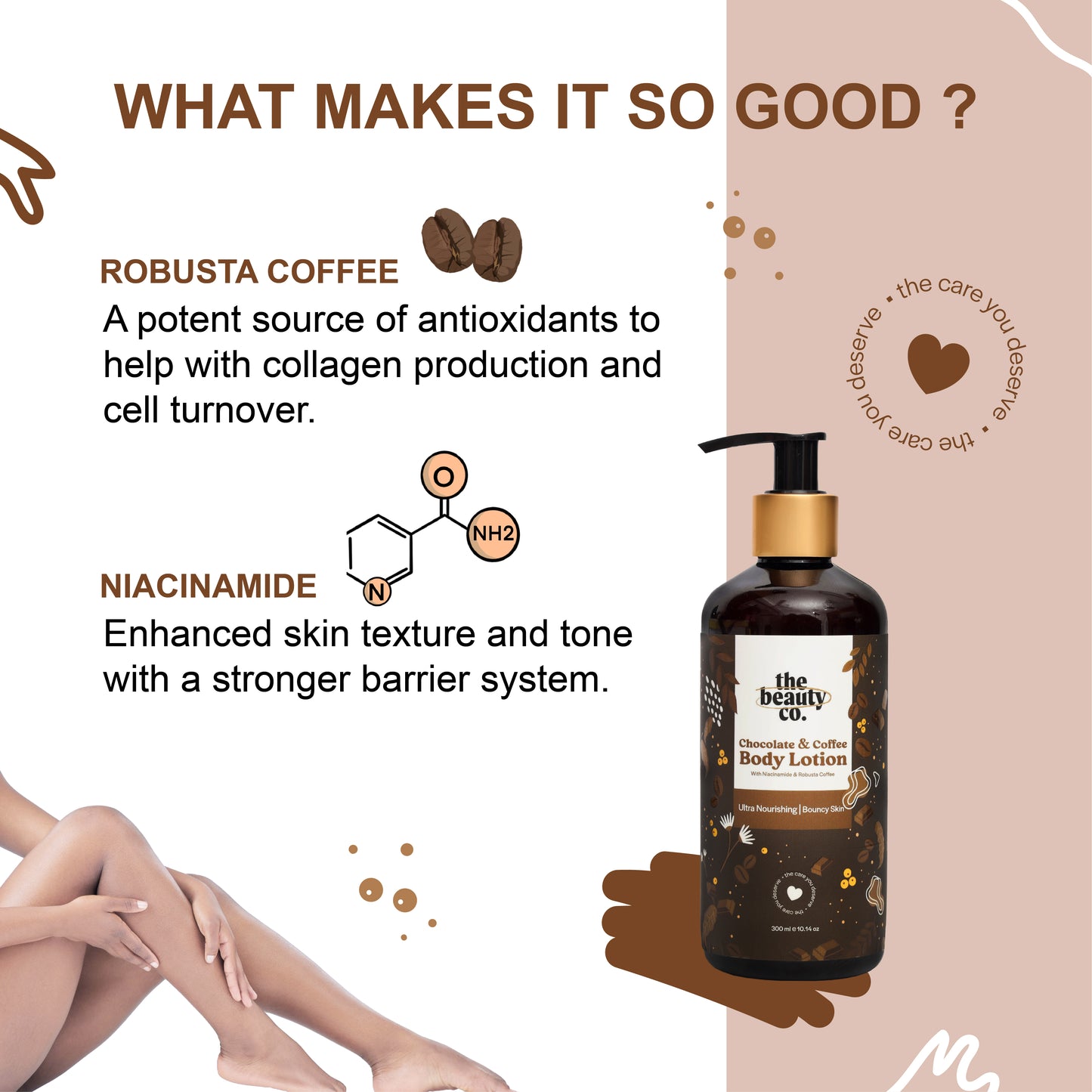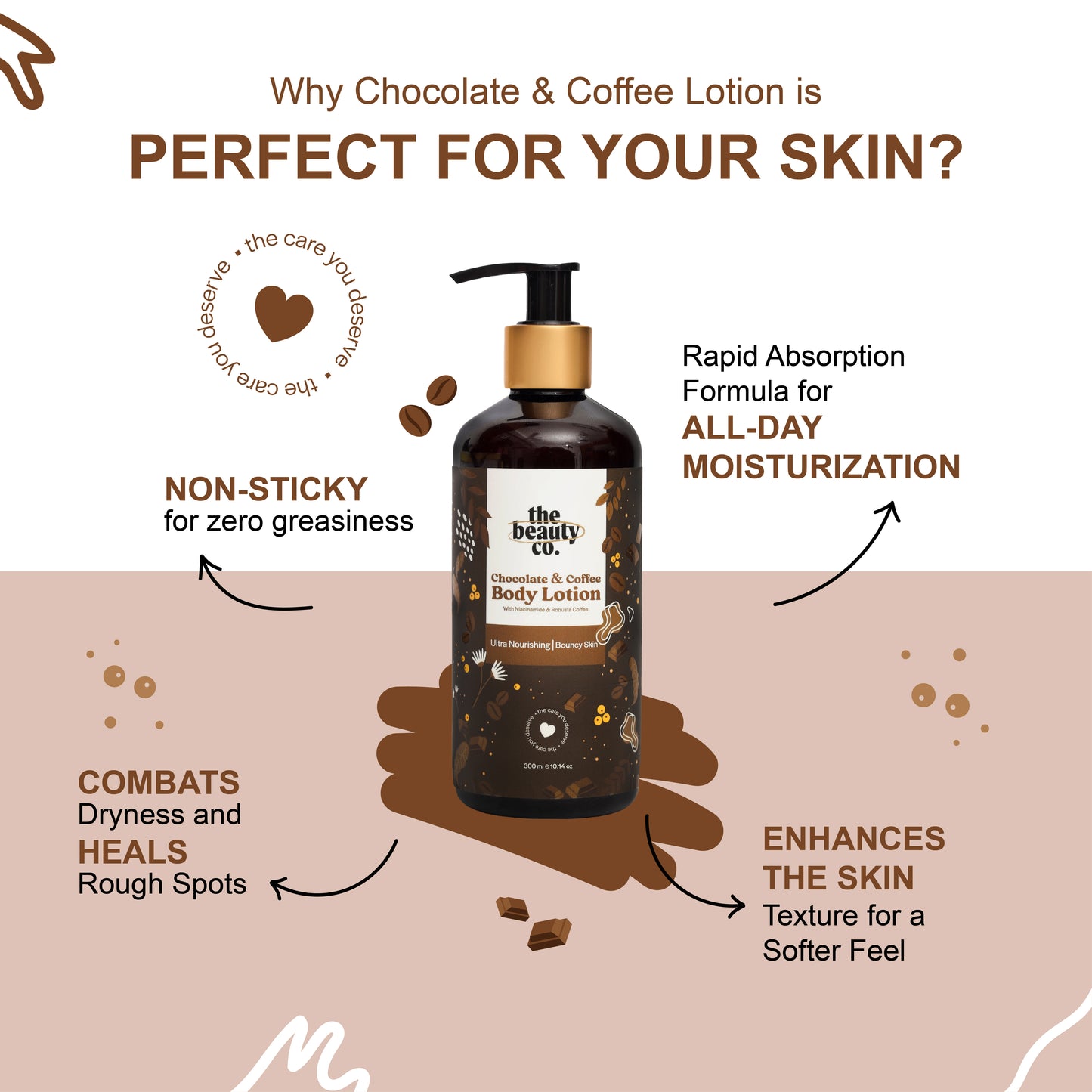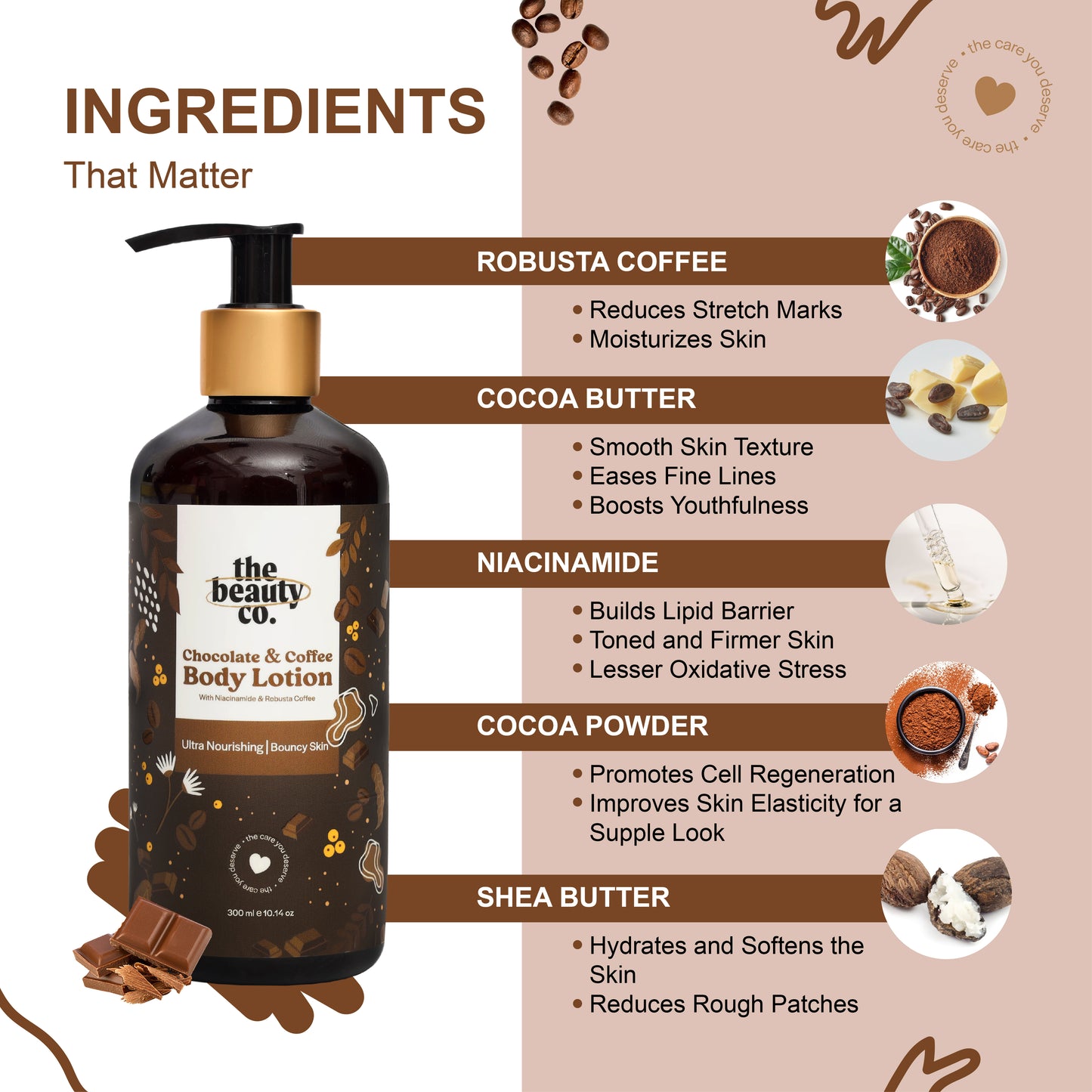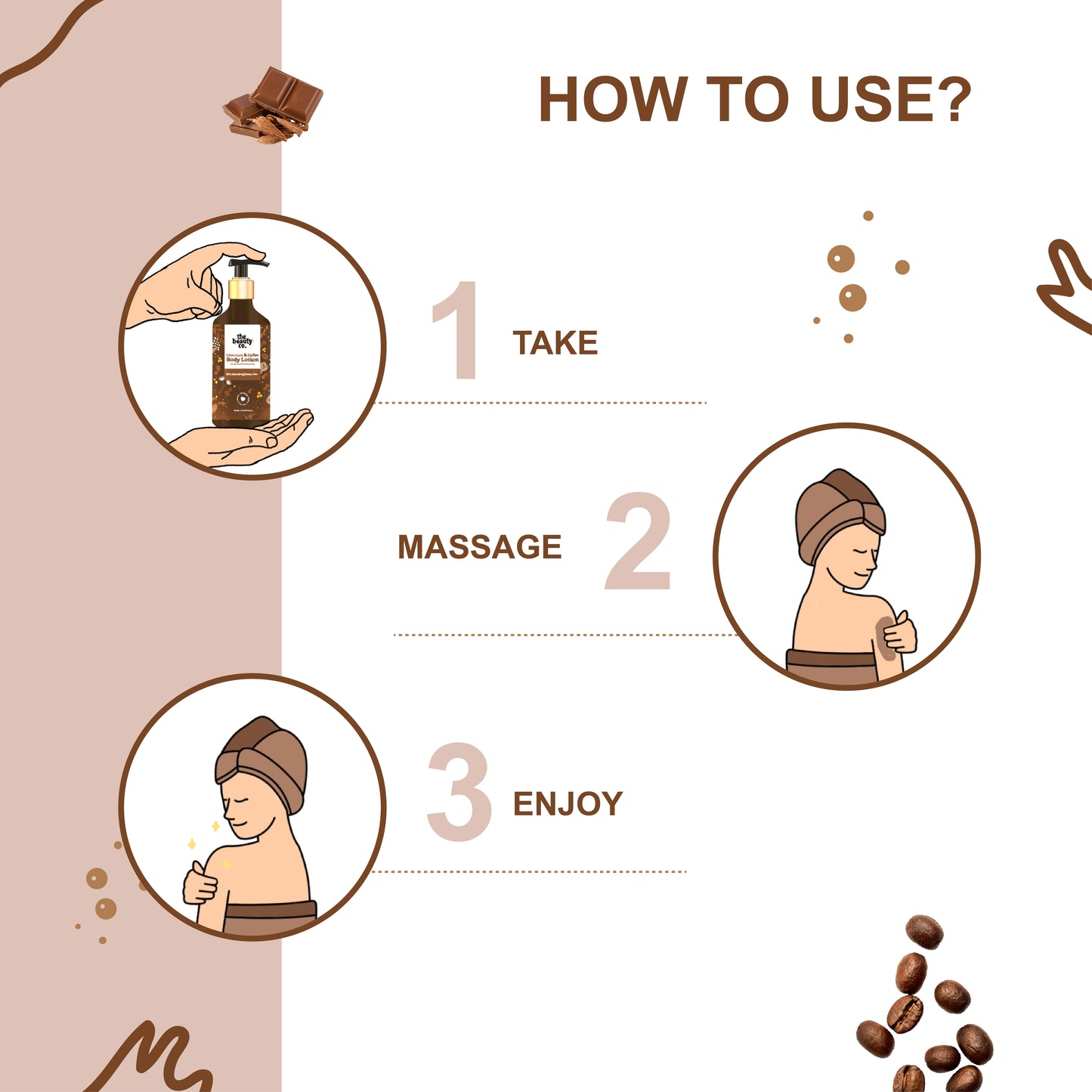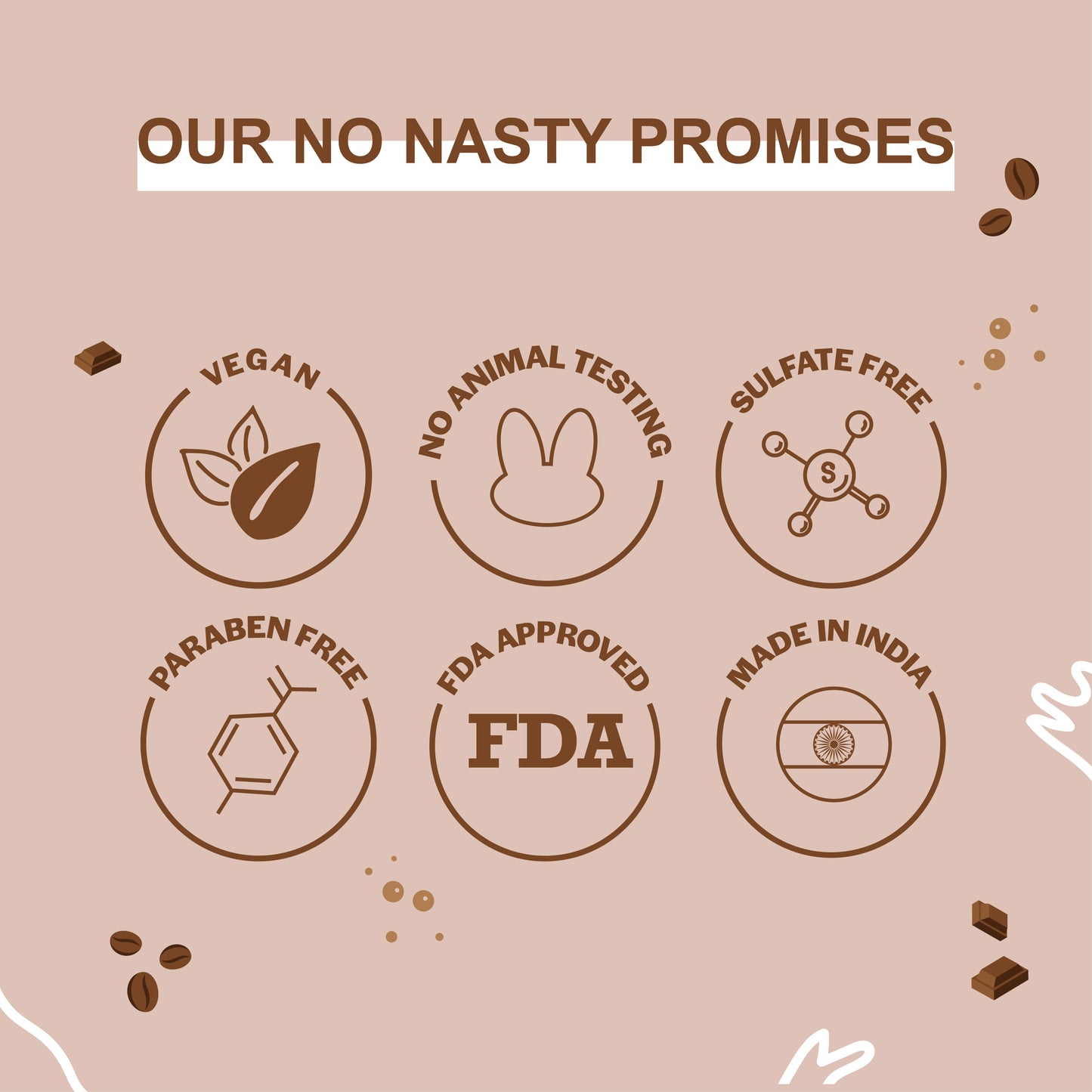 Robusta Coffee

 Reduces Stretch Marks & Bumps | Brightens

Cocoa Butter

Smoothens Skin Texture | Moisturizes Deeply

Niacinamide

Strengthens Lipid Barrier | Diminishes Dark Spots | Refines Pores

Shea Butter extract

Hydrates & Softens the Skin| Reduces Rough Patches 
Frequently Asked Questions
When should I use this body lotion?

Use the body lotion twice a day - once you have showered & at night before sleeping. You can also use it whenever your skin feels dry and ashy. 
Is this product made from natural ingredients?

The Beauty Co Chocolate Coffee Body Lotion is formulated with natural extracts and active ingredients. It has Robust Coffee, Cocoa Extract, Niacinamide & Shea Butter that deeply moisturize the skin. 
Can I use this body lotion on my face?

While it is generally safe to use body lotion on your face, some people find that the ingredients in certain products can be too rich or heavy for the delicate skin on their face. If you have sensitive or acne-prone skin, you may want to avoid using this body lotion on your face. If you do decide to try it, be sure to use a very small amount and apply it gently, avoiding the eye area.
Why is robusta coffee better than arabica in skincare products?

Robusta coffee is better because it contains a higher level of caffeine than Arabica coffee. Caffeine has been shown to have a number of potential benefits when applied topically to the skin, including improving circulation, reducing inflammation, and reducing the appearance of cellulite and puffiness. Robusta coffee also contains a higher amount of chlorogenic acid than Arabica coffee, which have antioxidant and anti-aging properties. 
Is it suitable for my skin type?

Yes, the gentle formulation of The Beauty Co Body Lotion is suitable for all skin types. A patch test is recommended for those with sensitive skin. 
A Supple, Healthy, and Glowing Skin All Year Round
Long-Lasting Moisturization for Skin Vitality: The Beauty Co. Chocolate Coffee Body Lotion quenches the thirst of your parched skin and keeps the moisture in for longer. It improves the skin's elasticity, reducing dryness, rough patches, and bumps. 
Soothe and Revive Your Skin Cells: The antioxidant-rich ingredients nurture the skin cells and help them regenerate while soothing and moisturizing the skin. It also contributes to improving your skin's texture and tone, diminishing the fine lines.
All-Season Hydration and Glow: Keeping your skin healthy and hydrated is vital for preserving its natural beauty. With our body lotion, you can head out to any weather condition, knowing that your skin will stay replenished and nourished. .