Charcoal Face Wash With Salicylic Acid For Pore Minimizing
Regular price
Sale price
₹299.00
Unit price
per
Sale
Sold out
The Beauty Co. Charcoal Face Wash is crafted with the goodness of Charcoal, a natural exfoliator that purifies the skin from within. It removes the deep-settled impurities, gunk, and excess oil for a clean, healthy appearance. This power-packed ingredient also helps unclog the pores and reduce blackheads and whiteheads with continual use. Besides, Salicylic Acid, an ultimate-acne combater, helps relieve acne-causing bacteria and dead cells to reveal a fresh, spotless, and radiant complexion. Activate your skin's gentle detoxification with the nourishing Green Tea, a boon for acne-prone skin. It soothes and hydrates the skin for a revitalized look and lesser breakouts. Why go through the hassle when you can stay on top of your skincare routine with our charcoal-infused face wash that will clean, tone, and brighten the complexion without causing any drying or peeling? Say yes to spotless, acne-free skin - all is possible with the power of natural ingredients.
Share
Reasons To Love

Soothes, clears and purifies the skin
Helps your complexion get rid of toxins and pollutants
Eliminates dullness and revives the skin
Removes pore congestion for smooth texture 
Lessens whiteheads and blackheads 
Regulates the production of excess sebum
Washes away the acne-causing bacteria to reduce breakouts
Hydrates the skin to restore its natural moisture level
Non-Drying, Gentle Formula Suitable for all skin types
Ingredients

Charcoal Extract

Green Tea

Salicylic Acid
How to use

Dampen your face with placid water

Pour a pea-sized amount of the face wash in your hand

Apply the face wash to your skin and rub in circular motions and rinse off

Pat dry with a towel or let it air dry
Additional Information

Best Before: 24 Months

Marketed By: Zen Lifestyle Private Limited

1701, Mondeal Heights, Near Novotel Hotel, S G Highway 380051

Country Of Origin: India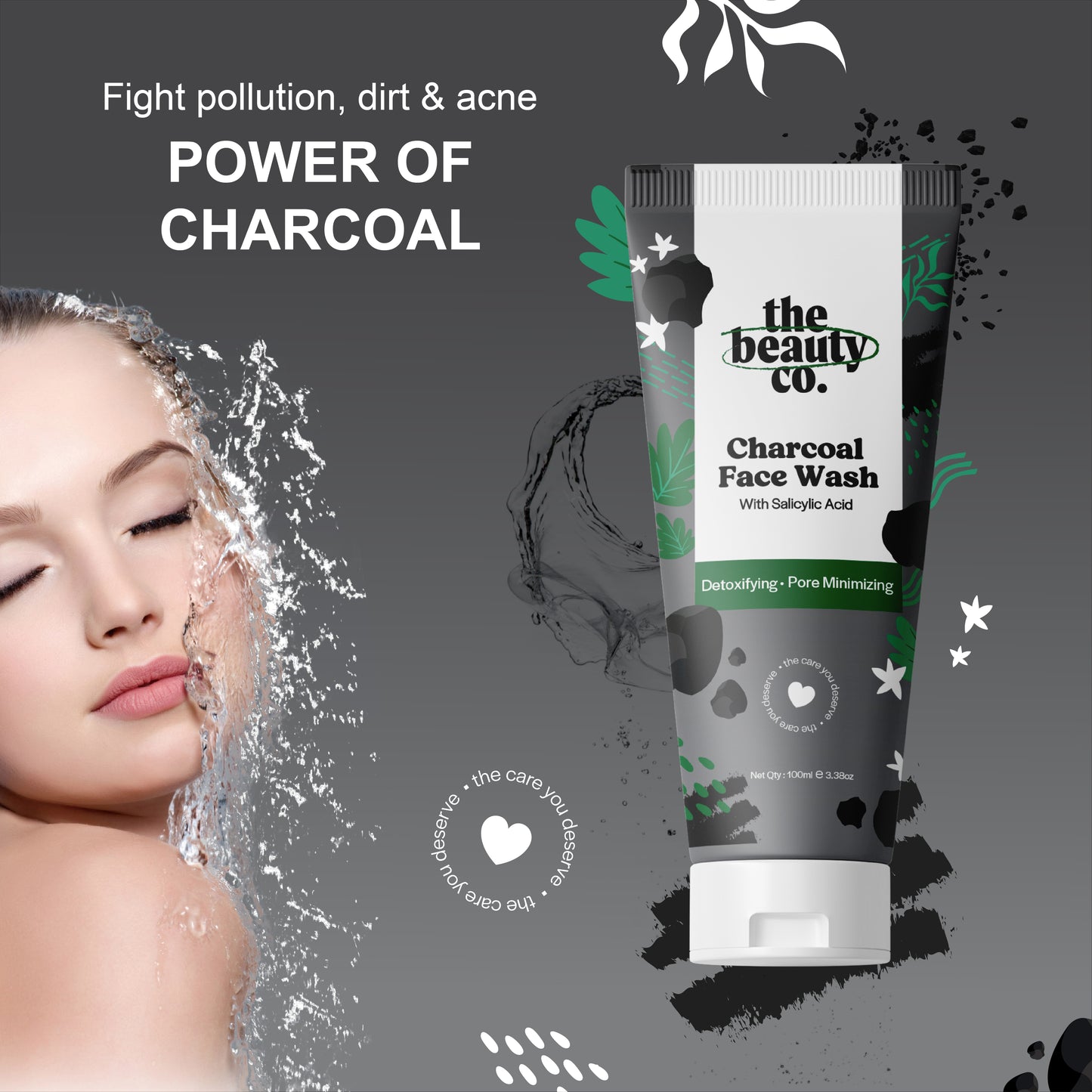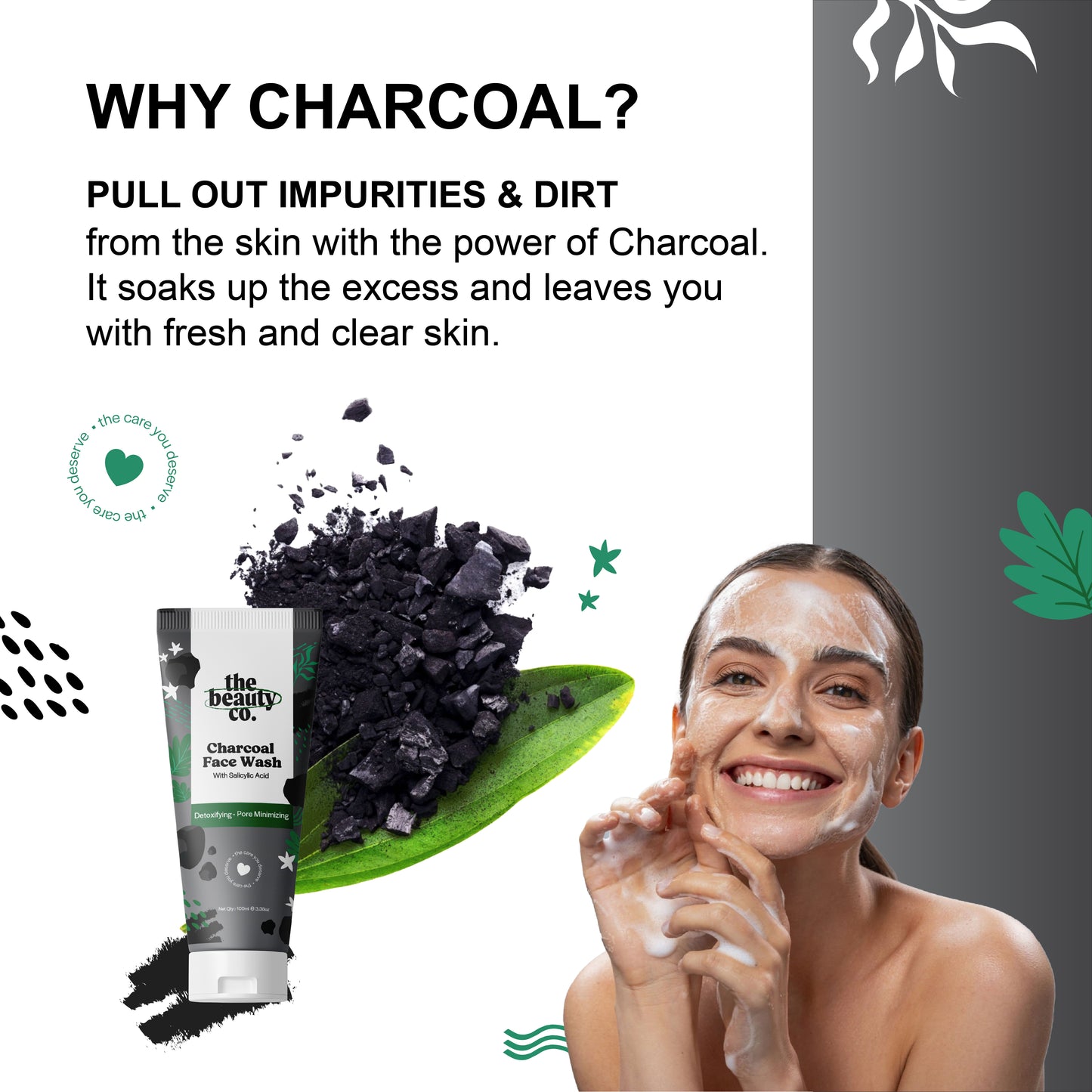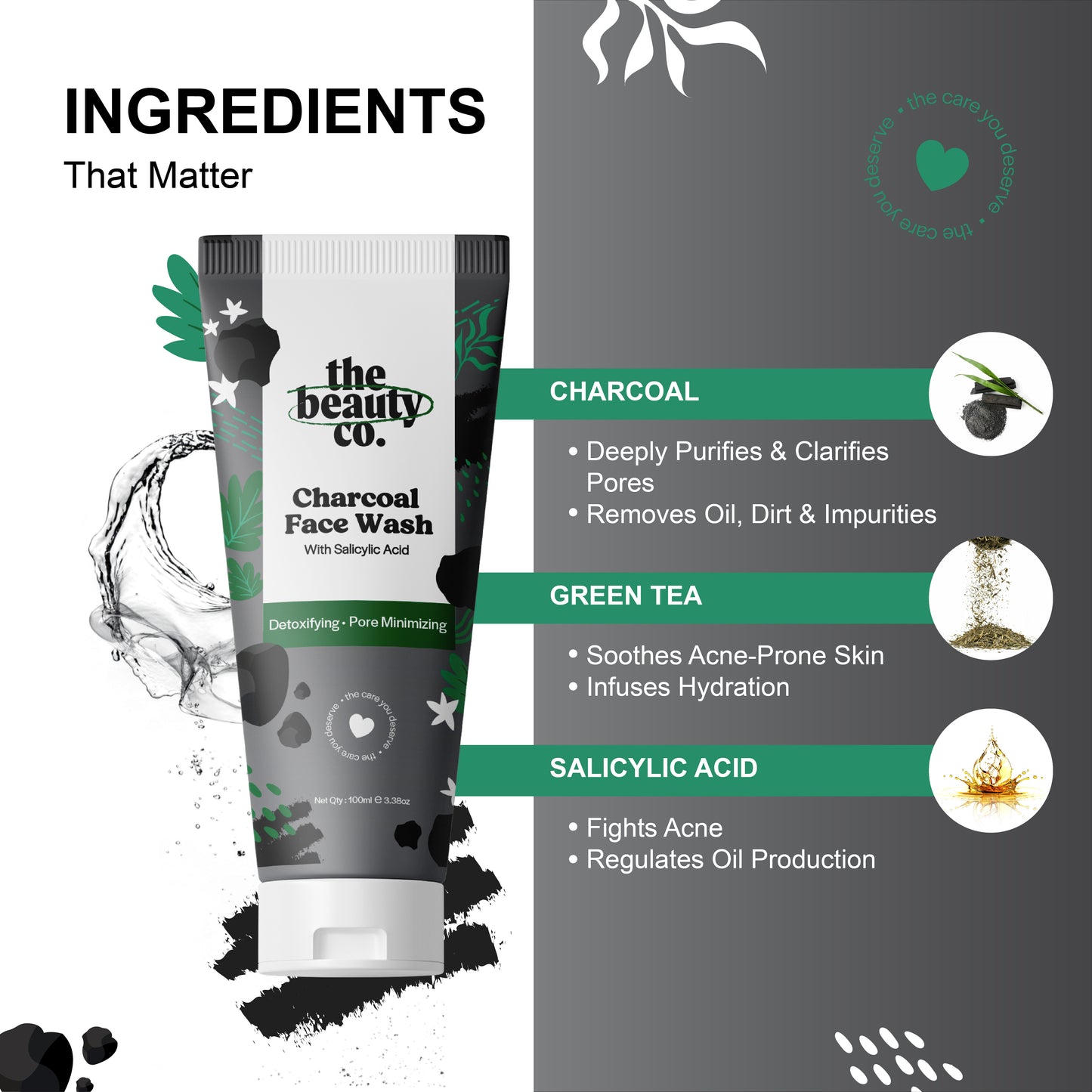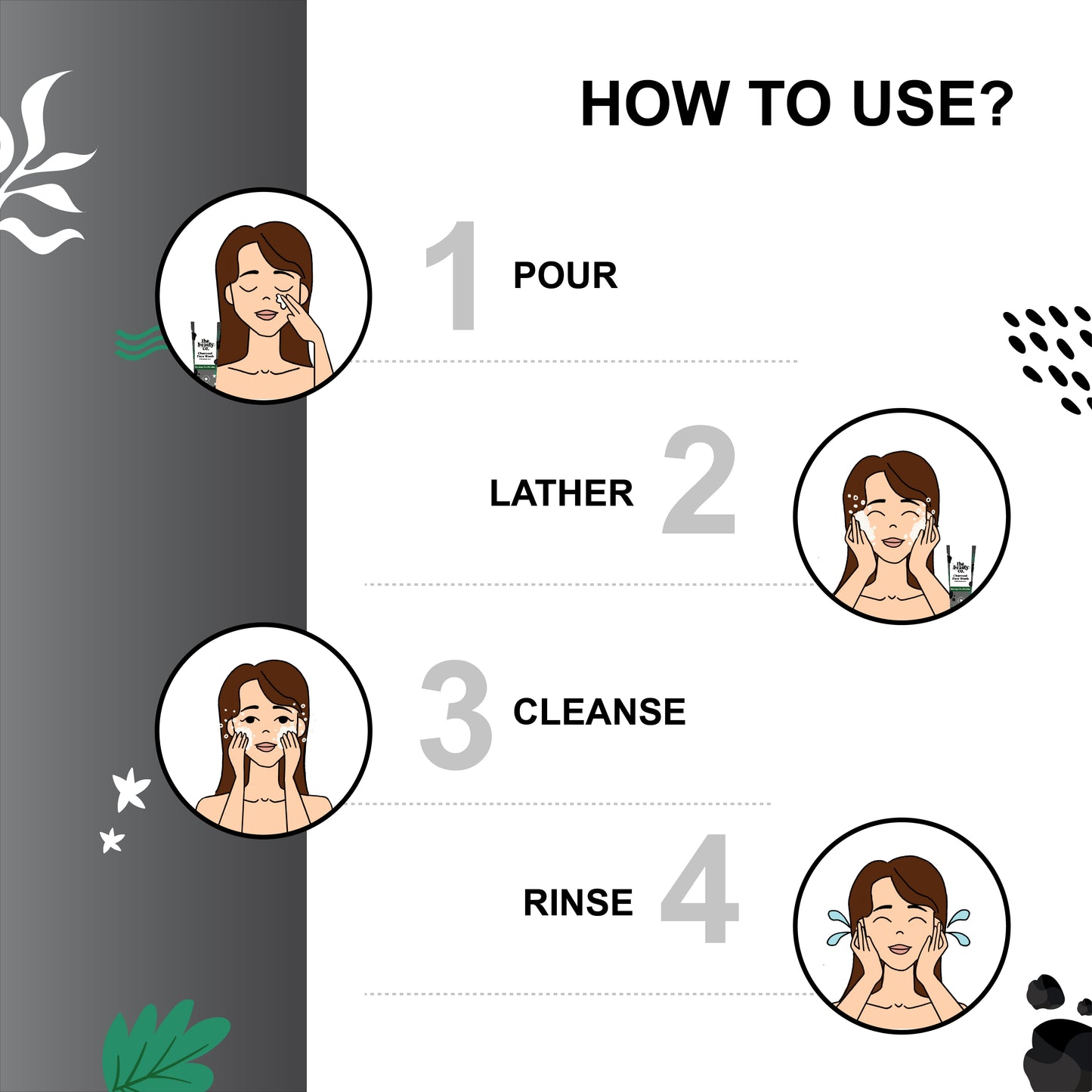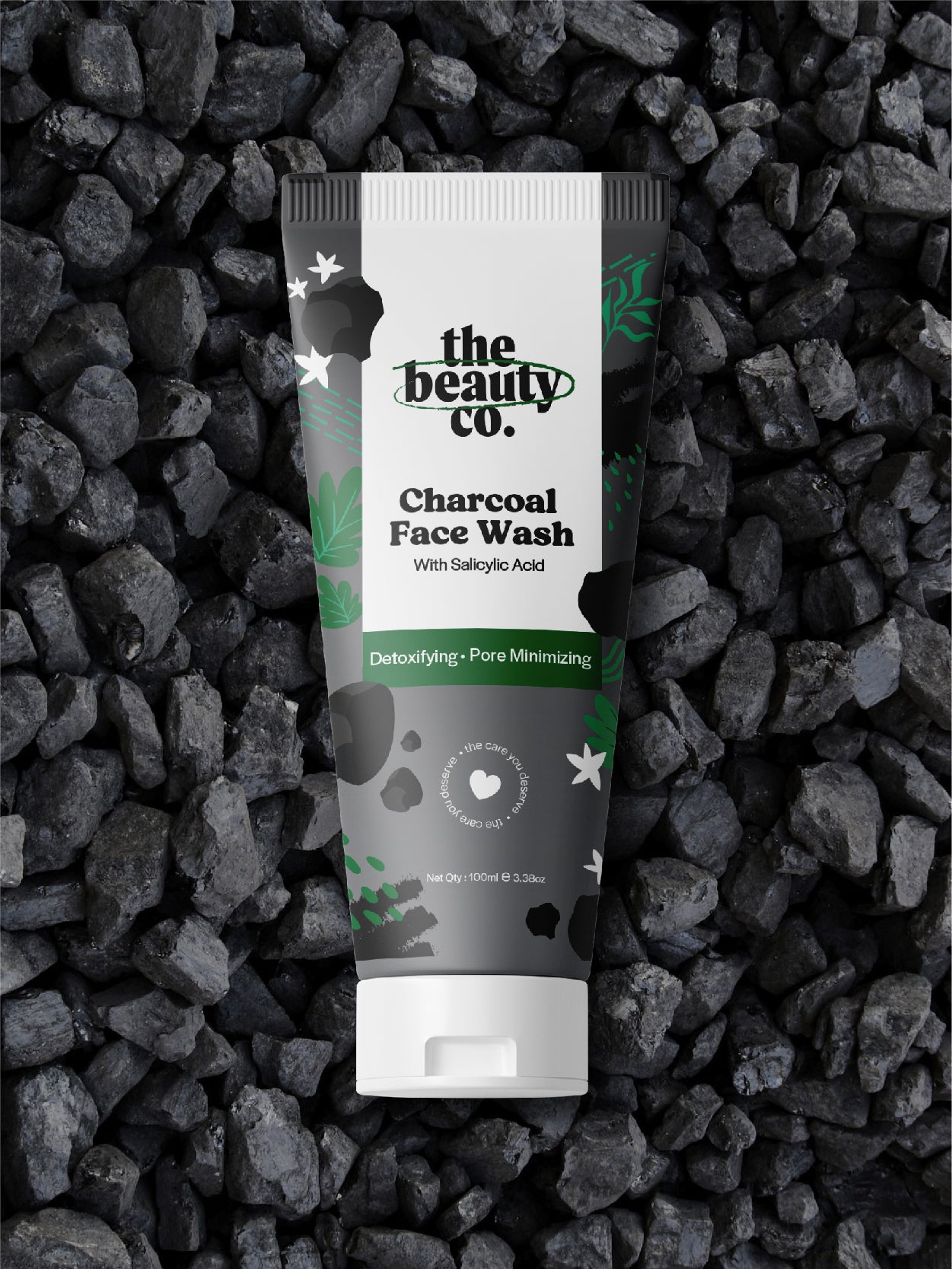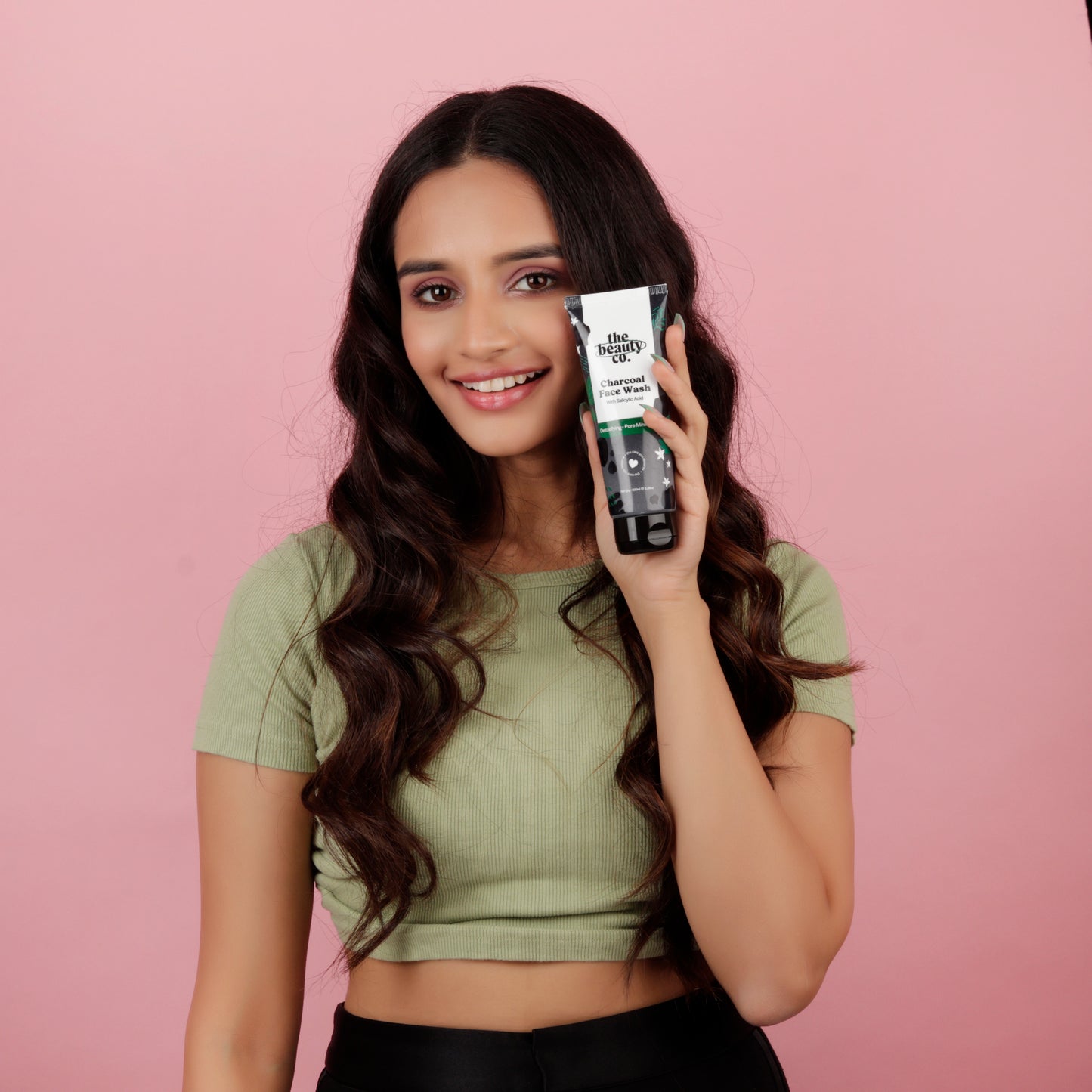 Charcoal

Deeply Purifies & Clarifies Pores | Removes Oil, Dirt & Impurities

Salicylic Acid

Fights Acne | Regulates Oil Production

Green Tea

Soothes Acne-Prone Skin | Infuses Hydration
Frequently Asked Questions
Is this product made from natural ingredients?

Yes, The Beauty Co Charcoal Face Wash is a blend of powerful natural extracts with active ingredients. It has activated charcoal, green tea and salicylic acid.
Is it suitable for my skin type?

Charcoal helps detoxify and clarify skin, while green tea is an excellent skin soothing ingredient. It also contains salicylic acid which is a must-have for acne-prone skin. While this product is best suited for acne-prone, oily dehydrated or dull skin - the Charcoal Face Wash suits all skin types.
How many times can I use this face wash?

Overwashing your face can strip off its natural oils. Use the face wash only twice a day in the morning and evening for the best results. 
Can charcoal clog pores?

No, charcoal is known for its ability to unclog pores. It can absorb all the impurities and leave you with fresh and clarified skin
Is Charcoal safe to use on the skin?

Yes, charcoal is a natural ingredient that is known for its ability to absorb impurities and excess oil, making it a popular choice for skincare products that are designed to address oily or acne-prone skin.
Acne, Excess Oil, and Pore Congestion, Banish Them All Away
Let Your Skin Feel New Again: The Beauty Co. Charcoal Face Wash mildly cleanses and exfoliates the skin without drying it. It takes out the impurities, toxins, and dirt, giving your complexion a soft, rejuvenated feel. The detoxifying ingredients help remove dead cells for a healthy cell turnover.
Hello Clear Pores, Goodbye Breakouts: The combination of Charcoal, Salicylic Acid, and Green Tea take out the gunk from our pores and minimizes their appearance. I
Get That Spotless Glow On: The face wash promotes cell renewal which in turn helps lighten the dark spots over time for that enviable, spotless glow. It brightens the skin by rinsing off the dullness caused by environmental stressors.