Body Care Essential Kit | Back and Bum Cream & Scrub + French Lavender Essential Oil
Regular price
₹1,395.00
Sale price
₹900.00
Unit price
per
Sale
Sold out
The Beauty Co. Body Care Essential Kit  has got your back covered - literally! Whether you are dealing with buttne, bacne, pigmentation, dryness, or ingrown hair, this cream fights it all. Power packed with AHAs like Glycolic Acid and Mandelic Acid to gently buff away the dry skin and prevent bumps. It also helps clear stretch marks, pigmentation, and uneven skin tone. Cica, Hyaluronic Acid & Niacinamide moisturize, hydrate, and plump the skin to improve the appearance of your back and buttocks. The lightweight formula is quick to absorb and perks up the skin. It is suitable for all bums, no matter the shape and size. 
Back and Bum Cream & Scrub that exfoliates to improve skin tone and treat acne

Enriched with Glycolic Acid, Hyaluronic Acid, Cica, Mulberry & Niacinamide

Removes dead skin cells and reduces pigmentation

Heals and soothes dry or irritated skin

Gets rid of ingrown hair, acne, and bumps 

Makes the back and bum smooth and soft

Nourishes & hydrates skin 

Comes with a pleasant fragrance

Free from parabens, mineral oil, alcohol & other nasties 

Suitable for all skin types
French Lavender Essential Oil:
Not able to take care of your skin and hair because of your busy work schedule? Worry no more! Pollution and the urban lifestyle affect our skin and hair in various ways, and the best way to take care of your skin is to use the perfect essential oils. The Beauty Co. Lavender Essential Oil is everything you might be looking for, and more. Lavender Oil is very popular because of its calming aroma which is used to reduce stress and anxiety. This oil will maintain the overall balance of your mind, body, and soul and help you stay calm and happy. What's more – because of its healing properties, it acts as an anti-acne oil and even cures various skin disorders. Along with all this goodness, the oil also gives you acne and scar-free skin. So stop wondering about how to remove pimples, as The Beauty Co. Lavender Oil is your one-stop solution to stay beautiful and happy.
Share
Ingredients

Cica:

Mulberry

Glycolic Acid

Tea Tree

Hyaluronic Acid

Salicylic Acid
How to use

Scrub: Take a dollop of the scrub and apply it all over the skin. Massage it well in circular motions for a minute or so. Rinse with water. Follow it up with Back and Bum Cream.

Cream: Take a dollop of cream and apply it all over your back and bum.  Massage it for a couple of minutes until it's fully absorbed. Use it everyday twice for the best results.

Essential Oil:

Skin: The natural ingredients of this oil help in removing acne and pimples, reducing pigmentation and is suitable for all skin types.


Hair: Apply the Beauty Co. Lavender Essential Oil mixed with a carrier oil as a regular oil in your scalp and forget the problem relates lice, nits or hair loss


Aromatherapy: Add a few drops in a diffuser or your bath tub for the fresh fragrance of Lavender which helps you avoid stress and anxiety.
Additional Information

Best Before: 24 Months

Manufactured/Packed By: Callista Healthcare

Marketed By: Zen Lifestyle Private Limited

1701, Mondeal Heights, Near Novotel Hotel, S G Highway 380051

Country Of Origin: India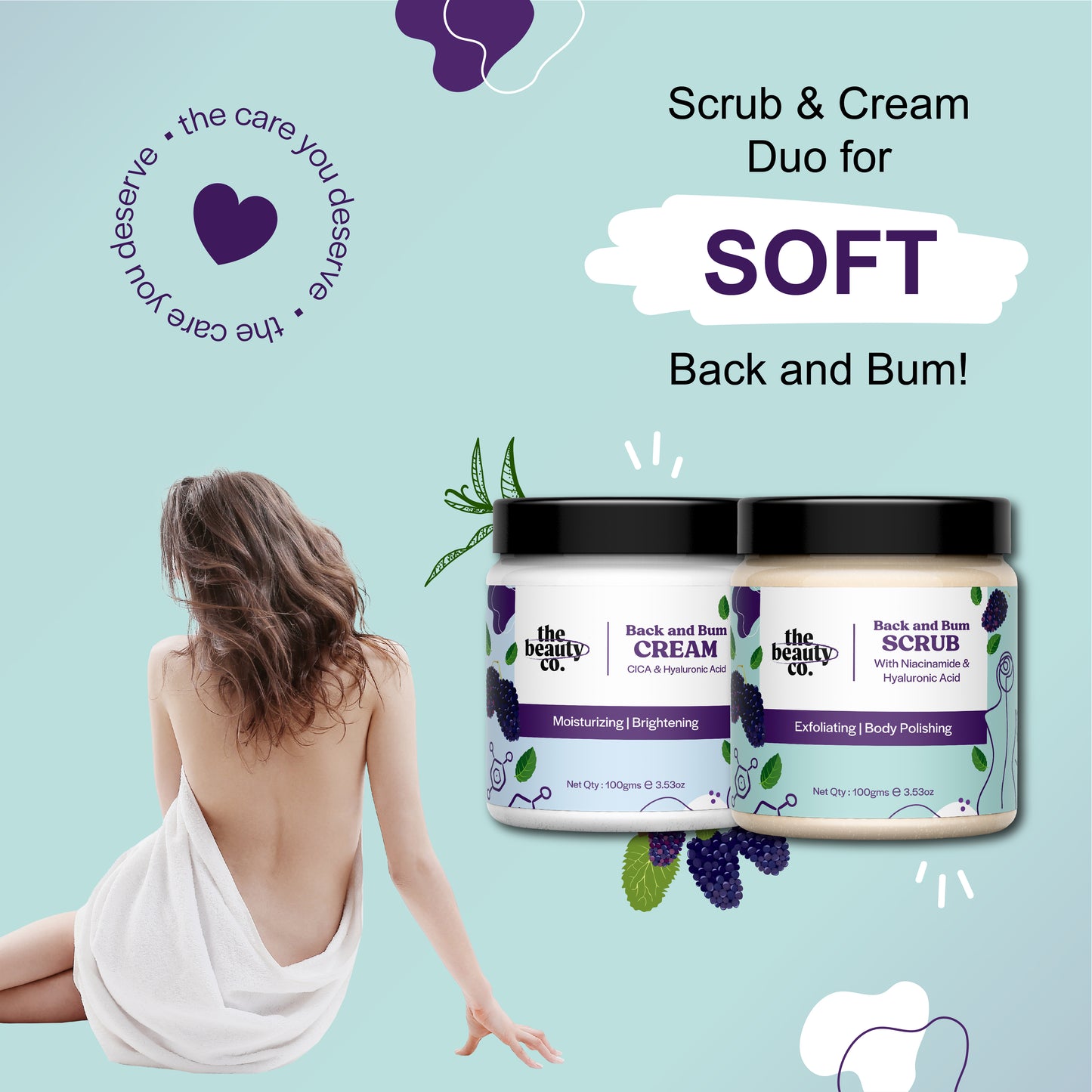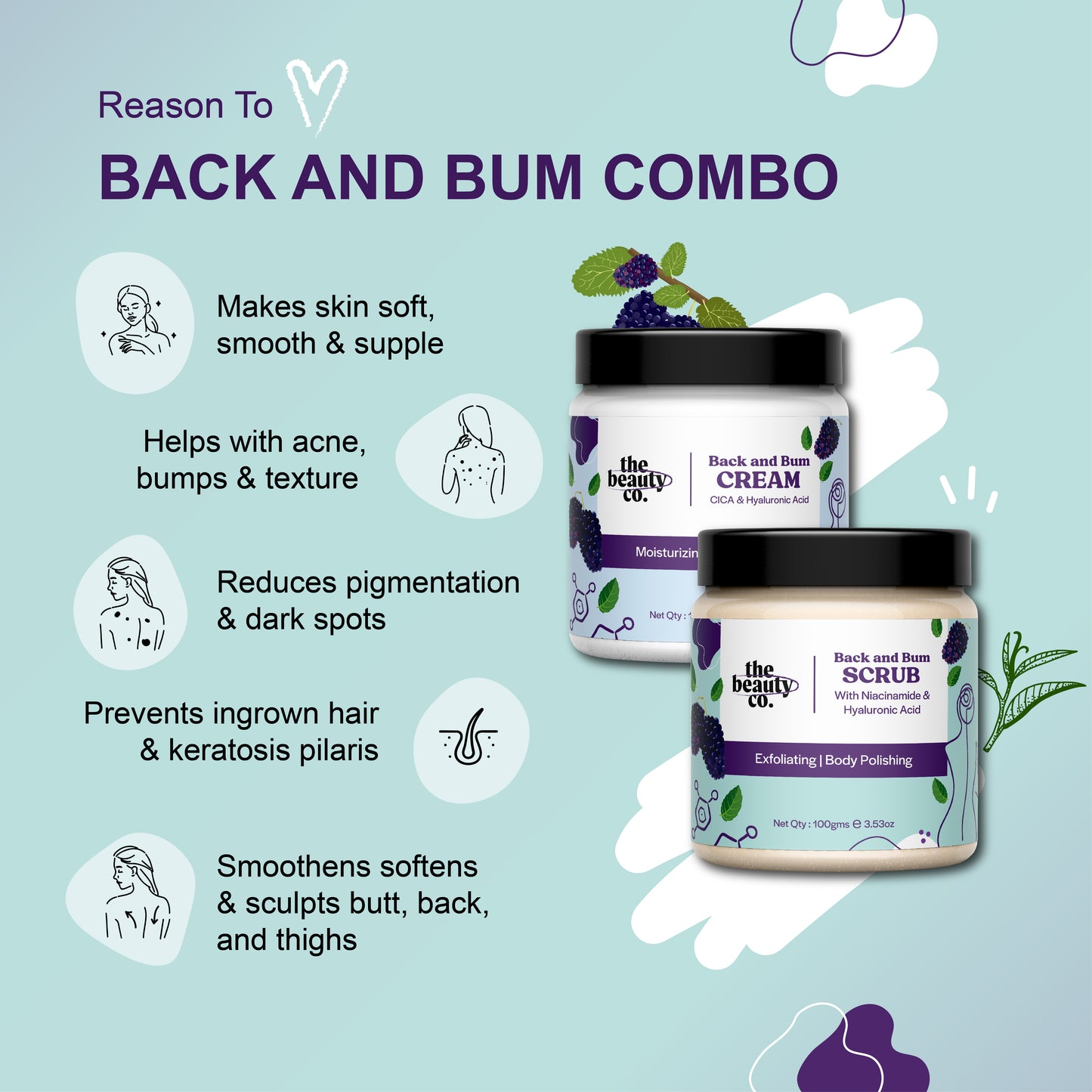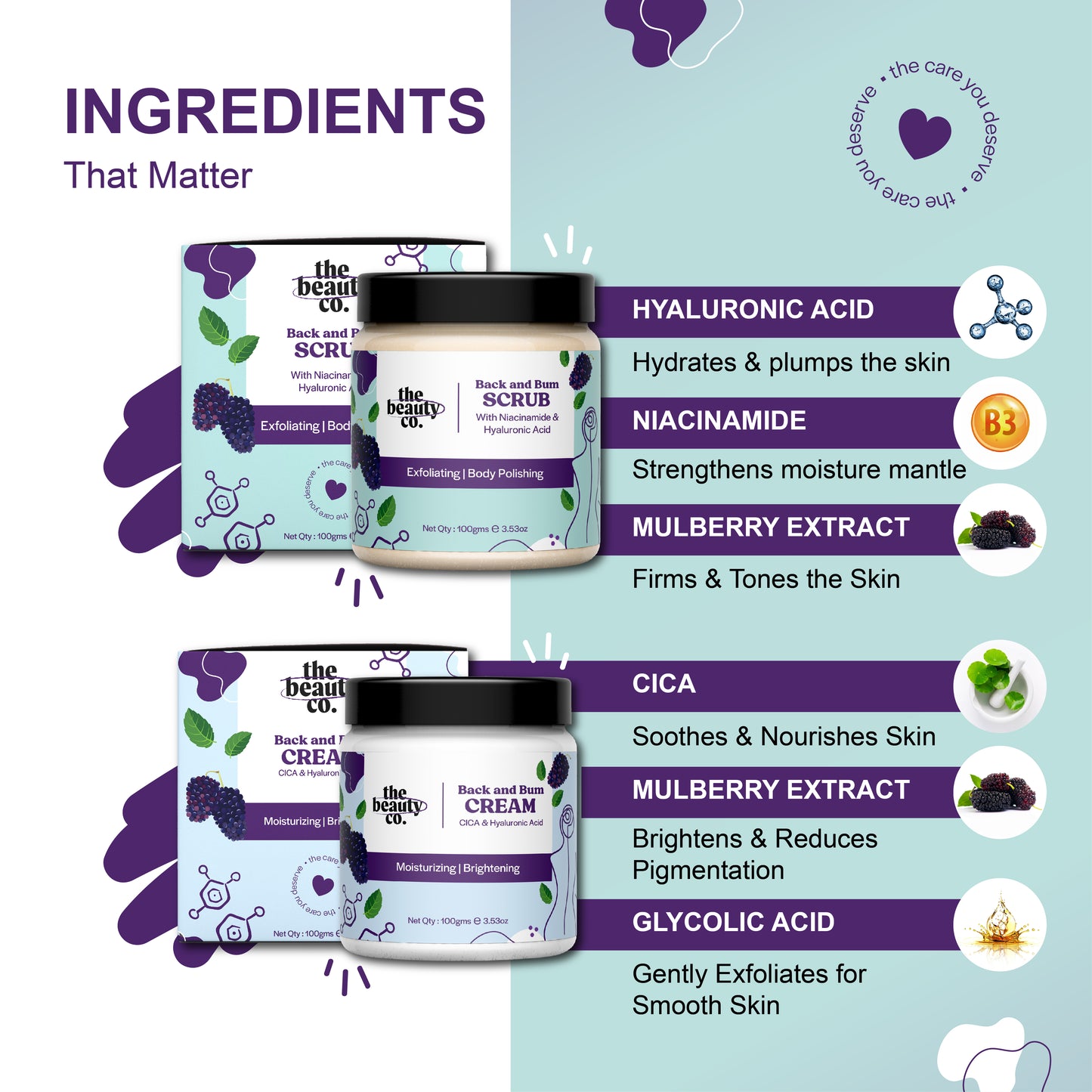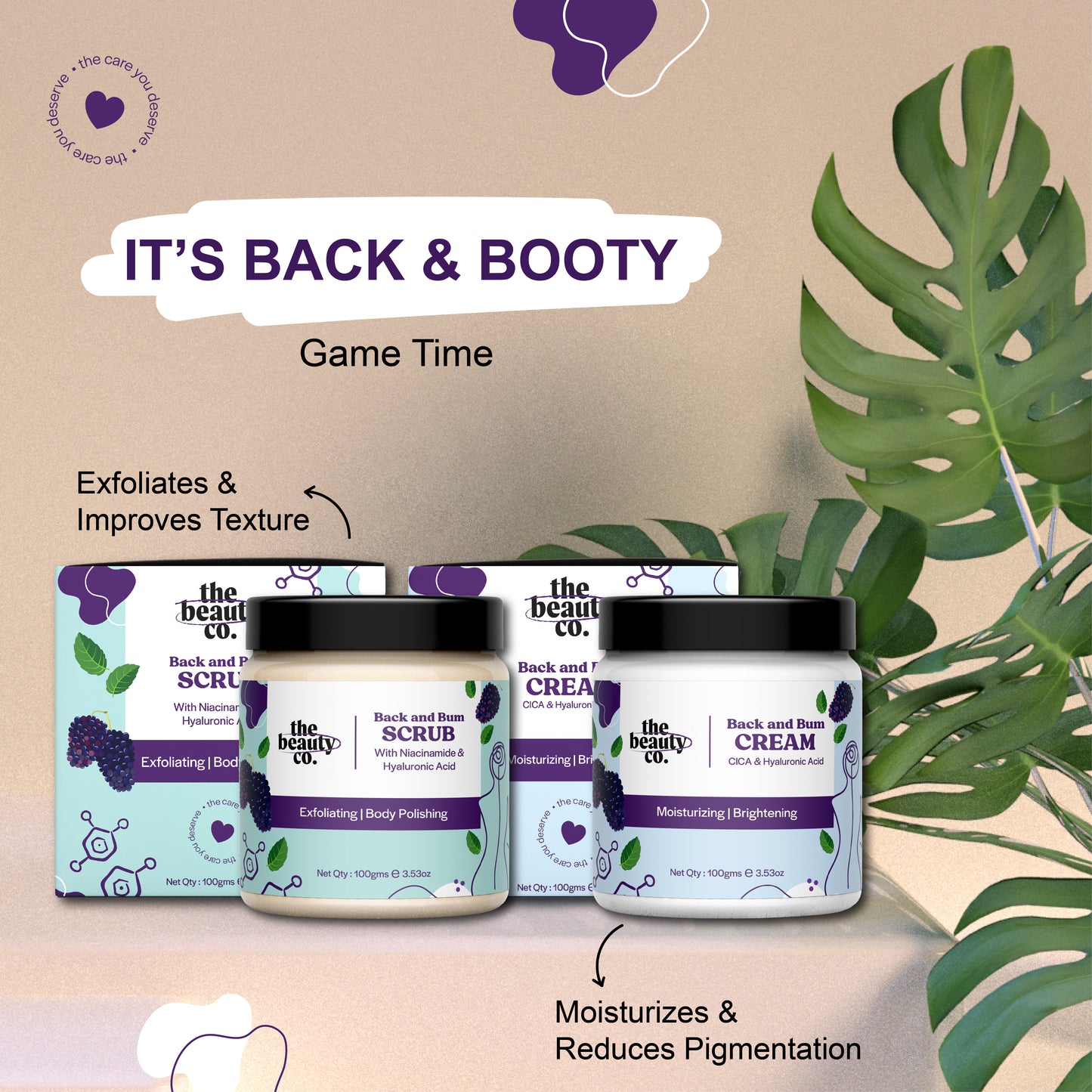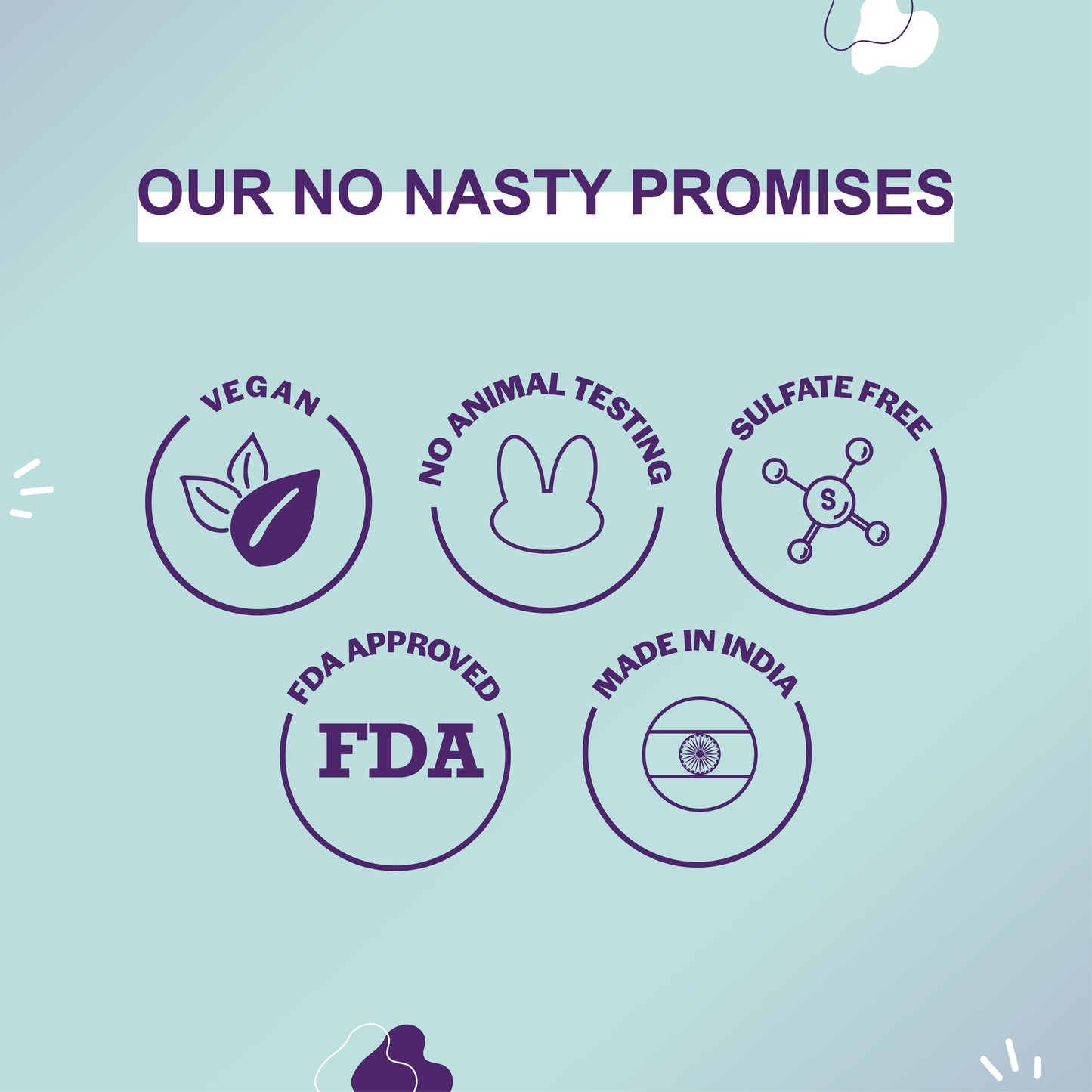 Put a full stop on skin woes specific to back & bum 
Nourish Your Booty: Made with hydrating and nourishing ingredients, give some extra lovin' care to your bum and back.
Get a Smooth & Radiant Back: For a skin you won't be able to resist! This cream gently exfoliates the top most layer of the skin to get rid of skin imperfection and leave you with more radiant, fresher and smoother skin. 
Acne & Irritation, No More: Pimples are painful, especially when they are on butt or bacne. Get relief from buttne and bacne with gentle care of The Beauty Back and Bum Cream & Scrub. It prevents dead skin cells from clogging pores and hydrates skin to lessen inflammation.
Centella Asiatica AKA CICA

 Soothes & repairs skin | Moisturizes Skin

Mulberry

Reduces Age Spots | Makes skin firm, soft & radiant

Hyaluronic Acid

Hydrates & plumps | Softens & smoothens the skin 

Niacinamide

Repairs Moisture Barrier | Fades Acne Marks & Dark Spots